'A penny saved is a penny earned', according to Benjamin Franklin. What with Brexit uncertainty having such a drastic impact on today's economy, it's no wonder Brits are tightening their purse strings in preparation for what could be a no-deal Brexit. People are choosing to be a little more cautious with their disposable income, which includes how much wedding guests are expecting to spend on gifts. It seems pertinent to pose the question, then; could we be heading for a 'Wexit'?
Cosy Owl, leading providers of candle making supplies, conducted a study of surveys from previous years in order to investigate the change in value of wedding gifts in the UK over the past 5 years. The main finding is this; people are spending significantly less than they were 5 years ago. Perhaps some inspiration is needed, some clarity over what's good and what's not in this thriftier age. Find some here; our 5 IDEAL tips on what to give for a wedding gift.
AN ACCEPTABLE AVERAGE SPEND 
The aforementioned study found that overall, wedding guests in the UK are prepared to spend £44.97 on a gift in 2019. This represents a deflation of 10% compared to in 2014. True to regional stereotypes, when broken down across the UK, wedding guests in Yorkshire and the Humber seem to be spending a significant amount less than 5 years ago, at 39%. This was closely followed by those in Northern Ireland, who are spending 37% less on wedding gifts. Comparably, Londoners are spending almost the same as the heady days of five years ago, just 5% less, in fact. Simply put; it's important to be aware of what others spend so you don't wildly overspend unknowingly.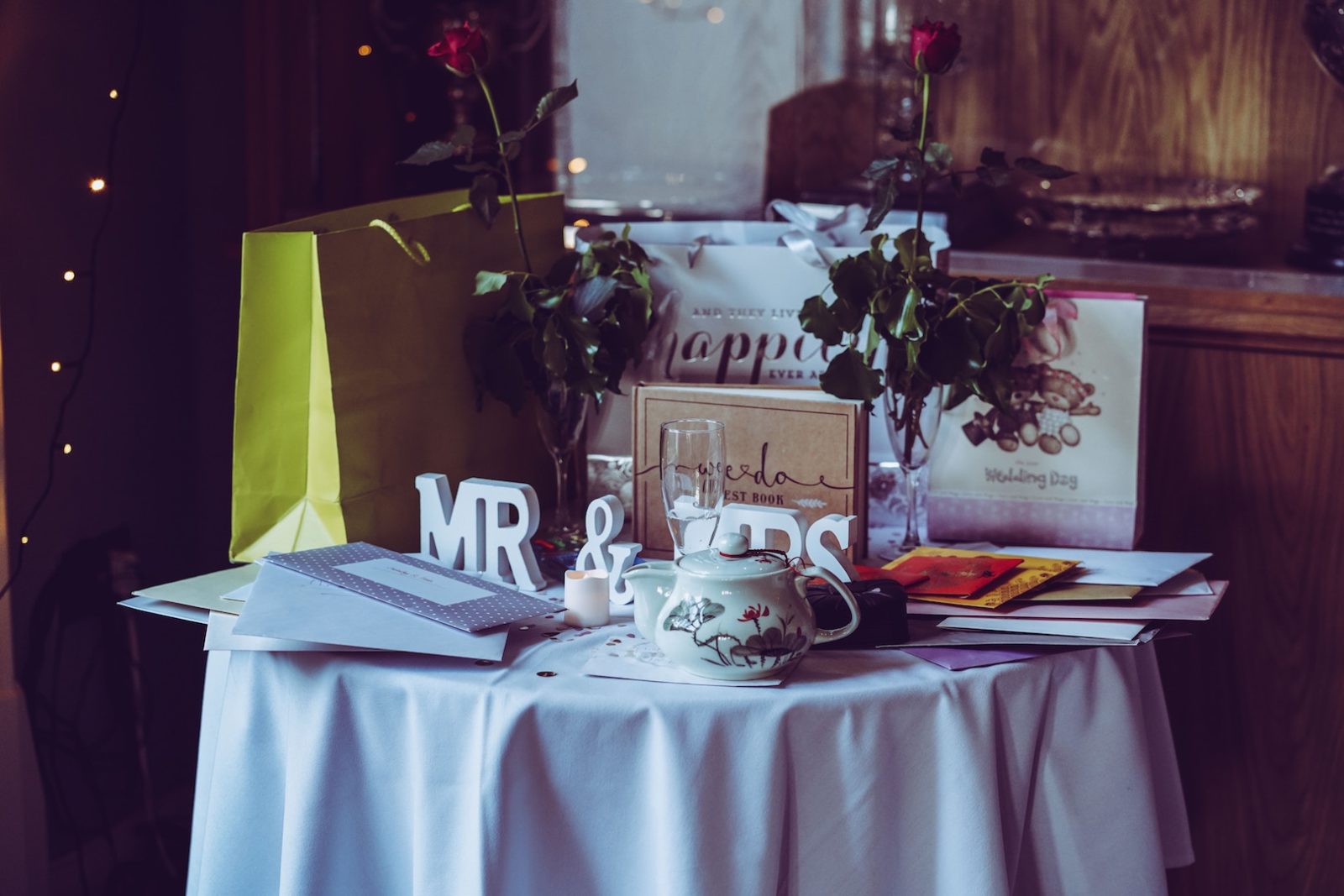 GREAT EXPECTATIONS?
Or perhaps not. Wedded couples don't actually expect a huge spend on their gifts; £50.70 on average, which is 11% more than guests' plans on spending. Not a huge disparity, then. Again, by keeping in the general ballpark of what's expected of you and what your peers are spending, you'll avoid that overspend as well as looking stingy.
CONSIDER WHAT YOU'RE SPENDING TO ATTEND
There comes a time in adulthood when weddings start to come thick and fast. Friends and family of a similar generation to you seem to be shacking up and settling down with increasing frequency, and it starts to feel like barely a month passes without another wedding date on the calendar. And the cost? Don't ask.
As you here, we're assuming you did ask, actually. The average cost of attending a wedding in the UK in 2018 was nearly £400. With each year racking up a handful of the events…well, you do the math. Once you've done those calculations, factor them into your gift spend. Should you be travelling to another country to celebrate a wedding, for instance, it's usually not expected of you to produce an extravagant gift. 
GET CREATIVE WITH THE WEDDING GIFT
The wedding gift list is for guidance only, and usually for the unimaginative. It's more personal (and cost-effective) to get creative. Exploit your skillset and passions for the best results for both giver and receiver. If you've got skills in the kitchen, then offer to make the cake – certainly a more thoughtful proposition than some crappy crockery clicked off a website. Photography a hobby? That's the wedding snaps sorted, then. Should you be handy in the hair'n'make up department, well, you get the picture….
START A REVOLUTION 
Four out of five think it unacceptable for couples to have a wedding gift list for weddings abroad. Two out of five believe wedding gift lists are outdated entirely. And one-third do not agree on gift lists for second weddings. So, join the revolution to do away with gifts. Or better still, follow the frankly welcome trend of donating gift money to a charity of the happy couple's choosing. Nobody wins unless everybody wins, and all that. 
View Cosy Owl's interactive map of the UK here, where you can see wedding gift disparities and deflation rates across the country: