The best kitchens chanel style and grace. They fuse fun, functionality and family seamlessly. The worst well, they come completely void of personality and are places no one wants to spend time in. Unfortunately many kitchens in modern households are the latter, offering cold identikit spaces from the pages of an ikea catalogue. We're firm believers that a room's characteristics can reflect their owner's. Make yours a focal point for all the right reasons, with these; our 5 IDEAL ways to add personality and style to your kitchen.
BRING THE WORLD TO YOUR KITCHEN
Yep, we said personality, and nothing tells your own unique story more than by displaying items which you've accumulated on your travels. But while souvenirs are usually just visual items, redundant for any actual purpose, the great thing about kitchen items bought abroad is that they are functional, too. In fact, they can both bring aesthetic appeal and improve your cooking. Some of the items which best complement both those aspects include a pestle and mortar from South East Asia, ideal for grinding spices and pounding curry pastes in the most authentic (see: delicious) way possible, a tagine from Morocco, or a pasta maker from Italy. All show off your inquisitive, well travelled personality, as well as having an ornamental quality.
SPLASH IT BACK
Sure, you can get a certain aspect of your personality across by displaying bolognese splashes on the kitchen wall and turmeric powder on the chopping boards, but perhaps it's not one to advertise proudly. Instead, why not marry the practical with the visually appealing by adding a  kitchen splashback.
These sit on the wall behind the stove and come in easily wipeable materials to avoid those stains from the home cook's enthusiastic stirring and flipping. But, they can also evoke a sense of style. Show adventurousness with bold, statement coloured acrylic splashbacks, or go for a mirrored version to give the impression of space, add brightness and bring in more light. You could even think about a metallic splashback to evoke the industrial look so beloved of on-trend restaurants right now.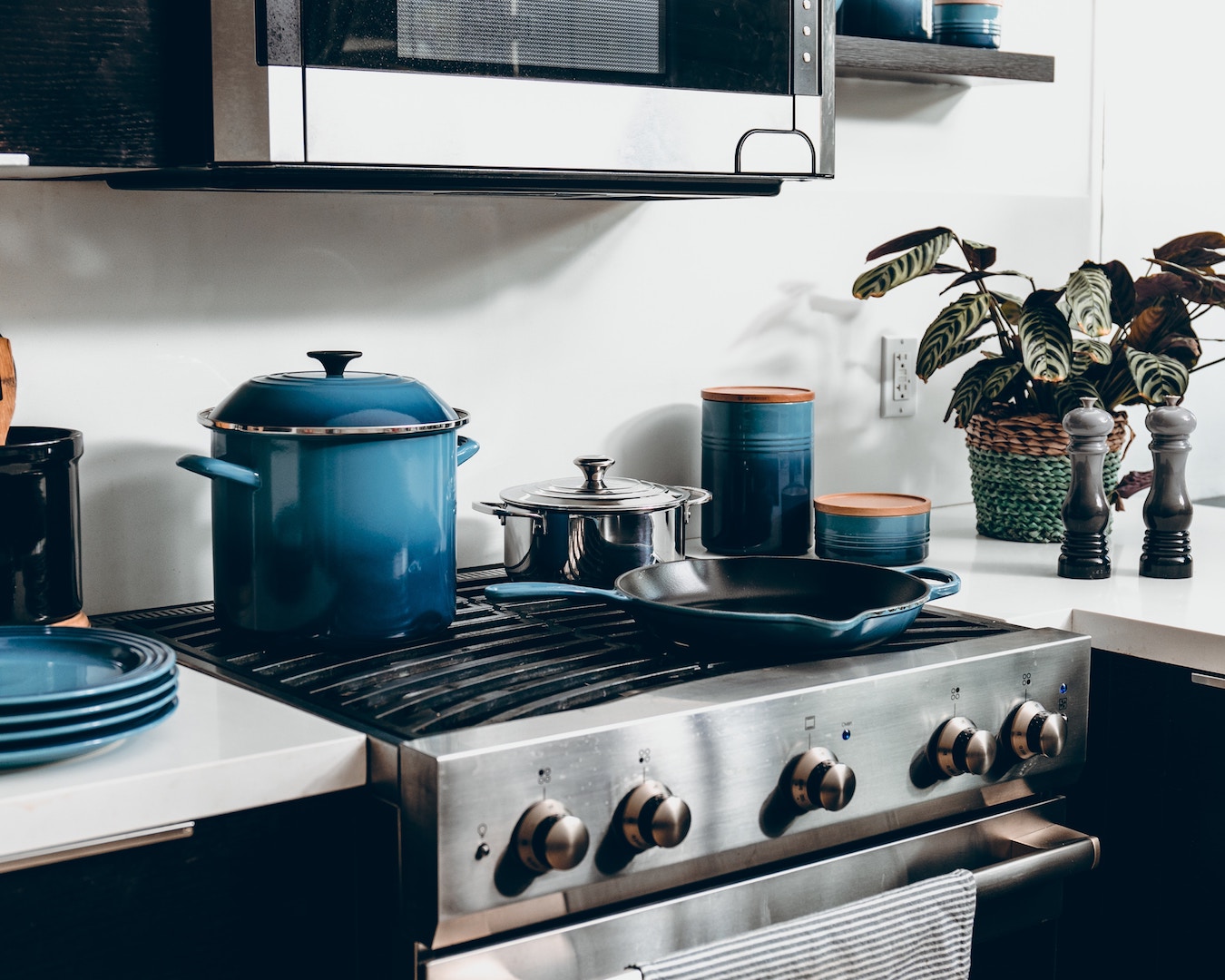 REFERENCE ART
Show off your skills as a conscientious chef by displaying your cookbooks proudly (but tidily) in the kitchen. Colour coordinate, arrange by size and position thoughtfully to make it look visually pleasing as well as useful to reference when you're wondering how to save that hollandaise. But don't stop there; add other flourishes of reference material in place of art. You could hang pictures that tastefully, displaying which fish and vegetables are currently in season, showing guests that you cook and eat with the seasons, and pair ingredients thoughtfully. Or, really dial down on your family's unique history by framing an old recipe written by a grandmother, for the ultimate touch of reference art mixed with that magic personal touch.
OPEN PLAN SHELVING
Though clutter is the enemy of good kitchen flow and therefore, great cooking, there is sometimes a danger of going the opposite way, and having a kitchen which is too tidy and ends up looking clinical. Like we said before, personality is found in those trinkets you've collected on your travels and esoteric ingredients you use. Display them proudly but retain a sense of order with open plan shelving.
When deployed with a keen eye for detail and ratio, your kitchen will appear larger than it is, whilst in the process adding a little visual intrigue. This enables both aesthetic benefits and functional ones. You can proudly display that awesome, intriguing crockery you own, as well as your sourdough starter and pickles you're working on. And, items are easier to reach when your hands are full with cooking. So, that's no more fumbling with drawers and cupboard doors with messy hands, searching for a whisk. Or whisky. It just makes sense, right?
GREENER CREDENTIALS
Take this tip in two ways. That fresh and natural feel synonymous with great ingredients and simple, homely cooking? Harness that energy before anyone's even tasted your famous watercress soup by introducing plants and cut flowers to your kitchen space. You could even dot them around that open plan shelving which we mentioned earlier, to really add notes of calm, soothing nature.
But an even more vital channeling of the 'going green' ethos is lessening the environmental impact of your kitchen where you can. Though it's certainly no glamorous, adding recycling bins and banishing plastic in favour of beeswax and brown paper, as well as having your own herbs growing on the windowsill, will speak volumes about the climate conscientious owner of the kitchen. Now that's the type of personality you should be advertising.
Sponsored by: