For those more Veganyearly than Veganuary, the struggle for delicious desserts which don't sacrifice on flavour and texture is a very real one indeed. And it's one set to continue long after the plant based part timers have returned to their chocolate, butter, cheese and cream. Fortunately, the times they are a-changin', and vegan desserts and sweet treats are getting more sophisticated and, whisper it, indulgent with every passing year. For those moments (that's all of them) when a fruit platter just won't do, here are 7 IDEAL places in London for vegan sweet treats.
VIDA BAKERY, BRICK LANE *as of January 2021, doing delivery of over £30 during lockdown*
Mention Brick Lane and the first food that comes to mind is most likely something salty, beefy and in a bagel. But found on the corner of Brick Lane and Bacon Street (yep, the ironies no lost on us with that name) is Vida, one of the city's finest vegan and gluten-free bakeries. That's right; this place is 100% free from eggs, dairy and gluten. Flavour, you'll be pleased to learn, certainly isn't sacrificed. Here you'll find cakes, cupcakes, brownies, even a few cookies, all made with guilt-free ingredients but plenty of love. It's very much reciprocated.
Website: vidabakery.co.uk
Address: 139 Brick Ln, Shoreditch, London E1 6SB
DOUGHNUT TIME, VARIOUS LOCATIONS *currently open for collection, delivery and DIY kits*
Though London's premier donut slingers (14 stores and counting) don't do a 100% vegan menu, the majority of their 14 (there's that number again) donut-strong menu is vegan, and super, super delicious to boot.
Though you might cringe ordering the David Hassel-Biscoff verbally at the counter, you won't be for long; this is one indulgent piece of work, with a vegan caramel glaze, chocolate, buttercream, biscuit and more – basically, all the things vegans miss about the dairy in their desserts – with an oozing centre making you question everything you ever assumed about vegan treats. It's a 14/14 from us.
Website: doughnuttime.co.uk
Various London Locations: doughnut time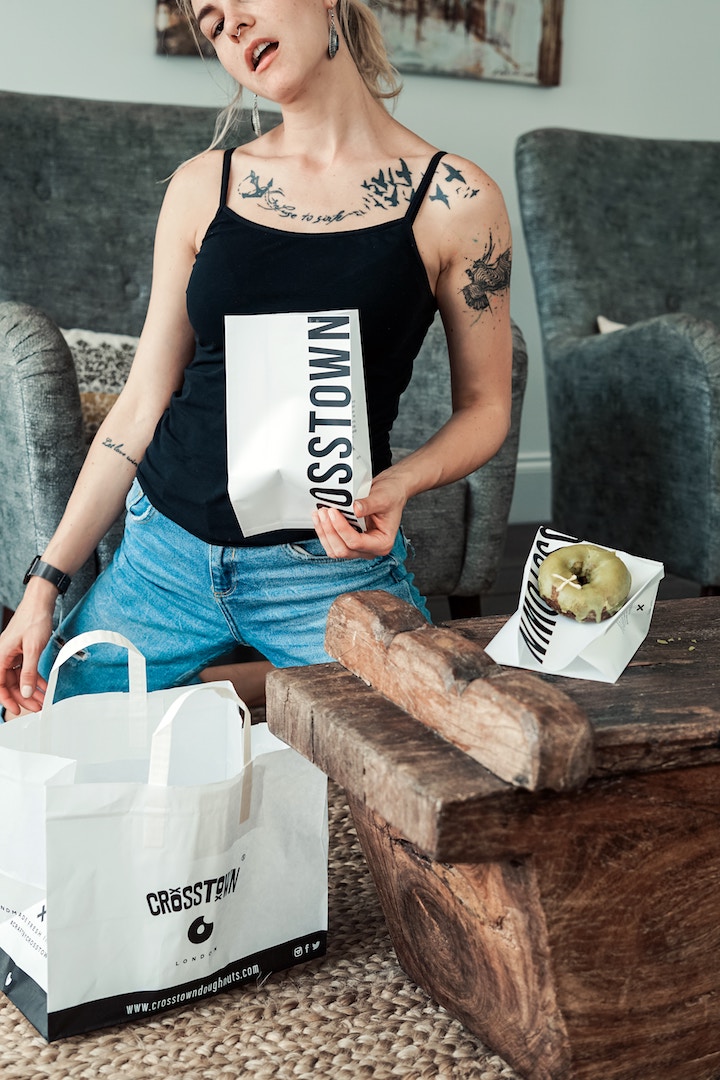 CROSSTOWN DOUGHNUTS, VARIOUS LOCATIONS *currently open for nationwide delivery*
More donuts…are you mad?! We're full and can't move an inch. Not to worry, you won't have to; Crosstown Doughnuts have more than twenty outposts across, erm, town and make an appearance in many of London's most popular markets, including Broadway and Spitalfields.
There's a dedicated menu of vegan sweet treats, deploying chia seeds and coconut butter in their dough, and oat milk and silken tofu in their glazes, resulting in maximum guilt free flavour. For those who get crippled by the paradox of choice, a warning; their vegan selection is diverse and delicious. Choosing just one donut is impossible. Oh, and did we mention that their store in Marylebone is dedicated to serving up their full selection of award-winning vegan doughnuts, early till late, 7 days a week.
Website: www.crosstowndoughnuts.com
Address: 5-6 Picton Pl, Marylebone, London W1U 1BL
MS CUPCAKE, BRIXTON *now sadly closed*
Priding itself as being the UK's first entirely free vegan bakery, and ticking all the other boxes which give us hope in the product – independent? check. handmade? that, too – Ms Cupcake boasts of supplying the naughtiest vegan cupcakes in town. And really, that sense of indulgence and naughtiness is exactly what we're here for, right?
Located just seconds from Brixton tube station on Coldharbour Lane, close to the foodie paradise of Brixton Village, and working in partnership with Uber Eats, there really is nothing standing in the way of you sampling their famous 'ambassador' cupcake; yep that's a Ferrero Rocher in cupcake form. We're very much here for it.
*Unfortunately, due to both Brixton rent rises and other factors, Ms. Cupcake has now closed. Do look out for their cookbook and watch this space for news on their next project*
Website: www.mscupcake.co.uk
Address: 408 Coldharbour Ln, Brixton, London SW9 8LF
COOKIES & SCREAM, HIGHBURY *currently open from midday to 6 pm daily for collection*
I scream, you scream, we all scream for…cookies? Doesn't quite work that, let's leave it in the drafts.
Anyway, Cookies and Scream on Holloway Road is a fully vegan and gluten-free bakery specialising in, you guessed it, cookies, as well as brownies and donuts. The company's Gosh! Brownie has earned past plaudits in the capital, and is wonderfully gooey. The best part of all? Well, apart from that brownie we mentioned, is that if you're craving an after dinner dessert, the shop stays open until 8pm. Go get it!
Website: www.cookiesandscream.com
Address: 130 Holloway Rd, Highbury East, London N7 8JE
WAVE, HACKNEY *as of January 22nd 2021, closed until lockdowns are lifted*
Following the success of Camden's Cupcakes and Shhht, the duo behind the hugely popular vegan cake company has opened a 100% vegan cafe in Hackney (the name is an acronym for We Are Vegan Everything) and we are very excited about it. Their mission is simple; they want you to enjoy your food guilt-free, and not feel as if you're missing out on anything that those pesky meat and dairy eaters love to eat. And we can assure you; the sweet pancake selection at WAVE is sensational, with their Stick Toffee pancake (gluten free, and all) already gaining a cult following.
What's more, some of the duo's famous cakes make an appearance at the cafe, though you'll have to keep an eye on the counter for a rotating cast. Not to worry; deliciousness is all but guaranteed here.
Website: www.weareveganeverything.com
Address: 11 Dispensary Ln, Kingsland, London E8 1FT
NORA & NAMA, CAMDEN *as of September 2020, sadly closed*
Camden Lock plays host to some of the finest independent food vendors in the capital, and if you're after sweet treats of the vegan kind, it's to Nora and Nama you should head. As their saying goes 'being vegan is a piece of cake', but you'll find far more here than just cute cupcakes. Indeed, the scope of their baking operation is ambitious, with vegan baklava, croissants, and cinnamon swirls all part of the roster.
Flexing their versatility further, they also do some fantastic vegan chocolates, as well as an all-in afternoon tea offering for £52, with sarnies, scones, cakes and more, all of which can be done gluten-free. Wow!
Website: noraandnama.com
Address: Unit 596, 598 Camden Lock, Camden Town, London NW1 8AF