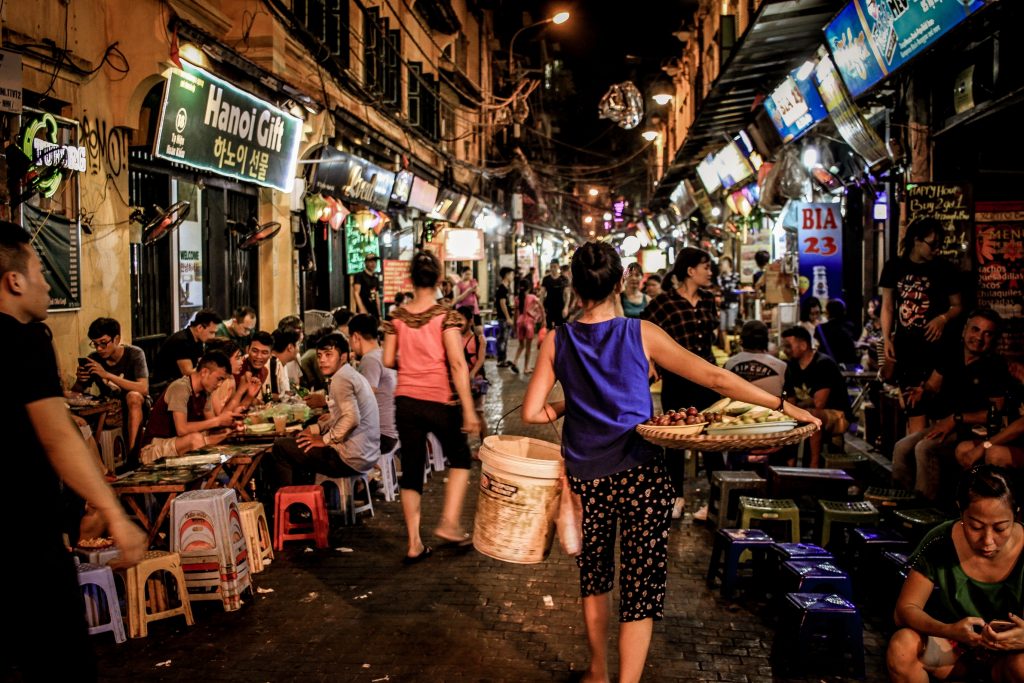 Hanoi; at once relentless, maddening, baffling and beautiful, has some of the best street food the world has to offer. There is so much though, that you're often left wondering if you've spent your time, dong and stomach space as efficiently as you possibly could have. Every second counts, and getting under the skin of the food scene here and understanding what makes this amazing city tick seemingly go hand in hand; it's a place, after all, that runs on rice, pho and coffee. To help, we've written this; our 10 IDEAL foodie things to do in Hanoi.
STREET FOOD LANE, NGO DONG XUAN
A small alley, unassuming from the front, on the south side of Dong Xuan Market, plays host to a series of street food classics, all freshly prepared before you. While they may not be the best version of each dish, to find so many in such close proximity to one another makes life easy if you don't have time to trek around town for just one dish at a time. Many of the stalls have been here for more than a hundred years; particularly good is bo luc lac (grilled beef rolls) and banh xeo (Vietnamese crispy pancakes of shrimp and minced pork).
BEER SNACKS AT BEER CORNER, LUONG NGOC QUYEN STREET
Beer corner, slap bang in the middle of Hanoi's old town on Luong Ngoc Quyen street, is where travellers and locals brush shoulders to sit on small plastic stalls, drink beer and watch the crowds go by.
Freshly brewed beer (bia hoi) is served here, but you'd be better off sticking to locally brewed bottles like Hanoi or Truc Bach beer. The fresh stuff is better a little further from 'the corner' (more of that below). One thing you must do, as with the locals, is order plenty of salty, crunchy, moreish beer snacks – known as 'fun' or 'play' food in this part of the world. Most of the menus have pictures so choose anything that takes your fancy. We're particularly into the chewy, salty, deep fried chicken cartilage. Or, whole 'birds' served with a piquant dipping sauce. Is it a sparrow? Is it quail? Who knows, but it is delicious, that's for sure.
HIT A BIA HOI WITH THE LOCALS
Translating as "fresh beer", Bia Hoi is brewed daily and has to be drunk on the same day it's made as it contains no preservatives. Coming in at just 30p a glass, it's the perfect excuse to have a jar or three. No doubt you'll be encouraged to 'tram phan tram' or 100% your beer by a local – do so and you'll gain respect from the locals for being a 'strong' drinker and a seat at a table with other Viets. Great fun! Fortunately, the beer is light and the weather hot; if you want to get drunk off it, you'll have to drink a lot.
This cheap and cheerful drinking culture is one that you'll only find in this country, and famously Hanoi was the location of the first bia hoi joint – a place still serving the light, locally brewed beer to this day. You'll find bia hoi spots dotted around the city; some of the best include those at the end of Bat Dan street or head a little further afield to Pacific Bia Hoi, in Hanoi's Ba Dinh district.
ENJOY FRESH, GRILLED SEAFOOD, CAU GO STREET
On a small cluster of streets between Dong Xuan market and the lively backpacker strip of Hang Buom is where you'll find fresh seafood being grilled over hot coals. Served simply, with a kalamansi lime, MSG and chilli dipping sauce, this is fresh, cheap and oh so fun. On Cau Go street, you'll see crabs, oysters, blood cockles and huge prawns all piled high on a table; simply point at what you want, take a seat and get ready for a feast. Make sure you order some grilled oysters topped with crispy shallots  – the smokey, moody taste of the barbeque certainly does no harm to the saline richness of oysters. In fact, it's a divine marriage. Then someone, from somewhere, will produce a cold beer as soon as you realise you're thirsty, and it's then that actually, you realise you're in heaven.
CHA CA AT CHA CA LA VONG
Within the old streets lays a place so revered it attains an almost mystical status. Cha Ca La Vong, on Cha Ca street – the street is named after the famous dish – has been serving the same one thing, and only that thing, for a very long time. Catfish marinated in turmeric arrives at your table in a frying pan, sizzling away, and you assemble yourself a bowl of cold, sour noodles, loads of fresh herbs and a pokey, dangerous looking fish sauce (mam tam, if you need to request it). Flavours are elegant and sophisticated, and just the right side of unusual. It's often full to the rafters and booking just isn't the done thing, but if you can get a seat, you must.
Chả cá Lã Vọng| © Binh Giang
RAILSIDE DINING
Ray Quan is a favourite among many who live in Hanoi. Sitting precariously close to the city's railway tracks, this quirky joint is a whole load of fun. They ferment their own rice wine here and bottles of it line the bar; when the trains roar past you're not sure if the earth is moving due to them or all those shots you've knocked back. Although the spectacle is the main drawer here, they do a killer smoked goose breast dish. Go for that alone. Other beer food like salted, shredded beef is great to gnaw on too.
EATING AND SLURPING PHO, PHO AND MORE PHO
We can't write an article on food experiences in Hanoi and not talk about pho. Indeed, the finest beef noodle soup in Hanoi (by rights then, the world) is found on Bat Dan street, number 49. You won't miss it, as the snaking queue of hungry locals stands testament to the quality of the bowls within this little family run shop. If you really can't bear to queue head to 10 Ly Quoc Su Street, just around the corner and where the pho is almost as good. Hey, on some days it might be better.
Some of the other best pho shops for beef pho include Pho Thin and Pho Vui. For Chicken pho, in our eyes you can't beat Pho Ga Mai Anh, a couple doors down from the bun cha shop made famous by Obama. Oh and don't forget to order quay – a Vietnamese accompaniment, in taste akin to a light yorkshire pudding, and in appearance a dog bone – it takes on the flavour of the soup perfectly.
BARBECUED CHICKEN AT CHICKEN STREET, LY VAN PHUC
Known locally as 'Chicken Street' – on the map it's Ly Van Phuc – Hanoi has a whole street dedicated to serving barbecued poultry – what could be better? On a weekend, if you have a large group, it's one of the best places in the city to come, get loose and make merry. While it's an out of the way place and a little hard to find, the smell of 'ga' on the grill is unmissable.  You can choose between different parts of the chicken and be sure to order honey bread – grilled baguette brushed with honey. Oh and the refreshing pickled cucumbers brought to every table are the perfect accompaniment – don't be afraid to ask for more.
BREAKFAST BAHN MI AND VIETNAMESE COFFEE
Although many new-ish places in the Old Quarter offer combined banh mi and ca phe nau da (baguette and coffee) deals, you ought to be wary. As a rule, the more commercialised and clean a banh mi place looks, the sweeter the bun, the more prevalent the mayo and generally, the less tasty the everything. Go for somewhere which looks like a small hot dog stand – a glass box with a load of fillings, pickles and sauces – and go crazy. Our favourite? It's on the corner of Cha Ca and Hang Ca (number 11). Take your banh mi to a local, no nonsense coffee shop – no frills generally equals maximum flavour – and enjoy the best breakfast the world has to offer.
XOI, NGUYEN HUU HUAN
Xoi is probably the Vietnamese street food staple that you've never heard of, its popularity on home soil never translating to worldwide fame as pho or banh mi has. But to visit Hanoi and miss out on a bowl of sticky rice with a massive array of delicious toppings would be a very sad move indeed. Nguyen Huu Huan street happens to have not one but two of the best purveyors in town; right next to each other. Rumour has it that one family run shop fractured into two following an affair between husband and sister in law. Whichever one you choose to side with, it's guaranteed to be delicious. Look for a big black and yellow sign; 'Xoi Yen'.