Guernsey is certainly a unique proposition. It has its own stamps, blue painted post boxes, uses pound notes – yep, notes – and gets approximately 2,000 more hours of sunshine each year than mainland UK. Yep, 2000. Although inherently British, it's safe to say that this self-governing British crown dependency has a character and atmosphere distinctly its own. And we love it.
So if experiencing a warmer, more idyllic version of the United Kingdom with a continental flair (it's actually closer to Brittany than Britain) sounds up your street, then it's as easy as packing up your car for a Guernsey holiday, driving aboard Condor Ferry and setting sail for the island. And when you get there, make sure to follow our 10 IDEAL things to do Guernsey.
SAND, SEA AND SURF
Whether you're there to sunbathe (in those 2000 extra hours of the stuff) or to surf, the idyllic beaches of Guernsey are a real treat. One of the best for catching some waves is Vazon Bay, Guernsey's largest beach, which lies on the West Coast of the Island and is also reputed to be one of the cleanest beaches in 'Britain'. This long stretch of coast is a magnet for the island's surf enthusiasts; sign up to Guernsey Surf School for some group or private lessons and excellent insider knowledge.
Of course, where there's water, there's sports, and it's not only about the surfing. Indeed, kite surfing, paddleboarding, wind surfing, snorkeling, fishing and kayaking are also big business on the island. And when you're done with all the physical stuff, what better way to watch the sun go down on an active day than with a beach BBQ, which you can have anywhere on the beach (excluding the Richmond end of Vazon).
Psst, hey you, possible water sports lover! For a really unique experience, check out the kayaking options from Shell Beach to Puffin Bay. Here you can get up close and personal with these incredible birds; a real taste of Guernsey's nature.
SWIM AT THE VENUS POOL
Reachable only at low tide, via the seabed on a cobbled causeway, Lihou is a small island situated just off the west coast of Guernsey. Sounds dreamy right?  Here you can take a plunge in the clear blue waters of Venus Pool; a sheltered, natural rock pool that is so deep, you can dive straight into it. If you dare.
SPEND THE DAY AT ST PETER PORT
With cute cobbled streets and a gorgeous seafront marina, this tiny, charming capital acts as the beating heart and lively hub of Guernsey. It has a French bistro/cafe atmosphere and is a lovely place to spend the afternoon and evening, imbibing, eating and people watching. A tradition in St Peter Port is afternoon tea at the historic Old Government House hotel tea, if the Anglophile in you has had enough of all the great French caffs. And if you need to walk off all that food, Candie Gardens is the perfect spot for strolling around and enjoying the lush green scenery. For a pre-dinner aperitif, The Boat House is perched right on the edge of the harbour with a sweeping view of the sea. It's the ideal place to enjoy Gurnsey's cool continental vibe.
EXPLORE THE ANCIENT ARCHAEOLOGICAL SITES
With its forts, castles, ruins and ancient tombs, Guernsey is the ideal place for the history buffs among us. The most famous site on the island is perhaps Dehus Dolmen, a prehistoric passage grave and one of Guernsey's oldest attractions. Here's you'll find a remarkable carving of a cave man on one of the capstones. With a bearded face and holding what appears to be a strung bow, the carving is known as The Guardian of the Tomb, and is a majestic, humbling piece.
Guernsey is also home to many other archaeological sites of interest including what is thought to be the oldest man-made structure in Europe – Les Fouaillages, a neolithic burial site dating back some 8,000 years. Also worth a visit is the Albecq Medieval Settlement, Delancey Dolmen, which consists of the remains of a collapsed megalithic structure, and La Varde, one of the largest and most impressive surviving megalithic structures on the island.
TAKE ON GUERNSEY'S RUGGED TERRAIN
Guernsey is known for its picturesque, rugged coast, one which is punctuated by beautiful bays and secluded coves. Off the South Coast of Guernsey, the cliff path network, covered in cliff-top grassland and heathland, finishing at Pleinmont, is absolutely stunning.
Guernsey is also home to many quaint country lanes and boasts a network of safe, cyclist-friendly roads and paths. A popular route is from Portelet to Rousse along the island's north west coast. Moreover, the island has a speed limit of only 35mph, making it the ideal place for safe, comfortable cycling. If all this slow paced stuff is a little to tame for you, you could always dive head first into some coasteering; a unique adventure sport involving scramble climbing, rock hopping, cliff jumping and adventure swimming, which is popular on the island.
BE HONEST AND HELP YOURSELF TO A HEDGE VEG
The Island's long sunny days are ideal for growing fruit and veg and the local produce in Guernsey is absolutely phenomenal. A quirky, quaint and altogether charming practice on the islands are leaving hedge veg boxes. Here locals leave their homegrown produce in boxes outside their homes, selling whatever seasonal produce has grown in their fertile gardens. Help yourself to the gorgeous produce and leave money on the honesty box.
CHECK OUT THE CHAPEL
Nestled in an off-the-beaten-track valley is The Little Chapel, said by some to be the smallest consecrated chapel in the world. While we're no experts, we can say this; it's simply lovely. This intricately decorated tiny place of worship is just 16ft long and 9ft wide; that's small by anyone's standards. It was built by Brother Déodat, who started work in March 1914, wanting to mimic and create a miniature version of the famous grotto and basilica at Lourdes in France. The current chapel is the third one that he built as it has been demolished and rebuilt twice. Many pebbles, ceramics and shells decorate this much loved little church.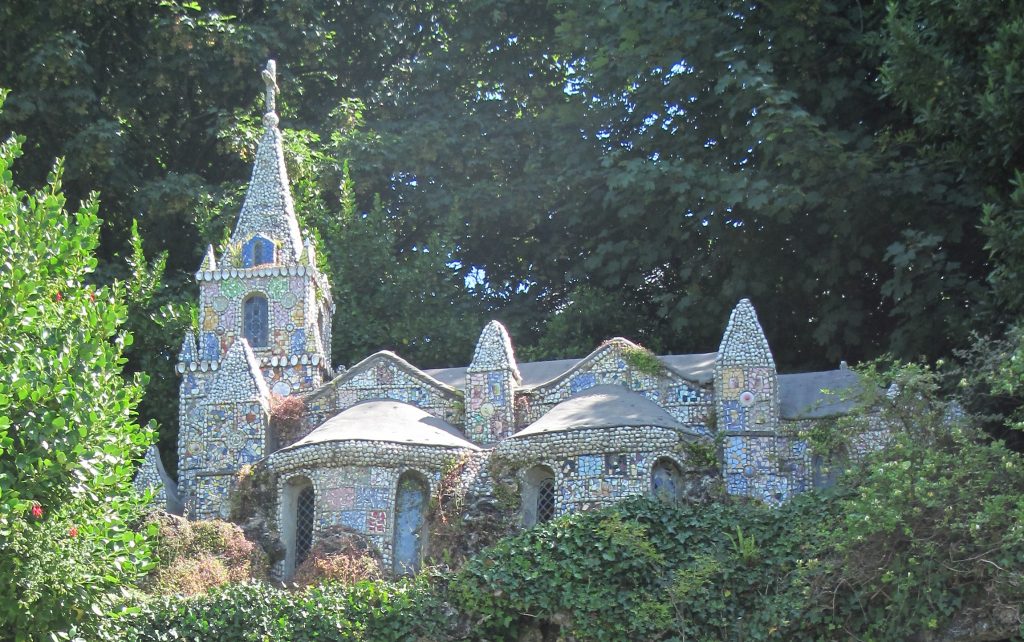 FEAST AT A FOOD FESTIVAL
In the summer months, the island hosts Seafront Sundays – in association with Taste Guernsey – every weekend at St Peter's Port. The seafront gets pedestrianised and becomes a sea of market stalls selling all the fantastic produce that Guernsey has to offer. What's more, alfresco dining spots pop up everywhere and there's cookery demonstrations and free tastings of traditional dishes. A culinary lover's delight, then.
Another fabulous foodie event is Tennerfest, held in the autumn. During this time, restaurants offer two and three course set menus for as little as £10 per head; the ideal way to eat your way around Guernsey's fantastic restaurant scene without burning a hole in your wallet. And if you still need convincing, there's also the Guernsey International Food Festival in September. Proof, it seems, that this is an island which really loves its tucker.
WITNESS THE TABLE DES PIONS
The Table des Pions, also known as the Fairy Ring, is a stone circle which some have dubbed 'the ancient picnic table'. If you look at it, it's easy to see why, and you could well imagine enjoying a fine, alfresco meal with your bum parked on one of the rocks. It's said that if you walk around the stone circle at Pezeries Point three times and make a wish, it will come true. Just be careful what you wish for!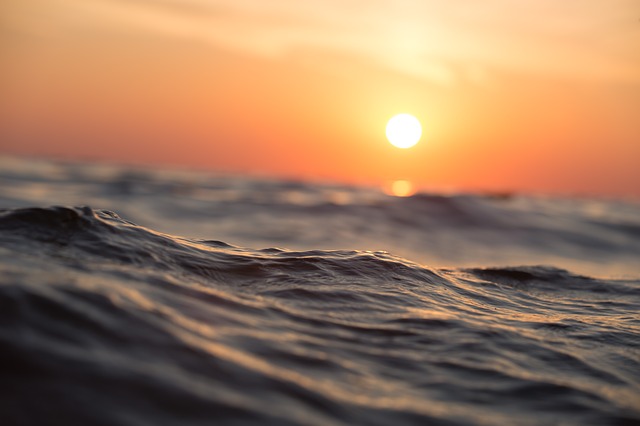 WATCH THE SUNRISE & SUNSET
Here at IDEAL we're suckers for sunrises and sunsets; as far as we're concerned, they're natures best live show. For us, a holiday by the beach wouldn't be complete without watching a spectacular sunrise over the sea, and Jebourg point is the place to do this. Cobo Bay is a great spot to watch the sun go down, with locals and tourists alike flocking to the gorgeous bay to witness the spectacular sunset. Grab yourself a picnic or some delicious takeaway fish and chips from Cobo Fish Bar, sit on the seawall, and drink it all in. Lovely.
No doubt you'll be itching to book your ticket to Guernsey after reading this roundup of things to do there. Luckily for you we've got an exclusive discount for Condor Ferries allowing our lucky readers half price foot passenger day trips. Simply use the discount code DAYOUT2018 and for terms and conditions visit: www.condorferries.co.uk/landing/dayout2018/