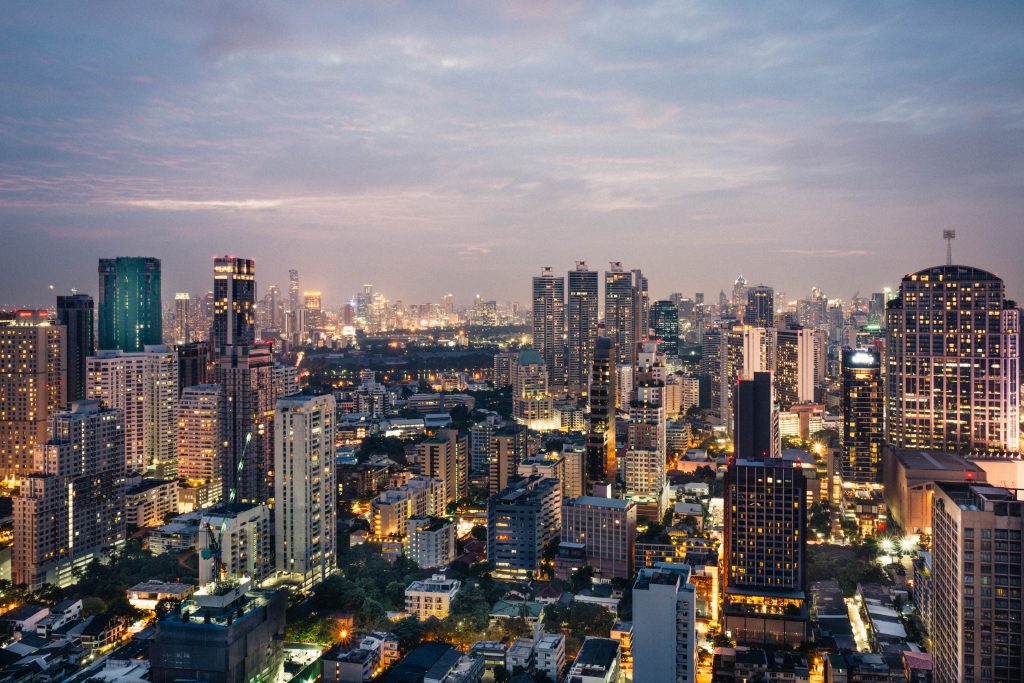 For newbies Bangkok can be an impenetrable juggernaut of a city.  It's not walkable, taxis are unavoidable and sometimes it can get a bit much in the heat. But scratch the surface a little with these handy tips and the food, lifestyle and nightlife of this amazing city can be so rewarding. With this in mind, here are 10 IDEAL travel tips for surviving Bangkok.
PUBLIC TRANSPORT
If you're not travelling solo taxis are usually cheaper than getting the metro or BTS. Always ask for the meter when you get in (which starts at 35 baht) otherwise you'll get massively ripped off.  But, if it's rush hour, avoid getting a taxi at all costs – unless you want to be stuck in gridlock traffic for hours. Tuk Tuks always over charge – if you take one be prepared to barter. If you're travelling by yourself, the BTS, Metro (which both offer air-conditioned respite from the heat) and Canal Boat are usually the cheapest way around the city. And getting a taxi and the BTS together is nearly always more expensive than a taxi journey alone.
Uber doesn't operate in Thailand but Grab Taxi is available and running efficiently in all of the big cities. It's remarkably cheap and reliable, with a trip across town rarely coming in at more than a couple of quid. Using Grab also negates the often trying issue of explaining your desired destination to taxi drivers. Your pronunciation may be poor and drivers in Thailand often can't read; a simple pin drop on a map will be your saviour.
BKK MAGAZINE
Pick up a free copy of BK Magazine (Starbucks usually stocks copies of them) which labels itself as an insider's guide to Bangkok. Published every Friday, it's filled with up-to-date information about the latest events and going-ons in the city.
PLAN AHEAD
Bangkok is massive. It's an unwalkable city and you have to rely on public transport to get anywhere. If you're planning a day out, research the area first. Make sure you know where the closest BTS/ MRT is to your destination. If you're going to a restaurant, make sure you have one or two back up restaurants in the same area, just incase your first choice is closed or full. Planning ahead is key in this city, otherwise you'll end up feeling stranded and frustrated.
EATING OUT
Don't always assume that a restaurant will serve the best food. Some of the best dishes you'll find are on the street or even in a shopping mall. There's so much to say about eating in Bangkok, we've created a guide on it here
DRINKING 
If you're planning a night out, focus all the bars in the same area, otherwise the whole night out will be spent travelling or in traffic. A lot of food stalls/markets don't serve beer, but they have no objection to you bringing your own – though never drink close to a temple. You can't buy drink from 2-5 anywhere or during any Buddhist holiday.
MOSQUITOES
Never step in a puddle, because mosquitoes always target dirty ankles. Dusk next to a river is a feeding frenzy, so take extra care – but don't let that put you off as it's a beautiful time of day in Bangkok. Make sure you carry insect repellent with you in the evenings and always wash your legs when you get home, or better yet have a shower.
BAG ESSENTIALS
There are certain items to carry around that will make your life easier, these are:
Your Address: If you're staying at a hotel or hostel, get them to write down the address in Thai to show a taxi driver. If you're hotel card already has the address on it then your set! 

Screenshots of Directions: If you don't have wifi, take a screenshot of where you're going and directions. 

Hand sanitiser: Bangkok has lots of germs, unfamiliar to western bellies, killing them before you eat is highly recommended.
Mosquito repellant: See above point.
Toilet roll: Incase you don't like using the water gun. But don't throw the bog roll down the loo – the sewer system can't cope with it.
GET FAMILIAR WITH WHAT EACH INDIVIDUAL AREA OFFERS
Bangkok is huge and there are over a dozen different areas, all with unique offerings. For example,a day in chaotic Chinatown is worlds away from the sophistication of Sathorn Road. All have their own merits – don't try to do too much in one day, instead savour each area individually. 
GET OUT AT NIGHT
Bangkok is a night city. The best time to truly experience its unique culture is when the sun starts to set, the temperature cools (slighlty!) and the smell of grilled meat fills the air. Enjoy views of the fantastic skyline from one of Bangkok's many sky bars.
MANNERS
Thais try to inject fun into every aspect of life, so even if you're hot, flustered and frustrated always smile and never take yourself too seriously. People will respond with help and warmth.