Paris, known as the 'City of Light', is a vivid fusion of history, culture, architectural magnificence, and artistic grandeur – a dream destination for photographers around the globe. Here are our insights on how to capture the essence of Paris beyond the average tourist snapshot, ensuring you get the most out of your photography trip to this iconic city, and capture this illuminated city in its very best light.
Time Your Trip
Season and time of day have a huge impact on your photographs. Spring and fall are great seasons for photography due to the softer light, fewer crowds, and scenic beauty. Paris is particularly famous for its 'l'Heure Bleue', a period of twilight each morning and evening where there is neither full daylight nor complete darkness. The blue light during this time can add an enchanting quality to your photos.
Highlight The Landmarks
It's almost impossible to visit Paris without capturing its iconic landmarks – the Eiffel Tower, Notre-Dame, Sacré-Cœur, Louvre, and many more. However, try to photograph them from unique perspectives – perhaps a reflection shot of the Eiffel Tower in a puddle or the Louvre Pyramid through a glass pane, bringing a fresh twist to otherwise cliché shots.
Read: 5 of the best restaurants close to the Eiffel Tower, Paris
Explore Lesser-Known Locations
Apart from the well-known landmarks, Paris is filled with hidden gems which exude Parisian charm and provide unique photo opportunities. Embark on a tour of the less crowded areas like Canal Saint-Martin, Rue Crémieux, and the Latin Quarter. Each neighbourhood has its unique atmosphere and aesthetic; capturing these will give your photos a more comprehensive depiction of the city. Consider using a hop on hop off bus in Paris to see several of these districts in a single day.
Take Advantage Of Parisian Cafes
Parisian cafes offer a perfect opportunity for excellent street and portrait photography. Watch from the terrace and you'll see a parade of Parisian life pass by. They also serve as excellent spots to capture the city's architectural charm. And you might just enjoy a fine French meal as a bonus!
Night Photography
Paris at night is a visual treat. The city lights up, especially the illuminated landmarks, make for captivating photography. Numerous buildings, bridges, and fountains are illuminated at night, providing fantastic opportunities for long-exposure photography.
Street Photography Is A Must
Paris is known for its vibrant street life. Street photography is all about catching people in the act of everyday life, and Paris offers countless opportunities for this. Visit the busy marketplaces like Marché Bastille or Rue Mouffetard for especially dynamic, colourful photos.
Capture The Seine
The River Seine, with its many bridges and bookstalls, is an inseparable part of Paris. Capture the sunset over the Seine or a shot of the 'bouquinistes' – second-hand book sellers with their green boxes lined along the river. The river also provides unique vantage points for capturing the city's landmarks.
Visit Versailles
Though technically outside Paris, a visit to the Chateau de Versailles is well worth it. The palace and its gardens offer fantastic photo opportunities, from the opulent Hall of Mirrors to the intricate designs of the palace gardens.
The palace is pretty simple to get to from Paris, too. The most common method is to take the RER C train from central Paris to Versailles Rive Gauche, a journey that typically takes 45 minutes to an hour. Alternatively, Bus line 171 runs from Pont de Sèvres Metro station to Versailles in about 30 minutes. Many tour companies offer day trips, with transportation and entrance tickets included.
For the adventurous, a bike ride to Versailles is possible in good weather, but this option can take a few hours. Be sure to check for any service disruptions before travel and confirm the Chateau's opening times.
Patience Is Key
Remember that photography is often about patience. If you have a particular shot in mind, be it the Eiffel Tower at dusk, the Musée d'Orsay from on high, or the hustle of Champs-Élysées, be ready to wait for the perfect moment. It's the difference between a good photo and a great one.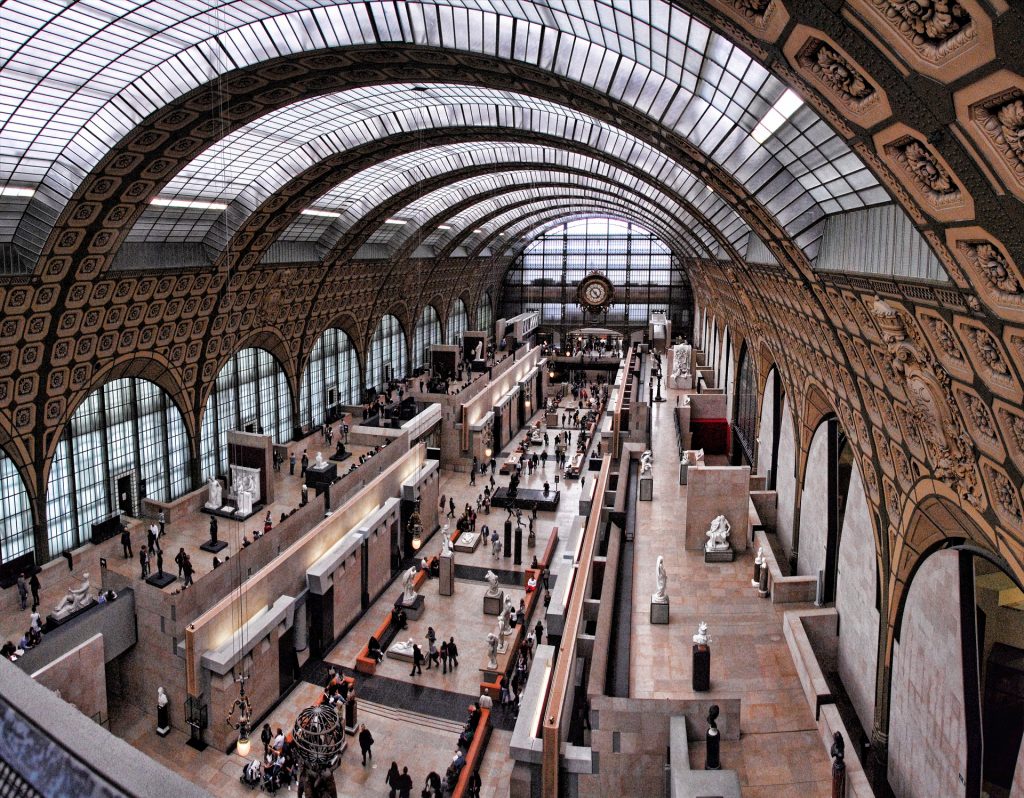 Connect With Local Photographers & Communities
While exploring Paris independently can be rewarding, connecting with local photographers and communities can enhance your experience exponentially. Seek out photography meetups, workshops, or guided tours led by Parisian photographers who know the city inside out. Engaging with fellow photographers will not only expose you to unique perspectives and techniques but also provide you with an opportunity to make new friends who share your passion for photography.
Additionally, join online photography forums and social media groups focused on Paris, where you can seek advice, share your work, and receive feedback from like-minded enthusiasts. Being part of a photography community can inspire you, keep your creative spark alive, and make your vacation even more memorable.
Here are a handful of well known groups and fares:
The Paris Photography Meet-up Group: This is a well-known Facebook group offering various photography sessions throughout Paris. Participants can share their photos, get constructive criticism, and learn from others.
Paris Photo: The world's largest international art fair dedicated to photography. It's held annually in November at the Grand Palais in Paris and attracts visitors and exhibitors from around the world.
Paris Photography Tours: They offer personalised tours of Paris, focusing on the city's most photogenic locations. It's ideal for tourists and locals alike who want to improve their photography skills.
WICE – Photography Courses: WICE is a Paris organisation that offers a variety of classes and community events, including photography classes.
Paris Street Photography Workshop: Run by celebrated American photographer Peter Turnley, this workshop is aimed at photographers who want to try their hand at street photography, capturing the hustle and bustle of life in Paris.
The Bottom Line
Your photography trip to Paris is a journey through a city that lives and breathes art. It's about understanding the city's rhythm, finding its unique viewpoints, and immersing yourself in its culture. With these tips, you'll be well on your way to capturing the essence of Paris, creating memories that will last a lifetime. Bon voyage et bonnes photos! (Happy travels and beautiful photos!)