Tokyo, it's fair to say, makes a confident and convincing case as the world's culinary capital. With its record breaking frequency of Michelin-starred restaurants, a combination of the cutting edge and traditional, and its backstreet, pull-up-a-stool speakeasy spots, every taste is catered for here. But – and there is a but – as it's also the biggest city on the planet, with a script, language and etiquette so unfamiliar, it's also an impenetrable place at times. A little guidance then, goes a long way. With that in mind, here are 11 IDEAL must-try foodie experiences in Tokyo.
SPEND A MORNING AT TSUKIJI MARKET
If you call yourself a foodie, then you'll know about the sprawling Tsukiji Market, which according to celebrated New York chef David Chang, is a 'great wonder of the world'. We couldn't agree more. The market's tuna auctions are world famous and the giant fish go for astronomical prices; some bidders pay nearly £24,000.  While planning is currently underway to move it to the Toyosu waterfront area by October of this year, you can still catch the frenzied fish sales in its original home till then. Get there early, preferably before 3am to get one of the 120 coveted spots given out each day to see the auction. However, if getting up at the crack of dawn in the land of the rising sun isn't your thing, then anytime after 9am will do as most of the shops stay open untill about 4 pm.
There are two main areas of the market; the outer, which has numerous shops and chains offering kitchen wear, Japanese knives and all sorts of Japanese delicacies, and the inner market, which sells approximately 480 kinds of seafood daily. Here you can get everything from uni (sea urchin) to ikrua (salmon roe). It also has around 270 types of fruit and vegetables, if the pescatarian diet has made you grow gills. After the auction, get breakfast, and if you're looking for a recommendation, one place on any foodie's radar should be Sushi Dai – probably the most famous of them all. Oh, and make sure you bring a jacket with you as it's pretty frigid inside. And bear in mind the ban on 'inappropriate footwear' – no sandals, high heels or flip flops, then.
EXPERIENCE A TEA CEREMONY
Just like you wouldn't visit England without sampling afternoon tea, a visit to Tokyo isn't complete without experiencing the ancient art of the tea ceremony. A tradition stretching back over 1000 years, Japanese tea ceremonies are a serious affair, full of grace and elegance. The ritual is a like a well choreographed dance; a cultural show preparing and serving matcha alongside wagashi, a traditional Japanese sweet to balance out the tea's bitterness. While of course there are many places to experience a tea ceremony, we particularly love Kantoku-tei; set in the beautiful Koishikawa Korakuen Gardens that were built in 1629, it's a stunning place to enjoy tea.
EAT SOME WORLD CLASS SUSHI
Those who come back from their travels in Japan often declare that they'll never eat sushi outside of the country again. Indeed, not all sushi is created equal and while there are the exceptions, the sushi generally found in the UK and countries other than Japan is pretty substandard. Tokyo, is where it's at, sushi wise. There are there are approximately 5,000 sushi restaurants in Tokyo, so you're spoilt for choice, to put it simply. You can find quality sushi everywhere in Tokyo, from the train station to the 7/11 (more on that later) to the dizzyingly priced plates of many a Michelin anointed venue. Generally speaking, Ginza is home to the best sushi places in Tokyo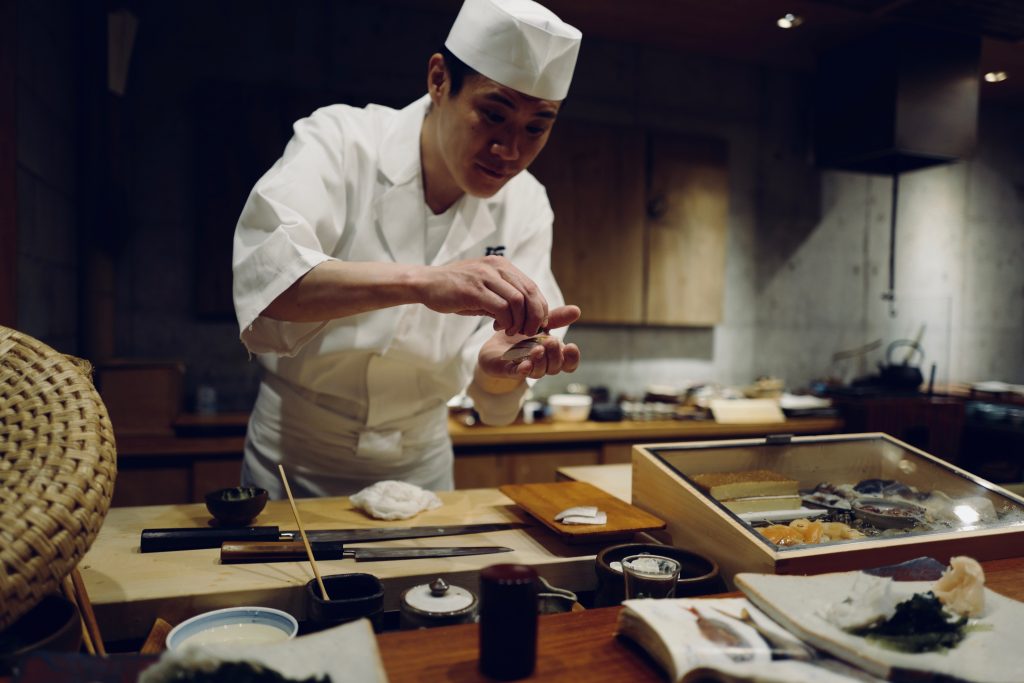 GET LUNCH FROM A 7/11
Food is expensive in Japan, and while you may want a few blowouts on squeaky-fresh sashimi and sushi tasting menus, you'll risk your entire budget on eating out if you don't make use of the 7/11 menu. If you think this shop serves just your average convenience store food then think again. Locals don't turn their nose up at a meal from here, so neither should you. Yep, they eat super-cheap noodles, soup dumplings, fried chicken sandwiches and loads of fresh offerings like octopus salad in basil dressing and more from these ubiquitous shops, all at a fraction of the price of a restaurant. We'd recommend you do too.
SLURP A BOWL OF RAMEN
Underneath the labyrinth of shops and restaurants beneath Tokyo Station, you will find (eventually) a street filled with some of the best ramen joints in all of Japan, on – wait for it – Ramen Street. This is the ramen epicentre of the world, a foodie mecca serving bowls and bowls of the good stuff. Choose any of the restaurants here and you're guaranteed a deep, rich bowl of deliciousness. However, you'll find phenomenal shops wherever you go in Tokyo and if you want to experience the best of the best, a Michelin-starred meal for under ¥1,000 at Tsuta is the place. Other ramen joints lauded by many chefs and well-heeled travellers alike include Afuri Ramen in Ebisu, Fungi, where you should order an intense bowl of tsukemen. Slurp away!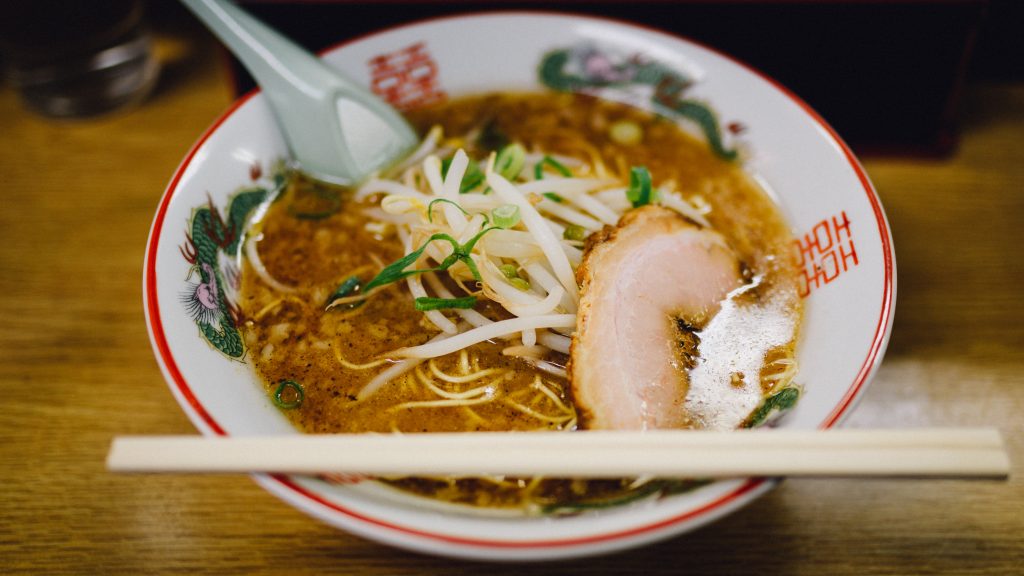 TAKE A FOOD CLASS
Working your way though the dishes of a country is a fantastic way to get to know a place, but if you want to take things to the next level, you should learn how to cook it. Immerse yourself in Japanese culture by taking a cooking class in Tokyo and come home with results ready to impress even the most discerning of dinner party guest. Cooking Sun offer authentic Japanese classes taught by local experts who all have an excellent command of English.
GO ON A SAKE TASTING TOUR
There are approximately 10000 different types of sake produced in Japan so finding one to call your own can be a little tricky. The best way to find a tipple for your taste buds, then, is to go on a sake tasting tour. On one, you'll be shown places you'd never have discovered on your own, and that's what it's all about, right?
DON'T FEAR THE FUGU
If you've ever watched the late, great Anthony Bourdain's cooking and travel shows, no doubt you'll have seen the episode where he visits a Fugu restaurant, which specialises in the potentially lethal puffer fish. You've probably seen the Simpsons episode, too. For daring gourmands in search of a truly unforgettable dining experience, then sampling this deadly delicacy is for you.
EAT YAKATORI ON MEMORY LANE
Omoide Yokocho, which means "Memory Lane" (also referred to as 'piss alley' by the locals) is a tiny street lit up with red Izakaya lights and lined with Japanese bars and yakitori restaurants. It started back in the late 1940's as an illegal drinking quarter and due to the lack of facilities, people relieved themselves on the street, giving it its somewhat charming nickname. Here the enticing smell of Yakatori – rather than an altogether sourer tang – wafts through the air and beckons you in.
While Yakitori unquestionably rules the roost here, nikomi, a stew like creation made of beef tendon, intestines, and vegetables, is also a popular choice. If you're looking for something a little more on the wild side , head to Asadachi, a little restaurant where you can eat frog sashimi, grilled salamander and pig's testicles. All of which, we were told, will make you 'strong'. Gym membership? Who needs one when you've got some porcine balls?

VISIT A THEMED CAFE OR RESTAURANT
Just as you can't leave Japan without partaking in ancient cultural traditions like the tea ceremony,  there are some more modern, novel experiences you should also consider. Enter Japan's whacky themed cafes. Tokyo is the world capital of themed cafés and restaurants, offering everything from cat cafes, where you can get your feline and coffee fix at the same time, to a Vampire cafe which serves spooky fare served by waiters with Transylvanian-inspired accents. Luckily they don't go as far as fixing you a Bloody Mary made from actual claret, but this is Tokyo and really, anything is possible. There are numerous maid cafes dotted around the city too, more than 200 infact, and butler cafes are also a thing. While this experiences might not be for the serious foodie, it's an insight into Japans fascinating and multifaceted culture; playful, embracing of the weird and most importantly, a whole lot of fun.
DON'T FORGET DEPACHIKA (UNDERGROUND DEPARTMENT SOTRE)
Underneath many of Tokyo's department stores, the bottom floor is the ultimate foodie destination; a culinary theme park if you will, selling what seems like limitless options of both Japanese and international delights. One of our favourites is Tokyu Toyoko Department Store, directly linked to Shibuya Station. Here the Tokyo Food Show is a self proclaimed 'Theatre of Food', and it's a damn good show, too. Most of theses places cater for takeout only, so grab some Japanese delights and don't forget to pick out a foodie souvenir to take home. Happy travels and happy eating!