We all know that Hawaii is a jaw-droppingly, mind blowingly, loin stirringly beautiful collection of islands. We've seen pictures of the vistas, the mountains, the jungle. We've longed after the golden sands and we've celebrated (and longed after, too, actually) the island's most famous son, Barack Obama.
But what we maybe haven't given as much thought-time to is the food. That needs to change, as the cuisine can be just as stunning as the tropical panoramas – well, almost. A melting pot of local and imported flavors in the middle of the Pacific Ocean, Hawaiian food stands alone in its unique, delicious identity.
The Aloha State is a multicultural mash of diverse influences and meal time in Hawaii is the ideal opportunity to delve a little deeper into the island's history. Savouring the sea's bounty and taking elements from the Japanese, Chinese, Korean, and Filipino, who came to the island in the 19th Century to work the sugar cane and pineapple fields, dishes tend towards the punchy and surprisingly hearty, with plenty of spice, citrus and verve.
So, if you want grinds so good it breaks the mouth – pidgin slang in Hawaii for damn fantastic food – then read on. Here are 12 IDEAL dishes to try in Hawaii.
MALASADAS
A dish originating in Portugal, whose workers came to Hawaii in the 1800s to work the sugar cane fields, this sugary doughnut without a hole is Hawaii's favourite fried treat. Rich, buttery dough, served hot from the fryer and covered in cinnamon sugar, malasadas are one of those 'must-have' local foods everyone seems to be eating or eulogising about on the island.
Some are filled with custards and different fruity fillings, some are enjoyed plain and unadorned; it's simply a matter of personal preference, and no one will judge you for either. Leonard's bakery in Honolulu is arguably the best place to get a dozen or so (you won't be able to have just one, so don't fight it).
SHAVE ICE
Hawaiian shave ice (not shaved ice, incidentally) is just what is says on the tin. The shavings come from an ice block, and are flavoured with psychedelic coloured syrups of the full range of the rainbow; if you feel the island hasn't given you enough vibrancy! Exotic flavours are the ones to go for – local ingredients like quava, pineapple and passionfruit are bestsellers.
Sweetened condensed milk is sometimes drizzled over the top, and at the bottom lies something called a 'snow cap'; a scoop of vanilla ice cream or adzuki bean paste. The island's tropical weather means there's never a moment where shave ice isn't appropriate, especially when the air is hot and sticky, and the mouth parched.
Shave ice is everywhere on the island, but if you want to whittle it down to just one purveyor, then Matsumoto, a family owned business which has been around for half a century, is probably the most famous of all for a fix.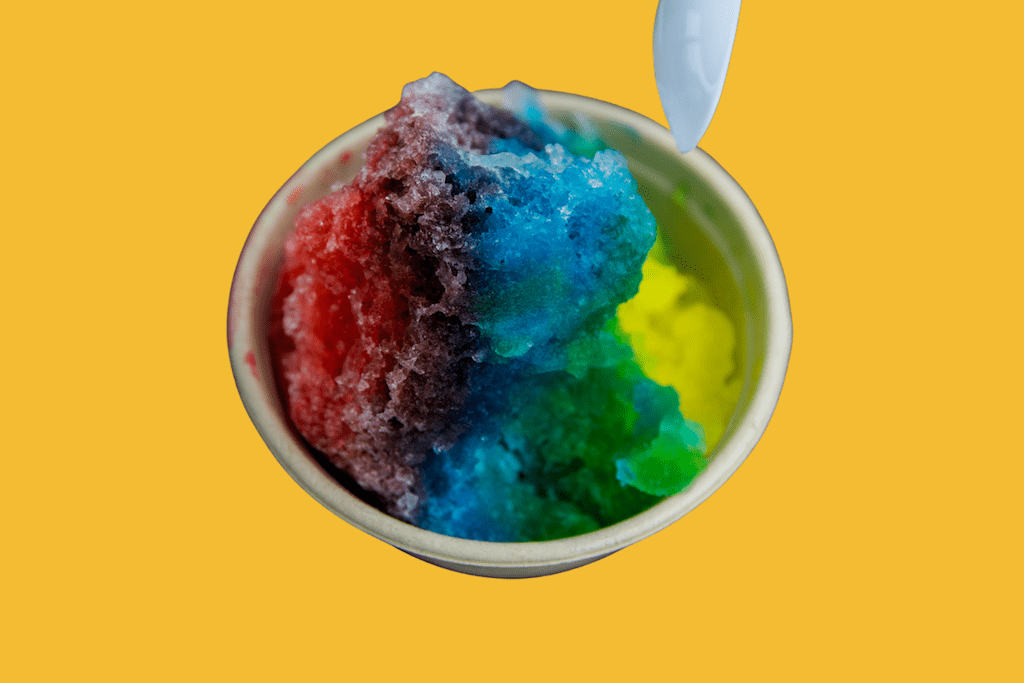 POKE
From humble beginnings in Hawaii where local fisherman would haul in their catch, season it with what's to hand and eat it there and then, to a cult dish served at street food stalls and upscale restaurants across the world, poke has been enjoying its moment in the limelight for quite some time now. However, unlike ceviche, it's not actually cured with any citrus juices; a common misconception.
There's no better place to try this dish of cubed, marinated raw fish than its true home, Hawaii. Refreshing in hot weather and packed with flavour, poke is everywhere on the island – you'll find it at grocery stores, gas stations, unimposing surf shacks and Hawaii's seafood counters, all offering endless varieties of the stuff.
Traditionally poke is cubed tuna marinated in soy sauce and sesame, but it comes in many forms – the word actually means to slice or to cut crosswise into pieces – so expect to see it in lots of different shapes and sizes.
MANAPUA
This is Hawaii's version of the char siu bao and a reflection of the Chinese influence on the island. In the 19th century, over 50,000 Chinese immigrants came to the island, bringing with them their famous barbecued pork-filled steamed dumplings, which fast became a hit with the locals and were given the name manapua. These soft and pillowy buns have changed in size and filling over the years, but one consistent remains; their deliciousness.
SPAM MUSUBI
Spam, you say? Yeah right! But don't knock it till you've tried it in its sexy, Hawaiian form. Slices of the stuff sit atop a block of sticky white rice, wrapped in Nori and often seasoned with Furikake; there's a lot more to this simple snack then just spam, that's for sure. Spam was widely consumed in Hawaii during World War II and this sushi inspired creation is believed to have been invented by the Japanese in the internment camps during the war, using whatever ingredients were available.
Its popularity has endured and you'll find "moo-soo-bee' (as it's pronounced) in convenience stores all over the island. It's undoubtedly the island's favourite go-to snack, often eaten for lunch too, for those in a hurry.
PLATE LUNCH
Cheap, filling and full of carbs; the 'plate lunch' is the quintessential go-to Hawaiian meal, enjoyed by workers of all trades for lunch. It's a dish that also showcases the cultural melting pot that is Hawaii. Standard plate lunches usually consist of exactly two-scoops of white rice, macaroni salad and one meaty main of your choosing, for instance Huli Huli chicken – Hawaii's version of version of grilled teriyaki chicken
If you're feeling greedy and are after lunch with more than one entree, then this is called a mixed plate. Get it at the iconic Rainbow Drive- In, reportedly Obama's favourite spot.
LOCO MOCO
Dubbed Hawaii's ultimate comfort food, Loco Moco is fast food done right. It's a dish of white rice, topped with a hamburger patty, lashings of brown gravy and topped with a fried egg. It has the power to satisfy any surfer's insatiable appetite after hours in the ocean and is also a mighty fine hangover cure after too many sundowners.
LAULAU
In contemporary Hawaii, there are so many exciting dishes to try, reflecting the open arms of the island in their showcasing of global influences. However, there are some pre-contact dishes, native to Hawaii, which also merit a place at the table. Laulau is one of them; loosely defined as pork, chicken or beef, salted butterfish and taro leaves wrapped in ti leaves and steamed.
Back in the day it was cooked in an underground Hawaiian oven called an imu. Today the irresistible package is simply steamed until the insides are tender. The parcel seals in all the flavours and unique taste of the taro leaf permeates throughout the fillings, creating an intoxicating mouthful every time.
KALUA PORK
The Hawaiians love to party and no trip to the island would be complete without watching a hula dance and having a feast. There's a name for such a festivity; a luau. The centrepiece of this huge, celebratory meal is a pork shoulder, traditionally cooked underground for hours until meltingly tender. Smokey, salty and so good, this is one not to miss.
LOMI LOMI SALMON
A luau wouldn't be a luau without a side of lomi lomi Salmon. The name comes from the word to massage, and you're bound to see spas offering lomi-lomi massages around Hawaii, but don't get confused. Although eating fresh salmon while getting massaged sounds pretty good to us, this sadly isn't what's on offer. Lomi is made from salting salmon, and lomi alludes to how the ingredients are 'massaged' into the cubed salmon form of their finish.
SAIMIN
This is Hawaii's noodle soup – similar to ramen – but oh so different. Its roots are in Japan and China, but over the years, it's become uniquely Hawaiian. So much so, in fact, that it even has a place on branches of Hawaiian McDonald's secret menu (although we suggest eating it somewhere more authentic). It's made of egg wheat noodles, dashi broth and commonly topped with kamaboko (fish cakes), char siu (Chinese barbecued pork) and a boiled egg. Spring onions add extra bite and textural fancy.
Alkaline and soothing, and imbued with comfort, saimin is ideal any time of day – especially if you've had a few to many at last night's luau.
HAUPIA
After a sweet treat that's cold, clean and refreshing to enjoy under the Hawaiian sun? This is a traditional coconut milk based Hawaiian dessert sure to quench and cool. A gelatin like consistency, it's best served chilled and cut into small pieces. You'll often see this one topping wedding cakes.