Limiting a list to 4 IDEAL things to try in Sicily is quite frankly impossible. From the well known – but not rightly enough – pasta con le sarde, to moreish involtoni parcels which feature such delicacies as tuna wrapped in pig fat or aubergine rolled round goats cheese, we've had some of the best meals of our lives in this part of the world.

As with many of the best foods in the world, both history and geography play a huge part. The positioning of Sicily is unique; European but close to the Middle East and on historic trade routes between Turkey, Greece and Tunisia means there is a heavy influence of North African and Arab ingredients and recipes in the cooking. Indeed, Sicily has been conquered by many different nations, dating back to and before the 7th century where  Arabic explorers bought their ingredients and mixed it with whatever they found. All this has led to a poetic mash up of dishes that distinguishes the flavour of Sicily  from the rest of Italy and beyond. So on your next visit to Sicily, here are 4 IDEAL foods to try.
ARANCINI
No doubt you've tried arancini balls in the UK, however there's nothing quite like tasting these moreish balls in the place that they hail from. Wherever you go in Sicily, you'll find arancini piled high in shop windows. Hold one in your hand with the intent of devouring it in couple of mouthfuls and you'll be eating an edible artefact of the island's history, which would take us the entire article to delve into; instead we'll point you to this complete guide to arancini in Sicily.

CAPONATA
Aubergine and tomato, sweet, sour (not you Chinese kind) and stewed. Sounds pedestrian, but for us, it makes total sense. These agrodolce flavours that are typical of the island totally work. Whether you have it on bread, as a pasta sauce, or just eat it on its own with a spoon, it always hits the spot. Indeed, the tang and piquancy of this dish is the ideal example of how the Sicilians not only use aubergine as a staple in their cuisine, but of their flamboyant and bold flavour combinations that sets their cuisine apart from the rest of Italy, showcasing the aforementioned, external influences over the island's cuisine.
CANNOLI
One of the most famous sweet treats Italy has to offer is Sicilian through and through. These tube-shaped shells of fried pastry dough, filled with a sweet, creamy filling usually containing ricotta are a staple of Sicilian cuisine. The crunch of of cannoli shell with the contrast of the yielding filling provides thrilling contrast and the ricotta base offers a vehicle for Arab scented flavours such as rose water and pistachio.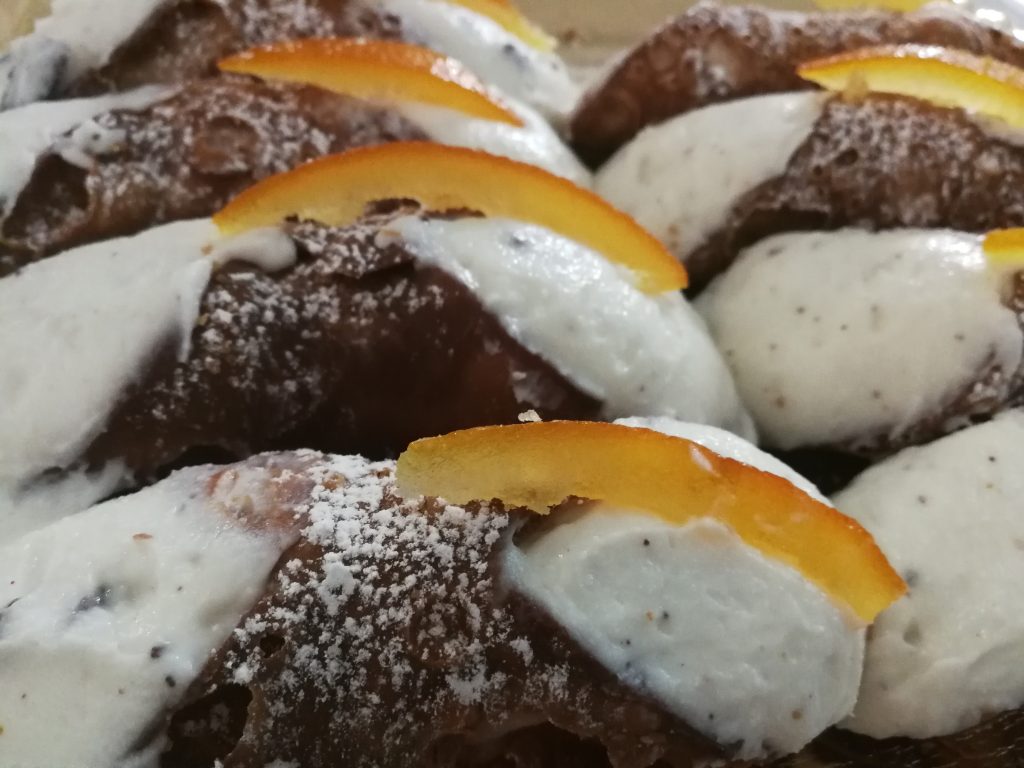 PASTA CON LE SARDE
Dried fruit, oily fish and nuts….who knew? But fennel, sultanas, pine nuts, anchovies and sardines is a flavour combo that we adore. This is a dish that has been heavily influenced by the cooking of Arabs (who ruled Sicily more than a thousand years ago) and to this day remains one of its more iconic dishes.