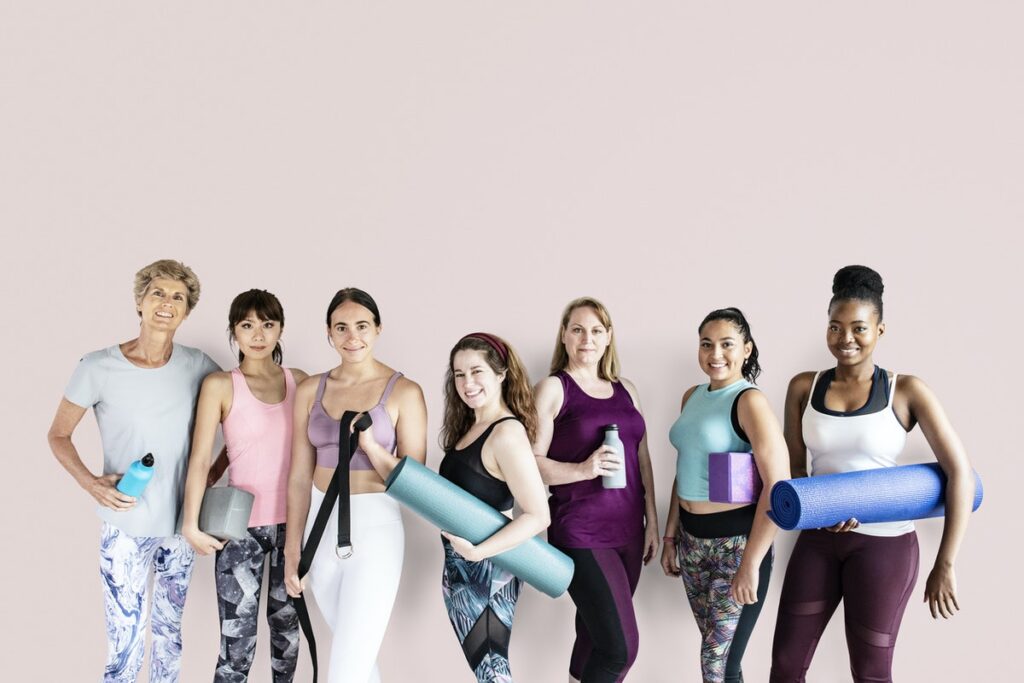 The heady days of working out in our underwear with the Nation's PE Teacher for company are but a distant memory. With workout companions and gym nemeses (don't deny it, we all have one) alike flocking back to fitness rooms in droves, suddenly we're having to think about our gym wear once again.
Where once your boyfriend's oversized T would've done the trick, we think that emerging from hibernation and back into the gym calls for a slick new get up for motivation. With that in mind, here are 4 tips for smart gym wear shopping in 2020.
FIND THE RIGHT FABRICS
Clothing that has been made to specification with workouts in mind is made with light, breathable fabrics which won't irritate the skin or make you feel too warm when you sweat.
That's great news for those returning to the gym; regulating and controlling body temperature is a must for a comfortable workout, and materials that are designed for exercise can help you do this effortlessly. Well, as effortlessly as is physically possible when you're pushing yourself. On the flip side, the wrong fabric can make you sweaty and restrict your training. Avoid cotton at all costs, as it absorbs moisture, making your outfit heavy and you prone to chafing.
When you're shopping for gym wear, prioritise a technical fabric which allows your skin to breath. Some have natural odour blocking technology and superior sweat-wicking capabilities, which are fabrics woven in a certain way to pull moisture away from your skin and into the fibres of your clothing. All this allows a cool, dry workout session; look out for it!
BE AWARE OF WORKOUT WEAR'S ENVIRONMENTAL IMPACT
Though those technical fabrics are great news for your skin, they're sometimes not so good for the environment. Materials used in workout clothing production are contributing to the polluting of our oceans. Nylon, acrylic and polyester, in particular, release microfibres during washing which ends up in rivers, lakes and oceans. If your gym outfit does incorporate this material, then ensure you wash your sportswear in specially designed laundry bags to prevent shedding microfibres ending up in the oceans.
Some savvy and sustainable brands are moving towards using materials made from regenerated ocean plastic to make their sportswear as renewable and impact free as possible. Do yourself and the world your favour, and shop with one of those brands where possible; the Evening Standard recently published a list of independent sustainable activewear brands. Do check it out.
FASHION AND FUNCTION
While first and foremost, your workout wear should be made from performance-friendly fabrics, if you can invest in pieces that mix function and fashion, then you're onto a real winner! Because there's no harm looking trendy on the treadmill, now is there?
As the fashion experts at Differio who sell mens gym clothes, highlight, trendy workout clothes can give you the confidence to get up and be active in style. And anything which gives you the motivation to engage enthusiastically with exercise should be embraced, we think. 
Indeed, interestingly, clothes have a unique impact on the wearer's mind. If you've noticed that you feel extra pumped, can lift that little bit more or run that little bit further when you're wearing your favourite gym wear, then there is actually a good reason for it. The clothing we wear psychologically affects how we perform, so investing in quality gym pieces can have an impact on the quality of a workout and the confidence of the exerciser, too. Food for thought, indeed.
ALL WEATHER WEAR
It's essential to have a workout wardrobe for all weather. Here in the UK, the seasons chop and change just like those karate moves we've been doing for extra fitness or that Future Islands song which was on repeat for years. Since gyms may be subject to future restrictions as COVID cases fluctuate, it's crucial that you're prepared for working out in the cold grip on the British Winter.
Anything loose should be avoided, as once wet, baggy workout items have a tendency to chafe and get really heavy. No one wants that when they're jogging. Moisture managing materials are vital to working out in comfort outdoors; as we mentioned earlier, anything labelled sweat wicking is excellent when paired with a waterproof jacket. We know how clammy it gets under one of those. Also make sure you trainer choice packs a good deal of grip. A rubber outsole is a must for outdoor running, to prevent any nasty falls.