For something so small, so light, and so easily lost, wedding rings carry so much weight. While tiny in stature, this ever-elegant piece of jewellery has one hell of a message to convey; of love, of memories, and of future promises.
And that's only the generic symbolism. Wedding bands are also highly personal pieces of jewellery that say a lot about the wearer's ethos, aesthetic and life's outlook. These rings are symbols of the unique vows you make to your partner, and are a daily reminder to keep them, however turbulent your relationship (and life) may be. Best treat this decision with the diligence it deserves, then, by first reading these 5 beginner's tips on choosing the IDEAL wedding band.
SHOP AT THE RIGHT TIME
So much emphasis is placed on the engagement ring and proposal that the wedding band purchase seems to take a backseat, rarely getting the attention it deserves.  
Timing, here, is crucial. Some people wait until a month before their big day to purchase the band, instead prioritising other aspects of their enormous to-do list. But treating such a symbolic item as an afterthought is something the happy couple may one day live to regret. After all, when it's all said and done, the cake has been scoffed, the first dance finished and best man's speech's laughter has died down, what's left for eternity is the ring.
As such, wedding planners recommend beginning the buying process around three months before the big day, to allow for the initial research, the purchase, and any adjustments as well as engravings and customization (which usually takes a month or so) to take place.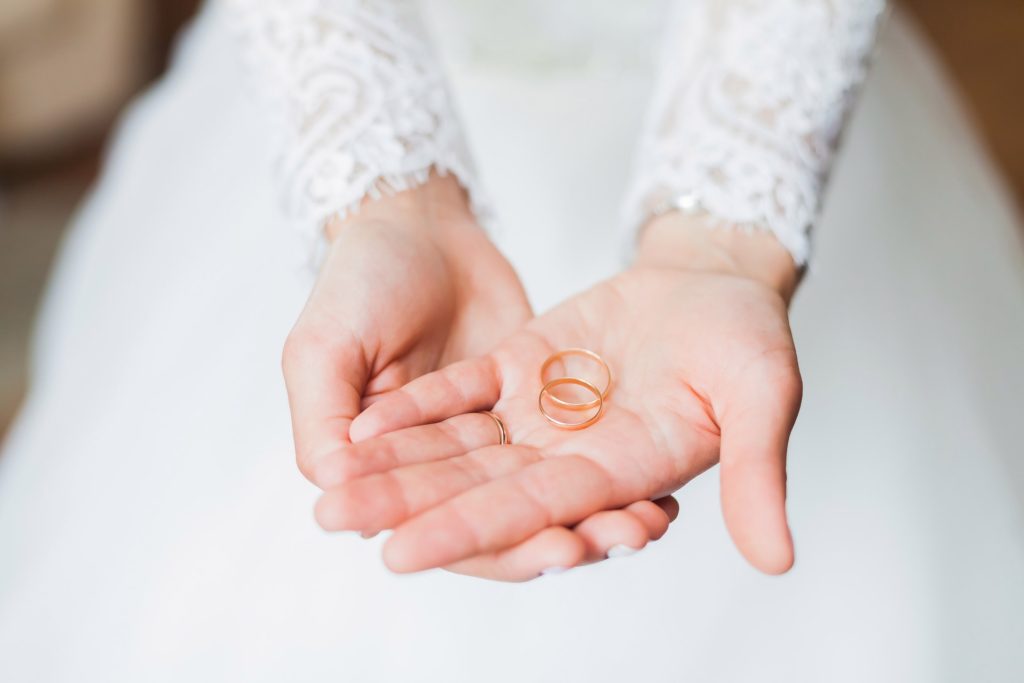 PLAIN OR DIAMOND?
With the engagement ring traditionally being an extravagant looking (and costing!) piece, many choose something more understated for their wedding band. Indeed, for a piece of jewellery you're going to be wearing every day, a more durable, simple design makes sense.
If you are going to include a diamond in your wedding band, then there are several separate factors you'll need to consider. Check out our tips on choosing the perfect wedding ring which go into the specifics of diamond choice in more detail.
CHOOSING THE METAL FOR YOUR BANDS
Though yellow gold – that is, the blending of pure gold at 24K with other metals due to the former's soft nature in its purest form – is probably the most common metal used in making wedding rings, you're certainly not restricted to it. Indeed, the lower the carat, the more diluted the pure gold is, and that's something you should consider. That said, yellow gold is practical, durable and easy to repair.
If you want a less expensive band, consider white gold, which is yellow gold amalgamated with other metals such as zinc or nickel. The metal looks like platinum and blends perfectly with the white sparkle of diamonds. Platinum is also popular, as it's the most durable metal. It's also a good choice for people with allergies since it isn't mixed with any other metals.
Rose gold contains copper and is an increasingly popular choice, looking elegant and feminine. Of course, your lifestyle to an extent dictates your choice here…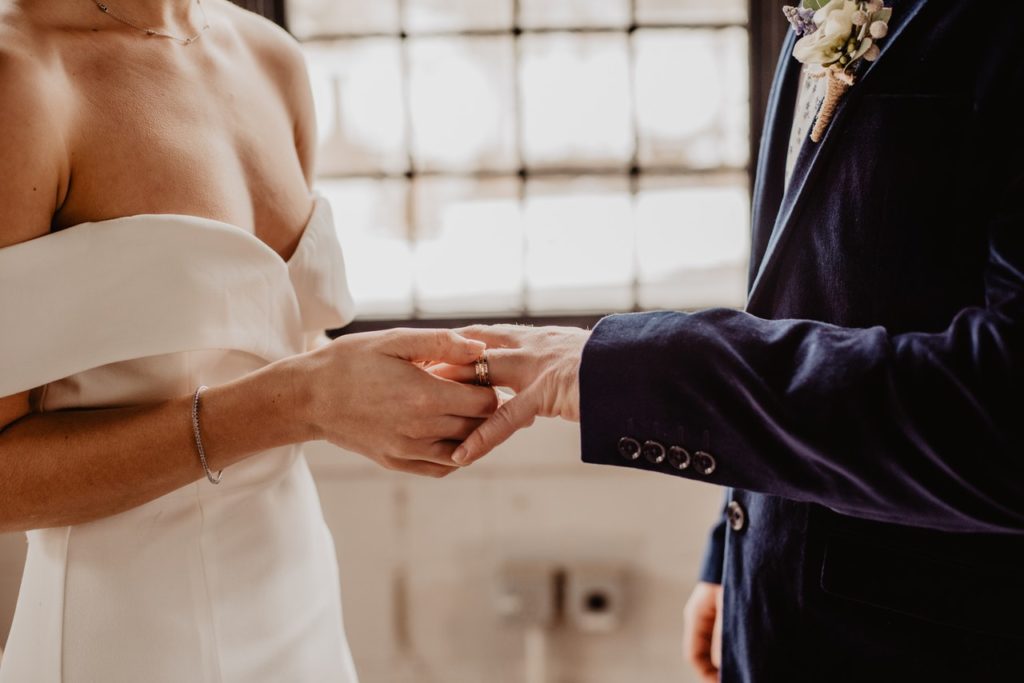 YOUR LIFESTYLE MATTERS
Your lifestyle is also a crucial consideration when it comes to choosing a wedding ring. Since you'll be wearing the band daily for a lifetime, you need to consider what factors from your everyday routine might affect the longevity of your band.
If you're an active person who spends a lot of time outdoors or if your job leaves your hands in exposed to a lot of chemicals, for instance, then you should ensure that the pieces you choose are tough enough to withstand those unique conditions. 
CONSIDER MAINTENANCE REQUIREMENTS
Fine jewellery requires regular maintenance to keep it looking pristine. With time, diamond prongs can wear down, making diamonds loose, and bands can become misshapen (fingers can too, requiring adjustments to the size!). What's more, some wedding rings require professional polishing to take care of scratches and others need re-plating to ensure their shimmer lasts.
So much to consider, right? Fortunately, some rings are relatively easy to clean at home. You can, for example, deploy a steam cleaner which uses high-pressure steam to remove grime, oil, and dirt that may be on your wedding ring.
That said, prevention is better than cure, and if the original item is sturdy and made of quality material using expert craftsmanship, then it'll be less likely to need regular maintenance. Because of this, make sure you buy your bands from reputable jewellers. Check out Diamonds Forever, a premier jewelry store in San Diego, to see what trustworthy, licensed professionals look like.