Ideal for making the most out of your trip to Monaco and Monte Carlo.
While it may be the second smallest independent state in the world, Monaco packs one mighty punch. It's certainly not bashful, and is famous for being the unashamedly exclusive and ostentatious playground of the rich and famous.
If you've watched the BBC's Inside Monaco, which gives an insight into this tiny country with extraordinary wealth, then you'll have some idea of what to expect. But if you're approaching the place with fresh eyes and a pure perspective, then you're in for a treat. So, get yourself in the mood for your trip by grabbing a Martini, shaken or stirred, and read on; here's our 5 holiday tips for Monaco first timers.
WHEN TO VISIT
Located on the French Riviera and looking out over the Mediterranean Sea, Monaco enjoys a warm climate with sunshine and comfortable temperatures all year round. When summer is in full swing, during the months of July and August, crowds pack its chic beaches and the glitterati of the world attend private yacht parties; the atmosphere, unsurprisingly, is electric. However as the crowds swell the prices rise, and the queues for restaurants grow too.
While there's a certain magic to summer in Monaco, the sun shines here through much of the year, so even off-season has its charm, and is considerably cheaper. Though, of course, in a place such as this, that's speaking relatively. Keep in mind that the Grand Prix and its posse descend on Monaco in May, so if you want to enjoy the thin crowds, avoid this month.
GETTING AROUND & WHERE TO STAY
Monaco itself is small (walkable from east to west in under an hour) however, forget about getting around the city by foot – its steep hills can be a struggle, especially in the summer, though public lifts and escalators do operate. The layout is a little baffling at first, so your best bet is taking a bus; the bus system in Monaco is fantastic and is an affordable way to explore the principality if you're not driving a ubiquitous supercar. As you'd expect from a place so flush with cash, those buses are clean, comfortable and ultramodern. Result!
Since Monaco is wonderfully compact, focus on finding the best hotel deal rather than prioritising a particular area you'll stay. La Condamine is the heart of Monaco and offers beautiful rooms with prices to match. If you want to be in the middle of the action, head here. The western area of Monaco, known as Fontvielle, is the quietest area and hotels are a little cheaper. In the east sits Larvotto, home to Monaco's most popular beach.
Keep in mind that Monaco is on the French Riviera, as such many chose to base themselves in Nice instead due its significantly more affordable accommodation options. By train it takes just 22 minutes with around 44 trains per day. Buses are also frequent with the journey taking around 45 minutes; don't resent the time taken, this is one of the most stunningly beautiful bus routes in the world. It's also possible to stay somewhere along the Italian Riviera, on the gorgeous stretch of Liguria coastline, and do a return day trip, avoiding the expense of Monaco itself.
INDULGE IN THE CUISINE
Monaco draws from the culinary traditions of the French Riviera and Northern Italy, two places with a prestigious gastronomic history. Throw into the mix the financial backing of one of the most affluent states on the planet, and you have a unique, luxurious cuisine.
Staples on menus in Monte Carlo include Bouillabaisse which has its roots in Southern France, pillowy and plump Gnocchi from Northern Italy close to the border, and soft and juicy Porchetta, again from Italy. Thrown together on a menu and you have a generous, rich cuisine so suited to the region's identity.
We can't talk about the restaurant scene in Monaco without mentioning their Michelin starred fine dining establishments, which take the idea of 'blow out' and light a fuse under it. Le Louis XV, with world renowned chef Alain Ducasse at the helm, is one of the most revered kitchens on the planet, with prices to match. If you have the budget, do dine here; it's considered one of the most prestigious dining experiences out there. With starters clocking in at around €70, you'll certainly pay for that prestige.
For something more local and considerably more wallet friendly, you can't leave the city without trying Barbajuan, the national dish of Monaco, at a local cafe. This is a crispy and unctuous deep-fried dish filled with swiss-chard and ricotta, and is utterly irresistible. Translating as Uncle John, reportedly the dish's inventor, this snack is especially popular on the country's national day – November 19th. The two best versions of the beloved Barbajuan are arguably found at the bakeries Maison Mullot or La Roca, which is in Marché de la Condamine. We can't wait to try this dish again!
Another must-try street food is socca; a crepe-like pancake made from chickpeas that originates from neighbouring Nice and is found all along the French Riviera. Try it at Chez Roger, a little stall in the covered Condamine market which is arguably Monaco's favourite fast-food institution. Here they also sell pissaladière; a caramelised onion and anchovy tart which is as good as it sounds.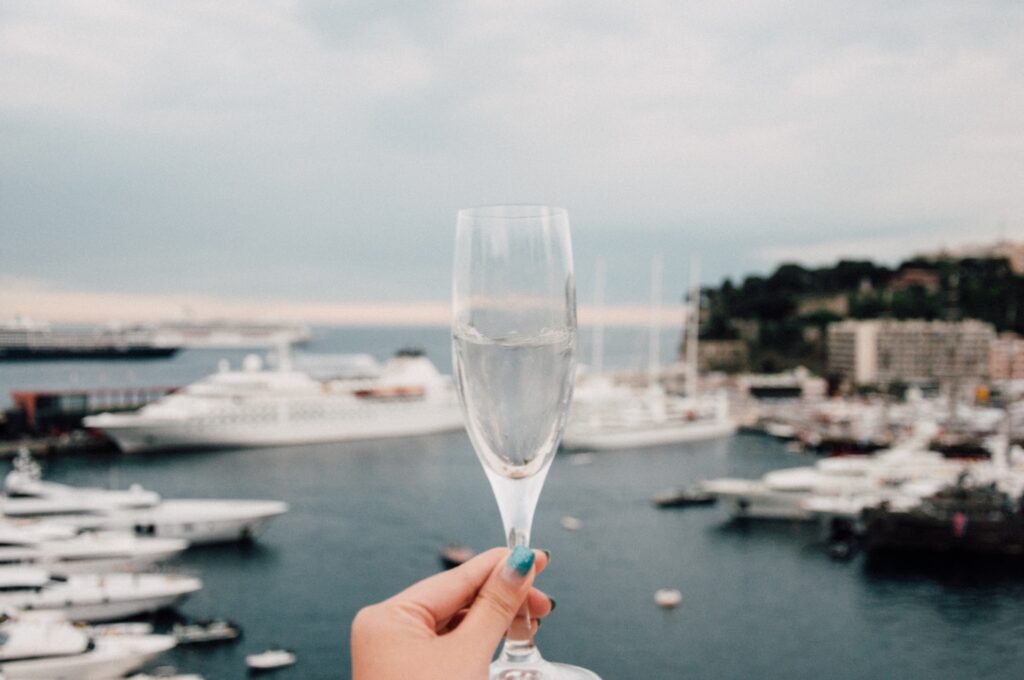 VISIT CASINO DE MONTE CARLO
Whether you're a gambler or simply a voyeur to the spectacle, a trip to the Casino Monte Carlo is obligatory if you're visiting Monaco. Historic, lavish and oh so opulent, with shimmering chandeliers and whispers of celebrity at every table, it's part and parcel of the package of Monaco.
Arguably the most luxurious casino experience on the planet and one which puts the sass in spectacle, the stunning landscape that surrounds it seems to set the tone for decadence and a little debauchery, too. A huge gambling and entertainment complex, and so much more than just a place for bets, this one.
It's so iconic, in fact, that the Royale-Les-Eaux Casino in the famous Bond flick 'Casino Royale' is based on Monte Carlo's grandest structure. What's more, it's been used as a location in GoldenEye and Never Say Never Again. Open every day from 2pm to 6am, you'll have to pay a small admissions fee to gain entry (at €10) but it's well worth it, as inside there's entertainment and imbibing options well beyond the tables. Make sure you check out the iconic Café de Paris while you're visiting, which has a glorious terrace seemingly always catching the sun. The casino also regularly hosts prestigious classical concerts, should you be wanting a side order of culture with your french fries.
Speaking of chips, if you are intent on trying your luck at the tables of Casino Monte Carlo, it might be wise to get to grips with the ins and outs of poker before you go by playing a few hands online. Do ensure that you use a non-sticky bonus when doing so, enabling you to withdraw your cash at any stage. In doing so, you'll learn the valuable art of 'quitting while you're ahead', which you can deploy during your time at the world's most distinguished gaming venue.
CULTURAL MONACO
For all the brash blowing of cash, haute cuisine, furiously fast cars and Instagram friendly posing, you'd be forgiven for thinking that Monaco didn't offer culture in the more traditional sense of the word. Rest assured, it does.
The Oceanographic Museum and Jardin Exotique are two apt places to enjoy Monaco's chief juxtaposition; that for all the natural beauty and fine weather of the region, folk tend to spend way too much inside here. If celeb spotting and poker playing doesn't do it for you, you should instead seek spectacle in marine life form, at the Oceanographic Museum. Here you'll find sharks, sea turtles, piranhas and more (you could almost imagine Bond wrestling these sharp tooth creatures!) There's also a museum devoted to sea exploration here; truly fascinating.
The Jardin Exotique, standing tall over the Med, boasts gorgeous views below, with the garden itself precariously clinging to a cliff edge (totally safe though, of course!). Most proudly displayed are over 1000 different types of cacti and succulent, some dating back over three centuries. With entry at just €7.20 for adults and €3.80 for children, this is somewhere you'll actually find good value in the principality. Fantastic.