Summer is finally on its way, which means you'll soon be making the most of every second of sunshine and good times. If you're lucky enough to have a garden or even simple outdoor space, the aforementioned positive vibes are most likely going to be spent here. As such, with the first rays of sun, our thoughts naturally turn to transforming our gardens into a place where we actually want to spend time, rather than an overgrown plot with all sorts of creepy crawlies lurking in its depths and sharp, abrasive edges waiting to have us scattering back inside. Fortunately, a beautiful, blooming garden doesn't have to cost the world loads or require some serious thought and time. With that in mind, here are 5 IDEAL landscape gardening ideas that are relatively easy to do.
GET SOME BONES
No we don't mean actual bones. You wouldn't want a pack of hungry, feral dogs descending on your garden, now would you? Nope, in landscaping lingo, the term 'bones' means a type of architectural framework that defines the structure of a garden. It can be a singular focal point standing proudly on its own or different features around the garden, used to move the eye from one corner of the garden to another. These can be 'hardscape' elements such as a lovely arbor, a swing or even a water piece shrubs. Even paths, an oft neglected feature of even a well-groomed garden, can form the bones of a garden. By giving the garden path a good sweep, trim and clean you'll create another focal point, as well as creating more borders. That all important definition and framing is the key to garden success, we think.
DWARF EVERGREENS & SMALL SHRUBS EVERYWHERE
A what now? Yes dwarf evergreen gardens are actually a thing. Indeed, we like to think of them as garden stalwarts. They are ideal for planting in beds and borders and although this type of plant bed takes a little while to establish itself, once they've grown into their own, they require only a little maintenance. Just go into your gardening centre and ask to see 'dwarf selections such as bird's nest spruce'; that's Picea abies 'Nidiformis to those terminology minded. If you're after a garden with lots of structure and a particularly well-groomed look, consider planting box (Buxus). This is a compact and versatile evergreen shrub that many landscape gardeners rely on to give that manicured look. If you find yourself totally perplexed by all the different varieties and latin names, then just admit that it might be time to call in a landscape gardener. 
LIGHT UP
We all coo and swoon over a garden space illuminated with twinkling fairy lights and ambient lighting, yet never have the volition to do it ourselves. To really bring your garden's design scheme to life after dark, amp up your outdoor space with some great lighting. Running with a theme, a well lit path is both welcoming, functional and oh so pretty, and the same goes for step lighting. Consider highlighting focal points like trees and those aforementioned shrubs for an absolute orgy of illumination. We love stringing fairy lights from a tree – there is something magical in their simplicity – and you can never go wrong with some cleverly placed lanterns.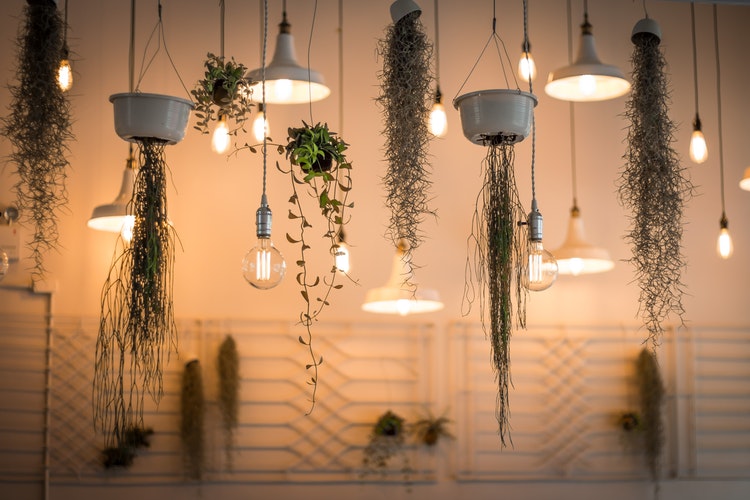 DEFINE YOUR LAWN
'Minimal spend, maximum results' should be the mantra when giving your garden a makeover, and redefining your lawn only takes a bit of manpower and a borrowed mower to stay true to that ethos. A clearly defined shape for the grass in your garden – for instance, in a circle or rectangle with straight, clean lines – may sound like a basic step, but is one which completely reinvigorates the space. Further frame the space by digging a shallow rim around it, and consider surrounding the area with plants for truly maximum results.
CREATE A DESIGNATED CHILL-OUT AREA
Add a touch of style to your garden with a chill-out area. This style of seating creates a focal point that you can design the rest of your garden around, helping you to figure out where to place your pots and hang those whimsical fairy lights. Creating such a space will also encourage you to spend more time in your newly landscaped garden, which is the whole point of making it nice, right?