New decade, new trends. Is that a recognised saying? Well, it should be…
Although 2020 has left many of us struggling, it has also been a year for spectacular upheaval and a change in perspective on everything, from the way we work to our relationship with interior design.
Let's face it; with more and more time being spent indoors, it's only natural that homeowners are seeking to freshen up their interiors, as a way to mark change and put distance between the sanctuary of home and the unpredictability of the world outside its four walls. 
With the kitchen being the heart of the home, where so much of life's most meaningful moments occur, today we're looking forward to next year, when hopefully we'll be breaking bread and clinking glasses with loved ones once again. With the help of Kesseler, who design Luxury kitchens, here are 5 IDEAL kitchen trends for 2021.
CALM COLOURS
2020's colour based forecasts painted a dramatic picture; dark, often clashing shades with accent walls offering further jarring contrast were set to be all the rage. How prescient those predictions were; it's been a year of chaos and high drama, make no mistake.
It would be perverse if 2021 welcomed in similar tones. Instead, expect calming colour schemes only, particularly those with a slight off-beat but natural feel. Think dusky pinks and soft greys; essentially ''red sky at night, shepherd's delight'' but on your kitchen walls. Well, we're going to have to connect to the outside world somehow, right?
In fact, the idea of two-toned kitchens is still set to be prominent, but in complementary rather than clashing forms. Dulux's colour of the year is Brave Ground (we could all do with entering next year with a bit of that, hey?), and we expect this soothing, earthy colour to be paired to a similarly grounding tone; forest green, charcoal or a twilight tone works particularly well. 
Yep, perhaps the overarching kitchen trend of next year will see the room turned into a space of retreat and sanctuary…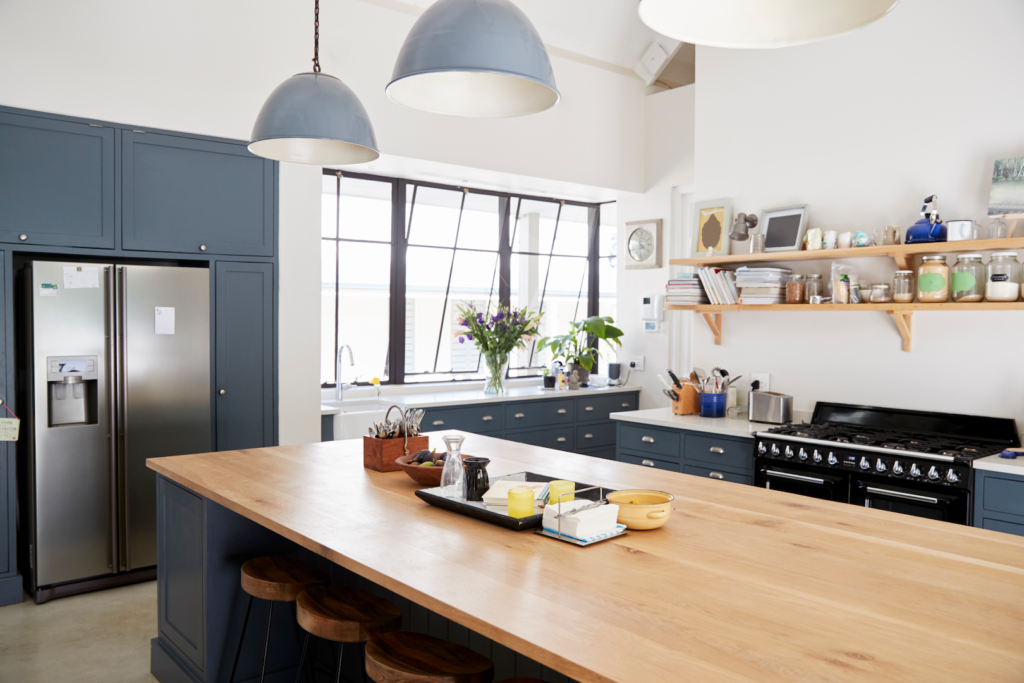 A COMMUNAL SPACE OF SANCTUARY
The bedroom's filled with your hastily arranged home office set up, the living room hasn't been great for living in for a while, so crammed it is with your kid's homeschooling stuff. The kitchen, then, is the place to unwind during the inevitable Lockdown 2.0, and we expect this trend to continue well into 2020, with all the sentimental moments happening in this most sacred of spaces.
As such, it's the kitchen table, in particular, which is going to be the focal point; a place for the family to gather and share their hopes, dreams and fears for the future. Expansive, blocky kitchen tables in calming blonde wood are predicted to be hugely popular next year, especially, as the domestic space also becomes a communal one. 
Expect to see elements of recreation and entertainment seeing popularity in 2021 kitchen design, too, as boundaries around the home get blurred and the kitchen's capacity for leisure increases. Speaker systems, TV screens, games consoles or more old school gaming options (Jenga anyone?) will likely all find their way into kitchens…as such, the knocking down of walls to reveal open plan kitchens is set to be a hugely popular renovation request.
URBANE BRONZE
Back to considering those colours we mentioned earlier. If pastel shades ain't your thing (hey, for some, they just remind us of a chalkboard way too much), then darker urbane bronze will also be having a moment in kitchens across the land next year. 
As the design experts at Architectural Digest so aptly put it "exemplifying our connection with nature and desire for calm, Urbane Bronze is equal parts trendy and timeless". That's why it's Sherwin-Williams Colour of the Year for 2021. That doesn't mean you have to render the whole damn room in the shade; that would stifle even the cheeriest person's outlook.
Instead, use Urbane Bronze in flashes; darker cabinets have been an emerging trend for a while now and dedicating doors to the on-trend colour is a great way to introduce it without having to redecorate the whole room. Complement the shade with genuinely bronze faucets and appliances in copper for a synergised, subtly divergent aesthetic.
As Sherwin Williams said of the colour, ''(it) functions as a useful aesthetic counterpoint to the technology we increasingly rely on but don't always want to see or think about''. Which brings us to our next point… 
SMART KITCHENS
Anything you can control hands-free, preferably with your voice and from a distance, is ideal for the coming year, when juggling domestic tasks and deadlines is set to become the norm. As such, 2021 looks set to be the year when 'smart' kitchens truly realise their potential.
Indeed, as is so often the case, smart technology can come to answer a question you didn't even realise you'd posed. Intelligent cooking devices are starting to see a real surge in sales, with smart scales, recipe apps, and remotely controlled slow cookers all having a solid 2020. Convenience will undoubtedly be an even bigger driver of sales next year.  
Perhaps the most popular smart cooking device on the market is the Smart Wifi Instant Pot, which serves as a slow cooker, a rice cooker, steamer, cake and bread maker and many more besides. The cooker can be set from anywhere via the app, and has nearly a thousand pre-programmed features. Cooking doesn't get easier than this.
ECO-FRIENDLY DESIGN
Okay, eco-friendly shouldn't really be considered a 'trend'. Rather, the day when it's the norm can't come soon enough. But fortunately, all 2020's upheaval has made many of us reevaluate our relationship with consumption, consumerism, energy use and community spirit. Channelling these good intentions into a more environmentally friendly home, particularly the kitchen, is set to be a defining feature of interior design in 2021.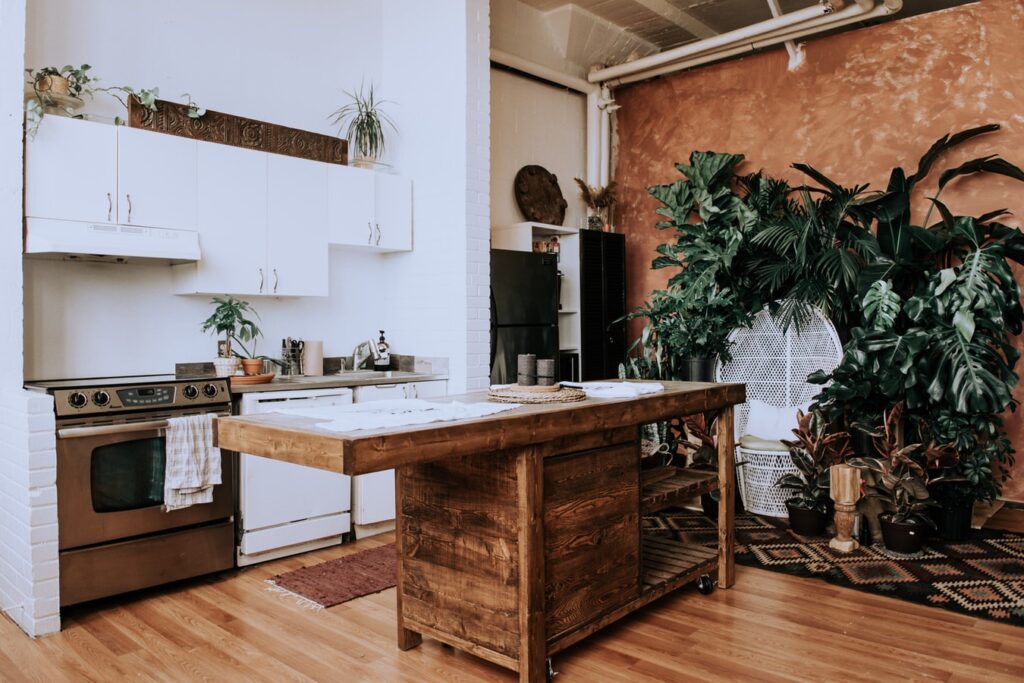 Expect to see water saving gadgets installed as standard in new build kitchens next year, as well as various, often innovative composting facilities also experiencing an increase in popularity. In terms of materials, we envisage a huge year for cabinets and worktops made from reclaimed or recycled materials, as well as cork flooring continuing its ascension as the go-to material underfoot in the modern, eco-friendly home.