We just love a bit of Majorca in the UK. So much so, in fact, that we anglicised the name and slipped a Double L in there for good measure. That's that llove with a two L's right there. With over 2.3 million British tourists flocking to the island last year, accounting for a quarter of the entire tourist industry, it's safe to say that this is an adoration set to endure into the new decade.
Yep, Majorca has the rare skill of appealing to adventurers and beach lovers alike, with something for both those who love high octane and those who like it low, slow and languid. The lively, welcoming town of Port D'Alcudia, on the North East of the island, encapsulates this spirit perfectly, with activities aplenty for all the family. With that in mind, here are 5 IDEAL outdoor activities in Pork D'Alcudia, Majorca.
SOAK UP SOME SUN ON PLAYA DE ALCUDIA
It's said that the beaches of Majorca are so popular that 25 tonnes of sand is taken away each year in shoes, bags, hair and other crevices. That's not to say that all of the island's beaches are packed to the rafters with peeling tourists; there are still plenty of secluded spots to discover. More than 200, in fact, with at least 60 coming with Blue Flag accreditation to boot.
Port D'Alcudia boasts one of the island's finest, longest stretches of sand, Playa De Alcudia, and if you're staying in the town, you're not going to miss it; the place is built around its elegant curve. Not that you'd want to miss it, either; it's the largest beach in the Baleariac islands, stretching over 7km, from the Port to Playa de Muro. Though it can get busy at the port end, if you stroll a little south you'll find some spots of seclusion.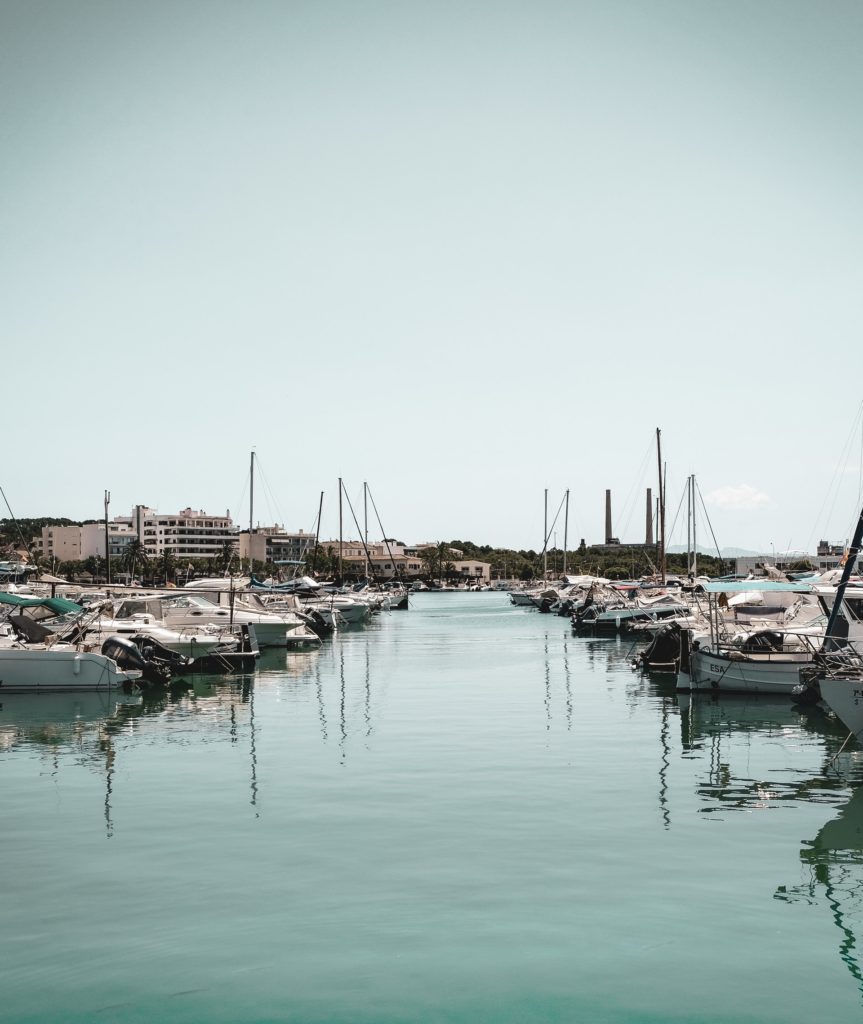 HIT THE SLIDES AT HIDROPARK
Port D'Alcudia enjoys predictable, reliably pleasant weather for the majority of the year. Perhaps that's why us Brits love it so, with our own climate being so inclement and inconsistent.
Indeed, from March to mid November (that's nearly half the damn year), it's T-shirt weather, with temperatures rarely dropping below 20°C, with an average of 300 days or more are around 21°C or higher. That, combined with the consistently humid climate, means that sea swimming is do-able (and enjoyable) throughout the year.
But if you fancy some more adrenaline than that breaststroke in the bay is providing, the town's Hidropark might be for you. This enjoyable water park an easy stroll from the town centre comes complete with slides, rides and more. A must visit if you've got the kids in tow!
GO DOLPHIN WATCHING IN THE BAY OF ALCUDIA
The Bay of Alcudia is a beaut, there's no doubt about it. The bay's most famous local residents seem to agree, popping up for a smile and a play with those who venture out deep enough. Yep, we're talking about dolphins.
Between May and October you can take a boat trip out into the bay to see the frolicking take place first hand. The best company providing this are No Frills Excursions, with the three and a half hour trip starting early (don't worry, breakfast is served!) to capture the glorious sunrise across the Meditterenean Sea.
PLAY A ROUND AT ALCANADA GOLF CLUB
Because not all outdoor activities in Port D'Alcudia revolve around the beach. Indeed, the Alcanada Golf Club (just a ten minute drive west) is considered one of Spain's finest courses, with 18 holes overlooking Alcudia bay and providing stunning views with every swing. Designed by the revered English-American architect Robert Trent Jones, this is a stunning site; lush, verdant and pristinely manicured. If you take your holiday golf seriously, this one's for you.
WANDER THE SCULPTURE PARK AT SA BASSA BLANCA MUSEUM
For something more cultural but no less outdoorsy, it's to the Sa Bassa Blanca Museum we head. The Museum itself is gorgeous, based on traditional Moroccan design aesthetics and housing a 15th century wood panelled ceiling.
But we're writing this article with no roofs over our heads, so onwards to the sculpture garden, which overlooks the sea and has pieces by Ben Jakober and Yannick Vu, as well as a separate rose garden, A stroll here is the perfect way to round off your active, outdoorsy day in Port D'Alcudia.