We all know how important it is to eat well, but sometimes there are days where a salad just won't cut it. When people feel a little blue, they'll usually crave carby, calorific dishes like burgers, chips and chocolate — hardly the healthiest options, sure, but ones which at least tend to lift our spirits for a while.
Comfort food, which scientists define as "foods people eat in response to specific circumstances, in order to feel pleasant or psychologically comfortable," doesn't necessarily have to be unhealthy. However, sweet, fatty and carby foods are often chosen because they provide immediate satisfaction and that quick energy boost. It needn't all be processed stuff though; you can fashion homecooked meals which still bring that hug you're longing for from your dinner.
While there are plenty of tasty options which are perfect for improving your mood, pasta is definitely a firm favourite here at IDEAL. Filling, versatile and perfect for meal planning as its budget-friendly, it's impossible not to feel better after treating yourself to one of the most popular foods in the world. Here are 5 simple pasta dishes for you to turn to when all you want is comfort food.
GNOCCHI
Potatoes lead the way when it comes to comfort food, whether that be mashed potato, jacket potato, chips — need we go on? Yep, that's the sound of our stomach rumbling.
But pasta made from potato may be the ultimate pick-me-up. Gnocchi are soft, doughy and delicious, taking no more than five minutes to cook. Simply boil these bite-sized dumplings – made simply with sifted flour, mashed potato and egg – in a pan of generously salted water and take them out once they've floated to the top.
You can serve gnocchi with any sauce you like, so if you're thinking that a rich bolognese or a heavy, creamy concoction would be the best option for that comfort eating you're craving, then go for it! However, if you want to be traditional about it, less is definitely more. Pasta Evangelists suggest serving gnocchi with a light sauce like tomato and basil to ensure you retain the gnocchi's unique texture. Likewise, fresh pesto perfectly complements the pillowy softness of good, homemade gnocchi.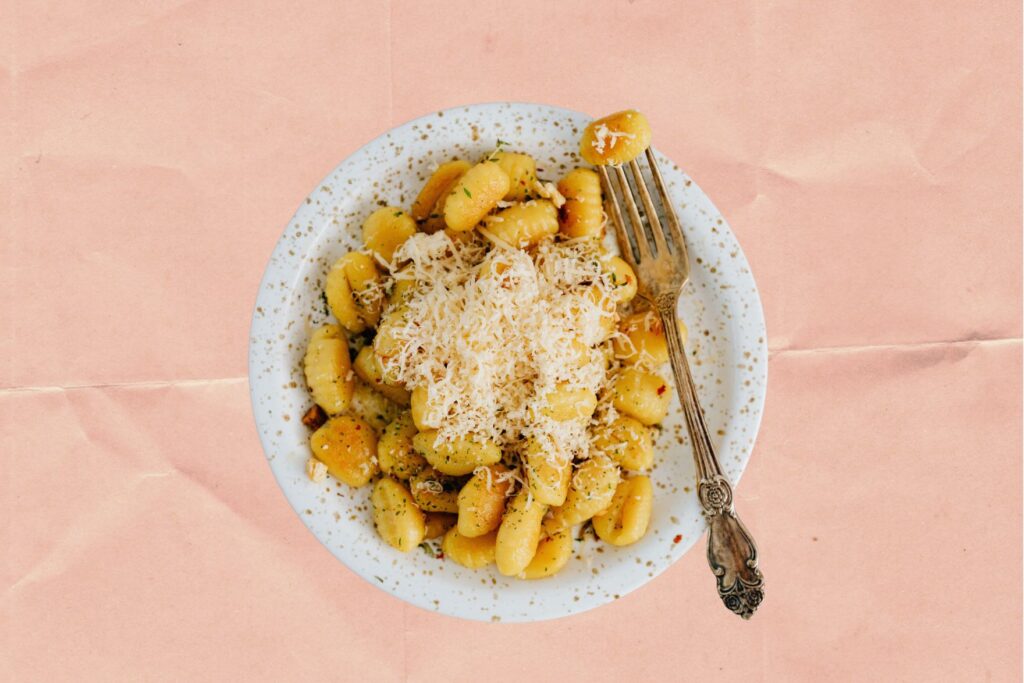 MAC 'N' CHEESE
It's been called America's favourite comfort food for good reason. Creamy, gooey and, of course, cheesy, there's a lot to love about moreish mac 'n' cheese, no matter what side of the Atlantic you're on. You can buy pre-prepared mixes to save time, but that's not why you're here. It's actually really simple to cook from scratch and will taste so much better — this mac 'n' cheese recipe only has four steps to follow, and none require the dexterity and palate of a world class chef to complete.
Cheddar is the go-to cheese for this pasta dish, but you can switch it up with alternatives like brie, gouda or even cream cheese if you'd prefer. Meanwhile, jazzing up this comforting classic simply requires adding your choice of meat or vegetables, such as bacon, ham, mushrooms or tomatoes. On modern menus across the country and beyond, the addition of truffle oil (or better yet, a grating of the fresh kind) brings an unsurpassed luxurious to this most humble of dishes.
SPAGHETTI CARBONARA
Creamy dishes are intensely comforting, and a silky smooth spaghetti carbonara might be the very definition of the term. Simple but oh so effective, this dish features pasta and pancetta (or, if you're embracing the Italian method, guanciale, from the pig's cheek) coated in a delicious mixture of egg and cheese. It might not sound that creamy without, well, cream, but trust us — between the eggs, parmesan and a splash of the starchy pasta cooking water, it's plenty rich and velvety as it is.
Carbonara is also fairly quick and straightforward to make — this recipe can be whipped up in just the time it takes to boil the pasta water. Make sure you don't pour it all away when you're done, as it's needed for loosening up your sauce if need be. Anyone for seconds?
LASAGNE
Stacked layers of pasta, alternating fillings and mountains of cheese? You can't go wrong with a hearty slab of lasagne. The star of the show is the silky béchamel sauce, made from butter, flour and milk, which gives the dish its creaminess and balances out the acidity of the tomatoes. A classic lasagne recipe uses a beef ragu, but it can easily be made meat-free by swapping in layers of vegetables like aubergines, courgettes and butternut squash.
In fact, one of the best things about lasagne is its versatility — Evan Kleiman, who has presented the Good Food radio show in the US since 1997, describes the dish as "a pantry-driven, ever-changing canvas".
"Only have tomato sauce in the house? No problem. Simply layer it with béchamel and Parmesan. The same is true for pesto sauce," she wrote for the Los Angeles Times. Sacrilege to the original recipe, perhaps, but in times of need, there's nothing wrong with seeing what's in your kitchen cupboard and getting creative!
The best versions should be cakey and standing upright through restrained layering, not slopping all over the plate under the weight of the sauce. Oh, and that crunchy, burnt bit around the edges? Shotgun!
SPAGHETTI AND MEATBALLS
Saucy and warming, meatballs definitely tick all the boxes when it comes to comfort food. And there's no better way to serve them than with a big portion of spaghetti. This is also an excellent budget-friendly option. As writer Marissa Landrigan explained in a piece for The Atlantic, "Meatballs can be made with nearly any kind of meat, and since that meat is ground and mixed with herbs and other flavours, cheap cuts of meat can be transformed into something delicious". We love to add some offal into ours for a real depth of flavour.
The Italian-Americans who lay claim to the dish's invention relied heavily on marinara sauce due to the low cost of canned tomatoes, and chose spaghetti because it was the cheapest pasta around per kg and tends to go further.
You can either fry or bake your meatballs, but Nicky Corbishley from Kitchen Sanctuary opts for the latter in her recipe, noting that this gives them "a lovely uniform, unbroken shape with a golden exterior". Four should be enough to fill you up, but if you're really hungry, there's no harm in popping one more on your plate. Or, making a whole second batch for your meatball sub the next day sounds like just the ticket. Bon Appetite!