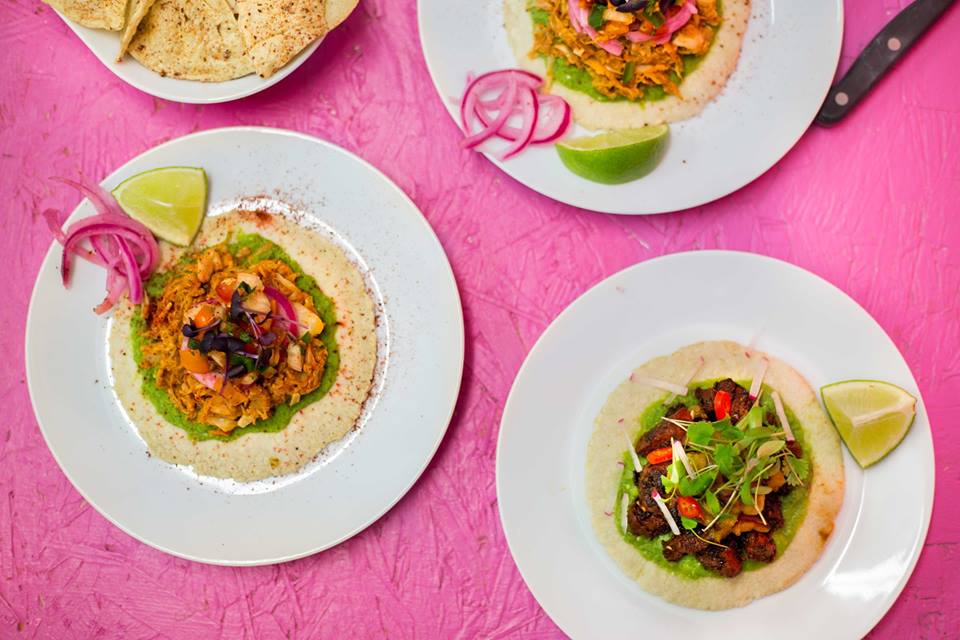 If you think tacos are just an easy midweek night in with an Old El Paso kit, then you're sadly mistaken. Unfortunately, the U.K's relationship with Mexican food can be difficult to characterize; the complexity of the best stuff often lost to the grated cheddar, red pepper strips and fried, dried chicken of many a shop bought version.
And until recently even London was guilty of giving short shrift to the food of Mexico. Fortunately, times have changed. From traditional flavours to contemporary, cheffy flourishes and inventive toppings, the streets of London are in the throes of a much welcome taco takeover. So if you're in the mood for taking some down, here are our 5 IDEAL places for the tastiest tacos in London
EL PASTOR
Revealing the Hart brother's taco-tinged past life, the restaurant was named after al pastor, a dish from central Mexico that is based on the shawarma spit-grilled meat brought by Lebanese immigrants to Mexico.
El Pastor's sharing tacos are a thing of beauty; a short rib which is cooked until falling apart, served with a serious seasoning mix of sugar, salt and spices, is a must try. And you'd be a fool not to add on roast bone marrow for an extra few quid. We're also huge fans of their Carnitas sharing plate, essentially, pork three ways, crispy, wobbly and soft, which you build your own tacos with. Stay for the dedicated mezcal bar, where they serve glasses from their own batch of the good stuff.
Website: www.tacoselpastor.co.uk
Address: 7A Stoney St, London SE1 9AA, UK
BREDDOS TACOS
This place started as a makeshift taco shack in a Hackney car park, but that's old news now. Today's headline is all about their supreme tacos. Here they come two per portion and their pliable, warm tortillas are made in house every day, something which the discerning will instantly recognise at first bite. We're particularly fond of their bara fried fish tacos which are a textural delight. The blackened char of the soft tortillas, the crunch of the hot batter and the flaky interior of the fresh and bright fish is just how fish tacos should be.
We also adore their black bean tacos, with a mild flavour of Wensleydale cheese cooling the heat of the arbol salsa, all played out to a background unami note of black beans. It's a dreamy combination.
Website: breddostacos.com
Clerkenwell address: 82 Goswell Rd, London EC1V 7DB
Soho address: 26 Kingly St, Soho, London W1B 5QD
 

© Breddos Tacos Facebook
TAQUERIA
Is it even a London taco restaurant if they didn't start life as a food truck or market stall? Of course, there are exceptions to this rule, but Taqueria's trajectory to fully fledged restaurant isn't one of them. It all kicked off in Portobello Road Market for these guys, before they moved across the road and under the roof of 141-145 Westbourne Grove. The taco menu here is extensive but true to tradition; the prosaically named 'fish taco' is top notch and the veggie options abundant (7 different, delectable vegetarian versions on our last visit). Their pico de gallo packs a fierce punch and is all the better for it.
Website: taqueria.co.uk 
Address: 141-145 Westbourne Grove, London W11 2RS 
THE SPREAD EAGLE 
London's first Vegan pub opened its door in 2018, with a massive ace up their sustainably sourced sleeve; the infamous Club Mexicana at the stoves. The menu is complete with a whole load of Latin American treats, but the tacos are where this place shines. Beer-battered "tofish"​ tacos with vegan chorizo pay homage to the Mexcian street food classic and manage to ditch the meat but none of the flavour. There's also vegan beer, free from the animal-based ingredients (egg whites, fish bladders…..) often used by breweries in the clarification process. Lovely stuff and not a quinoa granola in sight.
IDEAL Tip: If you can't make it over to The Spread Eagle but still want to try Club Mexicana's amazing tacos, they also serve them up at the food courts of Dinerama in Shoreditch and KERB in Seven Dials. 
Website: www.thespreadeaglelondon.co.uk
Address: 224 Homerton High St, London E9 6AS
ELLA CANTA
Recently given a little added squeeze of limelight on Masterchef 2019, Ella Canta certainly isn't your average Mexican, but you can still get a terrific taco here.
The artist behind the tacos here is Chef Martha Ortiz, whose sibling restaurant Dulce Patria in Mexico City is considered one of the finest visions of the country's food found anywhere in the world. She's also a swaggering, suave feminist icon and the object of all our woman crush Wednesdays for the foreseeable future.
It's a fanciful, inventive affair here, with great value placed on the art and architecture of her dishes. Though tacos are of course a humble dish, they're also a delicious one and deserve this kind of elevating if it's done right. Here, it is indeed done very right. The chilorio taco (usually made from pork fried in lard and a paste of rehydrated dried red chillis) here uses beef braised low and slow for hours until falling apart, given lightness with creme fraiche and punch with árbol chile sauce. It's as good as it gets for us.
Website: www.ellacanta.com 
Address: One Hamilton Place, Park Ln, Mayfair, London W1J 7QY