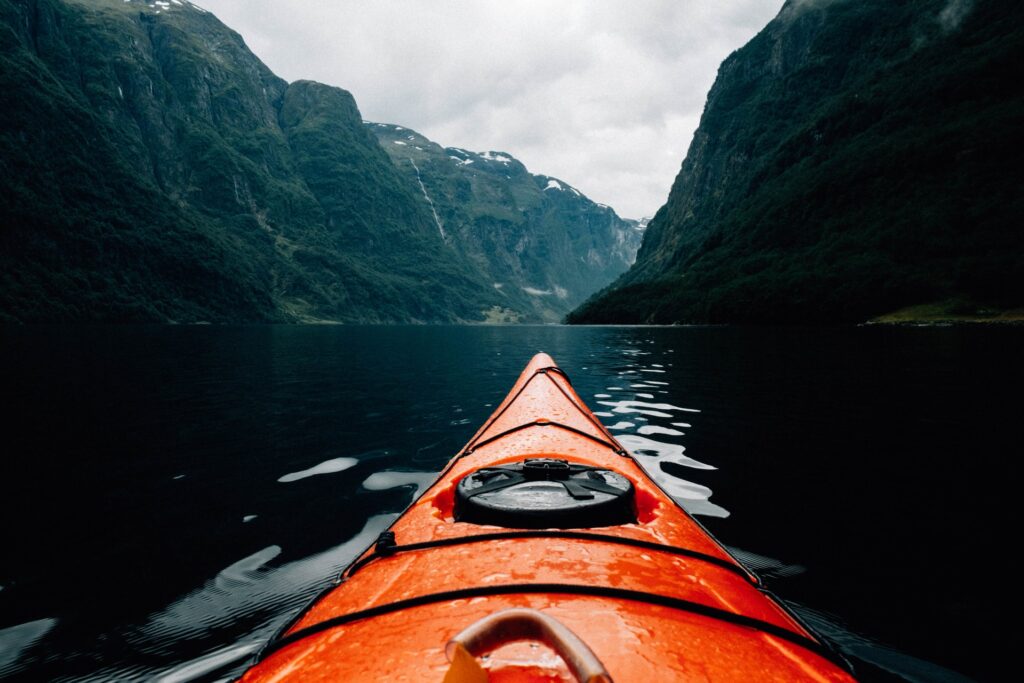 Ideal for a holiday of wet'n'wild adventure.
Phew, it's been some year, hasn't it? The monotony of lockdown hasn't exactly brought out the best in us; we're sitting here, typing this, in our pants, scoffing banana bread fresh from the freezer with Tiger King still playing in the background. Did we ever find out who killed Carole Baskin's husband?
Anyway, right now we're dreaming of an activity which is the very antithesis of those predictable, routine days that 2020 has served up in spades. Yep, to be in a vessel, looking out at the expanse of the open sea or the hypnotic motion of a river, with nothing but the spirit of adventure on the agenda…that sounds alright to us. If you're keen to feel that freedom too, then read on; here are 5 IDEAL places to go sea kayaking in Europe. 
SEA KAYAKING AROUND ISLES OF SCILLY
We're starting close to home. This little archipelago off the Cornish Coast is ideal for those wanting a more sedate start to their sea kayaking adventure.
Enjoying the UK's only subtropical climate and boasting a wonderfully temperate ocean too, Kayaking around the islands and setting up camp in the evening is a fantastic way to explore this largely overlooked part of Britain. 
Do be aware that a tour of the islands can take 4 days or more. The most popular route starts at St Mary's then travels onwards to The Eastern Isles which are home to the Grey Atlantic seal colony. Then, head onto St martins, which boasts the beautiful Par Beach, before making your way to Bryher island and Tresco and finally heading back to St Mary's.
Whilst this is a fairly laid back affair – no canyons and intimidating descents here – the more adventurous in your group might like to try rowing all the way back to mainland Cornwall, to Lamorna, which is around 30 nautical miles in distance.
THE ZRMANJA RIVER IN CROATIA
Wild river kayaking and even wilder camping in Croatia's Velebit Nature Park? Sign us up! Not for the faint of hearted, the route down the Zrmanja River is framed on either side by gorgeous forest and punctuated by rapids and waterfalls. Yep, we said this one would raise the adrenaline, right?
In fact, there are some more sedate stretches, particularly at the beginning of the course, with no experience strictly necessary; but you do need to know how to swim. The route concludes in the picturesque Muskovci village, where a change into dry clothes and a hearty feed awaits!
Whilst we wouldn't want to put you off, there's a risk of injury along this route. As the guys at Navigator Travel Insurance highlight, getting yourself covered for injury in advance is essential, since 'if your chosen sport isn't covered, you won't be able to make a claim if you have an accident or injury'. Most standard policies don't cover the hazards associated with white water sports; as such, you'll likely need a specialist water sports insurance. With the added chance of your kayaking equipment getting lost or damaged, it's best to be safe rather than getting caught up a creek without a paddle.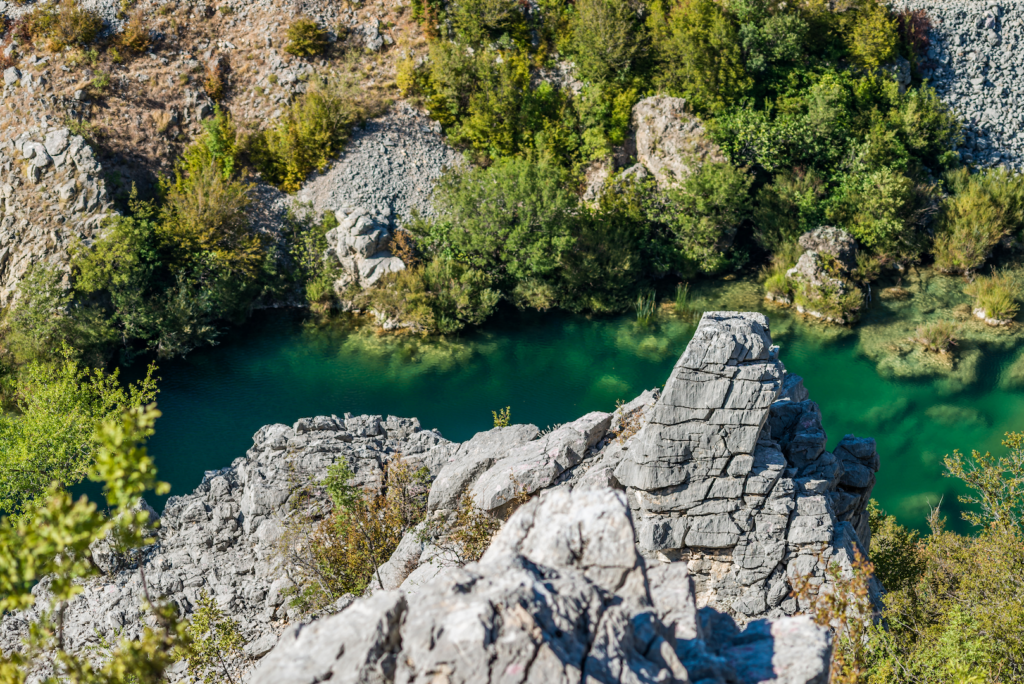 SOCA VALLEY IN SLOVENIA
The 70 mile stretch of river known as Soca is one of Europe's premier kayaking bodies of water. Shared between Italy (25 miles) and Slovenia (65 miles), today our focus is falling on the Sunny Side of the Alps. If you don't have your encyclopedia handy, we mean Slovenia by the way.
The Soca is characterised by a striking emerald green hue to its waters, which remarkably remains that shade for the entire stretch of the river. All difficulty levels are catered to here, making Slovenia a great choice if you're travelling in a group of kayakers with different confidence levels.
In terms of the best time of year to visit, the Soca is largely dependent on the melting of snow of the Alps. As a consequence, April and May are the top times to hit the water (as long as the prior months have been blessed with snow, that is) as the rivers will be full and the climate pleasant.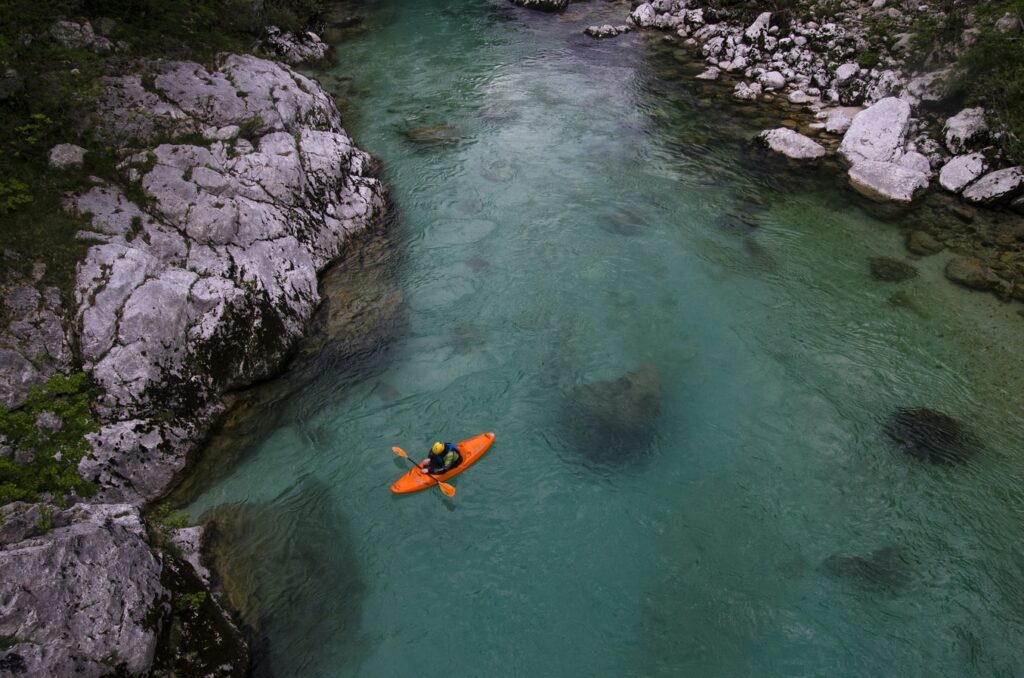 WINTER KAYAKING IN LOFOTEN, NORWAY
Norway is famous for its glaciers, fjords and rugged wilderness, and such dramatic scenery makes for awesome kayaking, make no mistake. Perhaps the premier kayaking here centres around the Lofoten archipelago, with the waters close to shore making for breezy, easy kayaking amongst fishing villages, inlets and bays. Magic! If you fancy something more treacherous, then simply head further out to sea, where the waters of Moskenesøya are seriously challenging.
But for perhaps the quintessential Norwegian kayaking experience, it has to be winter kayaking along Lofoten's shoreline, when waters are crystal clear and the snow capped mountains just behind the fishing villages revealing scenes of utter magic. It's generally recommended that kayakers embarking on winter kayaking here be in good physical health; rowing through slushier conditions can be demanding!
LOIRE VALLEY
A tranquil kayaking experience to finish us off, the Loire Valley is ideal for a laid back (though not too horizontal, you do still have to man a kayak) appreciation of a simply gorgeous part of the world.
The Loire is France's longest river and the valley itself is listed as a World Heritage Site by UNESCO, describing The Loire as "France's last wild river". Sail down this stream of water and you'll discover some of the best things the French countryside has to offer; vibrant vineyards, charming old farming villages and stunning châteaus. 
The valley is a vast area, and the epicentre is the 'Valley of the Kings' which many use as a touring base. The Loire is wonderful for independent canoeing, particularly, free from a guide, and as such, the pace is low, slow and perfectly suited to beginners. 
Along the river here there are numerous canoe rental companies offering hire from a single afternoon to multi-day journeys, with many of these companies set up so you can rent your canoe from one place and leave it at another place along the river. And speaking of leaving, our journey meandering through Europe's rivers is now done, too. Have a great trip!