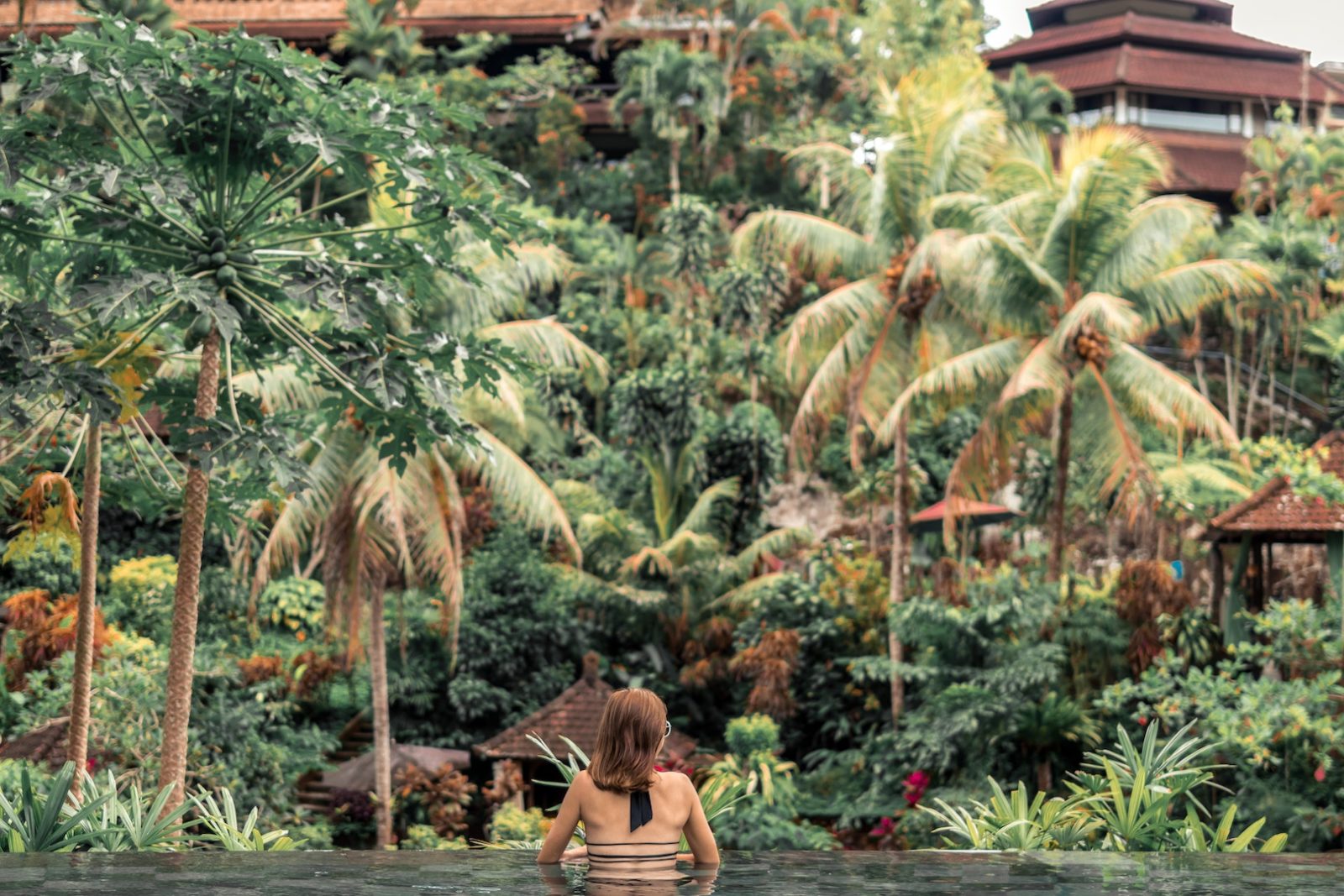 The obstacles to the gym are never ending. There's that sofa to sit on, that dinner to inhale, a date to go on and Netflix to chill with. Sometimes it seems more sensible to find a fitness commitment you can neither ignore nor postpone; one which might take you to a far flung corner of the globe as a little added bonus. 
Once you've decided on this drastic but compelling move, then it's time to narrow down the options. Golden sand should play a part. A healthy, vibrant cuisine needs to be in the conversation. A diverse landscape ought to complete the list. Are you thinking what we're thinking? Yep, here are 5 IDEAL reasons to choose Bali for your next fitness retreat.
NATURE'S BOUNTY
Sure, a fitness retreat should focus on sweating it out and pumping some iron first and foremost. But equally as important for a holistic, wholesome approach to getting healthy is diet. When the air is this fresh, the soil this natural and the vegetation this abundant, well, let's just say you're in for a treat. Tropical fruit is everywhere; you have to get stuck into the King of Fruits, durian, whilst on the island; a creamy, pungent joy. Most roadside fruit vendors will also stock mangosteen, the bulbous, curious looking fruit which yields the sweetest nuggets of flesh. In terms of health, the fruit has for centuries been believed to alleviate skin conditions. 
Perhaps the most healthy, delicious thing you can try in Bali is tempeh, which is cooked, fermented soybeans similar to tofu, but higher in protein and fibre. Should you be enrolling in a boot camp or fitness retreat on the island, most provide meal plans and diet advice. For instance, with Active Escapes Fitness Retreats in Bali, an on site nutritionist is at hand to guide you through this exotic, thrilling cuisine. In the healthiest way possible, of course.
SCENERY SPECTACULAR
The confines of the gym don't exactly work for motivation, now do they? Running between towering mountains, push ups on golden sands, 'lengths' in crystal clear waters…now that ticks the boxes right? Bali's spectacular scenery will have you seriously inspired to push on that extra mile, lift another kg or simply get up a little bit earlier to get out there and amongst it. Most of the reputable fitness retreats host a good variety of their sessions in the great outdoors, from  hiking up Mount. Batur to obstacle courses housed in rice paddies. It's all here, and it's all beautiful. It's nicknamed the Island of the Gods for a reason.
WATER WORKOUT
Speaking of nature's gym, Bali's location means its water sports options are some of the finest in the world. There's snorkelling and scuba diving around Sanur, Menjangan Island, Blue Lagoon, Tulamben & Amed, and Nusa Lembongan, because who said that you shouldn't combine some recreation with your exercise? Surfing is also huge here, with the workout next level and waves challenging; head to Ulawatu or Padang Padang for the best spots. Most fitness retreats will provide, or organise, lessons and equipment for you.
EXERCISE YOUR CONFIDENCE
Bali has a massive expat and digital nomad scene, as well as throngs of travellers here for fitness. A trip here with the intention of getting healthy, then, is also one which will give your social skills a good workout. Should your motive for getting away be a spell of low confidence, a trip to Bali could be just the ticket. Most looking to meet like minded people head to Ubud, though it's reached saturation point in terms of transient expat life. Better to make for Canggu for a fresher vibe.                           
…AND MIND
Healthy body, healthy mind, right? And vice versa, that's for sure. The lines between fitness and wellness retreats get blurred here, but that's a flexibility we're very much here for. So, within your workouts and diet plans, be sure to make time for a little meditation and yoga in order to realign all aspects of your life and return home with a fresh physique and outlook. The Yoga Barn, in Ubud, is one of South East Asia's most lauded and well appointed retreats, and is definitely worth a look. If you're after something more bespoke and less impactful, Omunity Bali places environmentally friendly, plastic free practice at its core. Go get it! And fit.