Got some lentils in the cupboard but no idea what to do with them? We've got some delicious recipes courtesy of Waitrose.com to help you cook up a lentil feast. Full of protein, versatile, cheap and delicious, here's 5 IDEAL recipes if you're in the mood for lentils.
MINESTRONE WITH LENTILS & QUINOA
Total time: 30 minutes
Serves: 4
INGREDIENTS
125g smoked streaky bacon, diced

2 x 400g cans chopped italian tomatoes with basil

1 tsp caster sugar

160 garden peas

75g orzo pasta

250g pack pre-cooked puy lentils & quinoa

50g parmigiano reggiano, finely grated, plus extra




to sprinkle
METHOD
Heat a large saucepan and fry the bacon for 5 minutes until cooked and beginning to crisp. Add the tomatoes, sugar, garden peas and 2 emptied cans full of water. Bring to the boil then add the orzo pasta. Cover and cook gently for 12-15 minutes until tender.

Stir in the lentil mix and cheese and heat through gently for 5 minutes. Season to taste and ladle into bowls. Serve with extra cheese and a green salad. 
WARM VEGETARIAN SAUSAGE & PUY LENTIL SALAD
Vegetarian

Total time: 35 minutes

Serves: 2
INGREDIENTS 
2 tbsp olive oil 

4 vegetarian sausages 

2 rosemary sprigs 

2 small red onions, cut into thin wedges 

2 tbsp balsamic vinegar 

1 tbsp wholegrain mustard 

250g pre-cooked pouch of puy & green lentils 

handful flat leaf parsley, roughly chopped 

½ x 90g pack wild rocket
METHOD
Heat 1 tbsp oil in a large frying pan. Add the sausages to the pan with the rosemary, and fry over a medium- high heat for about 10 minutes, turning frequently, until golden and piping hot. Lift the sausages out of the pan (leave the rosemary), add the remaining 1 tbsp oil, then add the onion wedges and fry on a medium heat for 12-15 minutes, until golden and soft.

Add the vinegar and mustard, stir to combine, then remove the rosemary and stir in the lentils until warmed through; season. Slice the sausages and add to the lentils, along with the parsley. Serve on plates with the rocket.
Cook's tip: Pre-cooked lentil pouches are a useful and nutritious store cupboard standby. You could also try a pack of plain puy or beluga lentils in this recipe.
HALLOUMI WITH PUY LENTILS & TOMATOES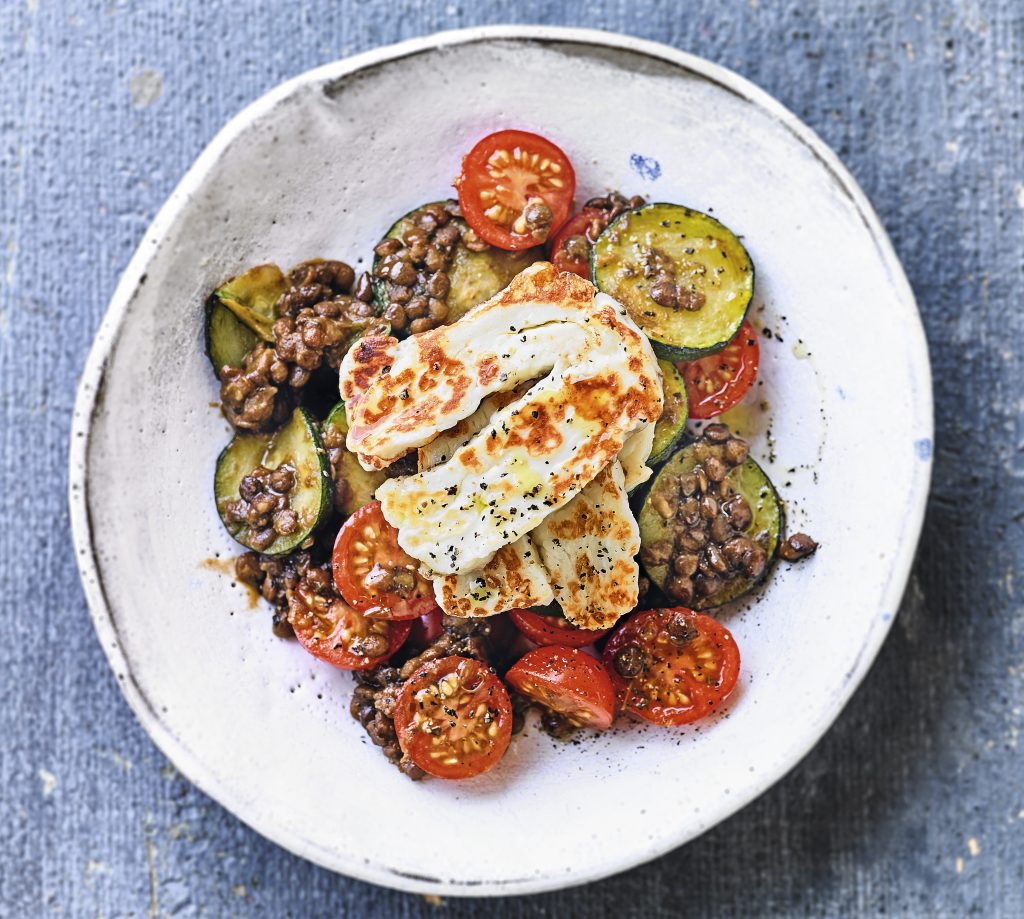 Vegetarian

Total time:20 minutes

Serves: 2
INGREDIENTS 
250g pack cypriot halloumi

1 tbsp olive oil

2 courgettes, sliced

250g pre-cooked pouch of french puy & green lentils

150ml vegetable stock

150g cherry tomatoes, halved
METHOD 
Drain the halloumi, pat dry on kitchen paper and cut into 5mm thick slices. Heat the oil in a frying pan and fry the halloumi for 3-4 minutes on each side until golden. Transfer to a plate and keep warm.

Add the courgettes to the pan and fry for 2-3 minutes to lightly colour. Stir in the pack of lentils and the stock. Heat through for 2-3 minutes.

Stir in the tomatoes and cook for a further 1 minute. Transfer to serving plates and top with the halloumi. 
COD WITH PARSLEY MUSTARD AND LENTILS 
Rich in vitamin C

Low in saturated fat

Total time: 15 minutes

Serves: 2
INGREDIENTS 
2 x skinless & boneless cod fillets

2 tbsp lemon infused olive oil

25g pack parsley

4 salad onions, roughly chopped

1 clove garlic, crushed

2 tsp wholegrain mustard 

250g cooked puy lentils
METHOD 
Preheat the oven to 200ºC, gas mark 6. Place the cod on a baking tray, season and drizzle over ½ tbsp oil, bake for 15-20 minutes until just cooked through.

Meanwhile, place the remaining oil, parsley, salad onions, garlic and mustard in a food processor with 2 tbsp water and blitz until smooth.

Top the cooked lentils with the cod, spoon over the paste and serve. 
MINCED BEED WITH LENTILS AND BACON
Serves 4

Total cook time: 25 minutes
INGREDIENTS
1 Onion, chopped




400g pack Minced British Beef




4 slices Smoked Back Bacon, chopped




400g can pre-cooked lentils, drained




350g Tomato & Basil Pasta Sauce




25g pack parsley, chopped




800g Mashed Potato
METHOD
Fry the onion, mince and bacon in a large frying pan for 5 minutes until browned.

Add the lentils, tomato and basil sauce and 150ml water, cover and simmer for 15 minutes, stirring occasionally.

Stir in the parsley and season

Serve the mince with the mash potato