Ironic, isn't it? A meal can be the most nourishing, fulfilling and fun part of the day, the part you've planned, looked forward to and prepared so enthusiastically. Yet when that plate hits the table, we wolf it down as though eating's an annoyance; an obstacle to our Twitter, tele or typing that we can't wait to dispense with. We're doing it so wrong. By incorporating elements of mindfulness and meditation into our dinnertime, not only will we avoid digestion issues, but we can also enjoy a whole new appreciation of the pleasures of both food and of life. Moreover, it can help one on a journey to weight loss and maintaining a healthy weight. With that in mind, here are 5 IDEAL steps to eating more mindfully.
CONSIDER EVERY PART OF THE PROCESS
That piece of mackerel didn't simply swim up from the sink, gut, fillet and debone itself, propel the most pristine part of its body directly under your grill and then leap onto your plate, following a little forward roll through the salt. Now did it? Convoluted scene-setting aside, a useful way to eat with a greater awareness of the here and now is to show appreciation for every part of the process which brought the food to your dinner table.
The fishermen and women devote – and often risk – their lives to bring in the best catch each day, so give them a nod. An auctioneer gets up in the early hours of each morning and braves the smell of fish and sound of yelling to sell the product on. Show them some respect. A driver distributes the freshest stuff all over the country daily, promptly and with the lightest of touches when handling it, making sure the fish arrives safely at its destination. Think of them. A fishmonger possesses a lifetime's worth of knowledge and is happy to dish out that wisdom on what's best today. Thank them for it.
A chef or writer put their heart and soul into a collection of recipes from which you've got the tips for cooking your mackerel. And you, you, held the fish and this process in high enough esteem to cook it carefully. For heaven's sake, eat it with the same deference.
A SCREEN FREE ZONE
Multitasking is the ultimate enemy of mindfulness. A way to embrace being in the present is by completing every single daily task with care and respect for the process. Indeed, a major aspect of the much-lauded Japanese productivity focused philosophy of Kaizen is that by completing each and every daily task with rigour and to your full potential, you will incrementally – even unknowingly – become the best version of yourself. Harness this by giving a process as simple as eating and digesting the care and attention it deserves. This should start by eliminating all distractions from the dinner table. So, that's phones placed well out of reach, T.Vs off, work banned from this sacred space, and only positive vibes and plentiful plates welcome.
REMINDERS TO REALIGN YOUR FOCUS
We know what it's like. There just aren't enough hours in the day, or the food is just too damn tasty, and even if you've started your meal well-intentioned and mindful, after a minute you might catch yourself, mouth full, plate almost empty and little recollection of how anything tasted. Well, just as mindfulness connoisseurs suggest using cues throughout the day (such as the sound of a door shutting, the smell of coffee or vibrating of your phone) as reminders to 'take a minute', so too can this be applied to your dinner. We recommend that perhaps every time you notice the sound of a fork colliding with a knife, bring your focus back to the food. Or whenever you hear find yourself reaching for a glass of water (or wine, we're not judging), remember too to reach deep into the present moment. The cue isn't important, the response is.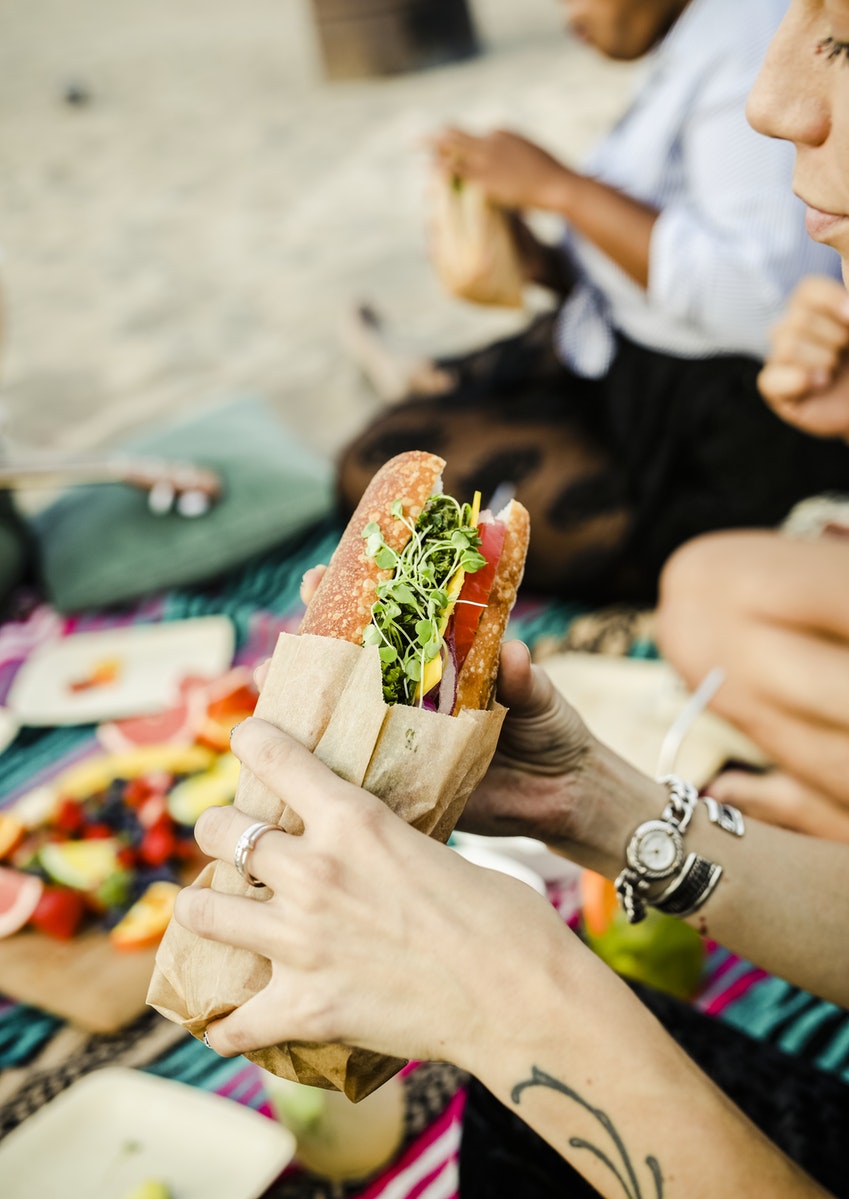 CHOPSTICKS
Have you ever been to a sushi restaurant and noticed that you're eating in a more measured and graceful manner, picking up every grain of rice separately and considering every flavour with curiosity. Sure, that could be down to the low lights, elegant food and lightness of touch in the service, but most likely it's because you're eating with chopsticks. Having to pick up items from the plate with precision and guide them to your mouth in a manner not guided by muscle memory makes for a more thoughtful approach to the meal. So, why not try to eat all of your meals at home with chopsticks, at least for a while, to get into the habit of mindful eating.
SERVE ALL YOUR SENSES
We all too often place undue emphasis on the taste of our meal. It's time to bring all of the senses into play. Smell your food as though it was the first time you'd smelt anything, observe the miasma of competing scents which contribute to one whole aroma. Taste with a childlike curiosity, noting each component of flavour and considering how they all interplay and compete to create an overarching profile in the mouth. Appreciate the texture of each grain of rice, or crumb of bread, without thinking about the next bite. Consider where the food came from, and show gratitude for those who worked so hard in producing it.