Sun, sea, Santorini. Not a phrase in the popular lexicon just yet, but that could all change. If you're planning your next holiday and want the full package, then Santorini, arguably the most beautiful and fun filled of all the Greek Islands, could be just the ticket. If you need further convincing, then read on; our 5 IDEAL things to do in Santorini.
THE CALDERA
Ask the residents (and visitors for that matter) of Santorini what makes the place they call home so special, and more than likely they'll respond with 'the Caldera'. It's a one of a kind, huge sea-filled crater in the centre of the island, caused by a volcano in the second millennium BC. While this eruption signified the end of the Minoan civilisation that once lived both here and on the island of Crete, it sculpted Santorini into how we see it today.
When visiting the Caldera, the magnificent crescent of sheer cliffs hundreds of metres high is, to put it bluntly, breathtaking. The deep basin it surrounds, filled with the gorgeous blue water of the Aegean Sea, only adds to the visual wonder. You can spot the still active volcano in the centre, framed by hot natural springs. And if that isn't nature's wonder at its best, then we don't know what is.
VISIT THE STUNNING CLIFFTOP VILLAGES
Another reason why Santorini is so special is that many of its famous villages are set sitting on clifftops, making for breathtaking views, and millions of screensavers too. The most popular villages here are Oia and Fira and are built into the cliff face; you'll have seen them on Instagram thousands of times, but it's better to actually see it with your real, genuine eyes, right?
ENJOY THE ISLAND'S BOUNTY OF LUXURY ACCOMMODATION
When staying in Santorini, you will be spoilt for choice when it comes to choosing luxury accommodation, especially if you're after a villa. A trip to the island is more often than not in the name of a special occasion, most often a honeymoon, so much of the domestic rental space on the island is designed with romance and atmosphere in mind. This all means wonderful views, tasteful decor and all the privacy you could possibly ask for.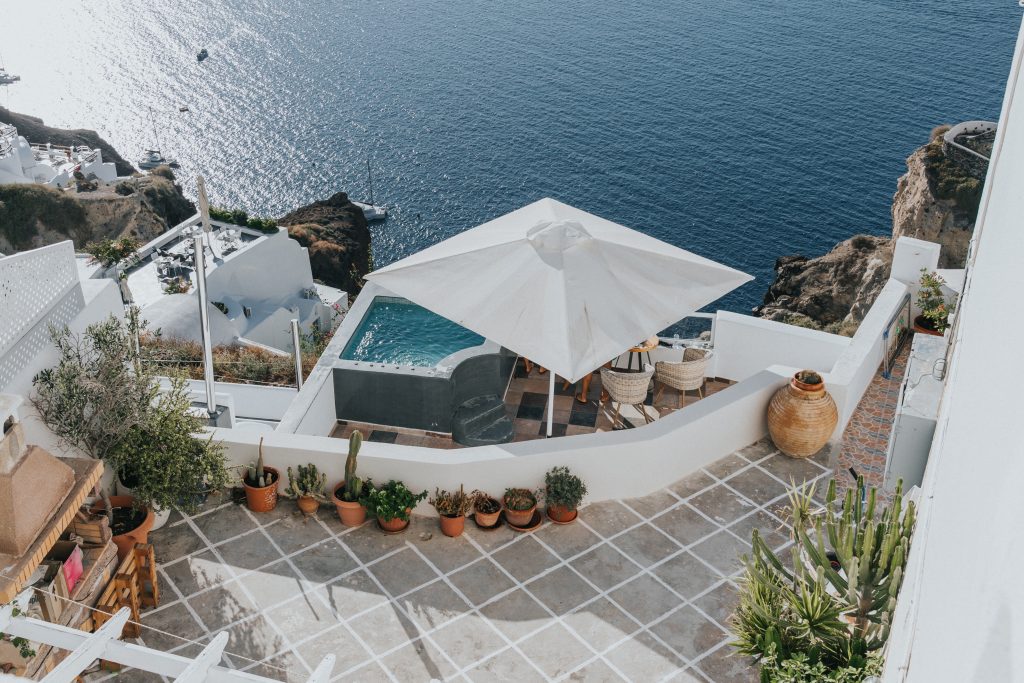 ENJOY A TIPPLE
While Santorini is most famous for its picturesque vistas, it's also known for its delicious and unique wines. Due to the island's dry and volcanic landscape and mineral-rich soil, there are indigenous grape varieties only found on these shores. Which of course lends itself to rare wines. If this is going to be your first time visiting Santorini, we would recommend first sampling the famous Assyrtiko dry white wine of the region. This wine contains volcanic mineral notes and the intoxicating aroma of citrus fruit. From this entry level, expand whichever way your taste buds take you. Cheers!
GET IMMERSED IN THE LEGEND OF ATLANTIS
Everyone has heard of the lost city of Atlantis, but to truly get to grips with the magic and mystique of this legend, you first have to get as amongst it as possible. Commonly linked to the Minoan civilisation who lived here until they were sent plummeting into the ocean by the Santorini volcano eruption in 1613 BC, if you're fascinated by Pompeii in Greece then you'll also love visiting the city of Akrotiri in Greece. This too was a once thriving metropolis that was subsequently buried under ash and is preserved to this day. Many think that it could be this city that the legends of Atlantis was based on.