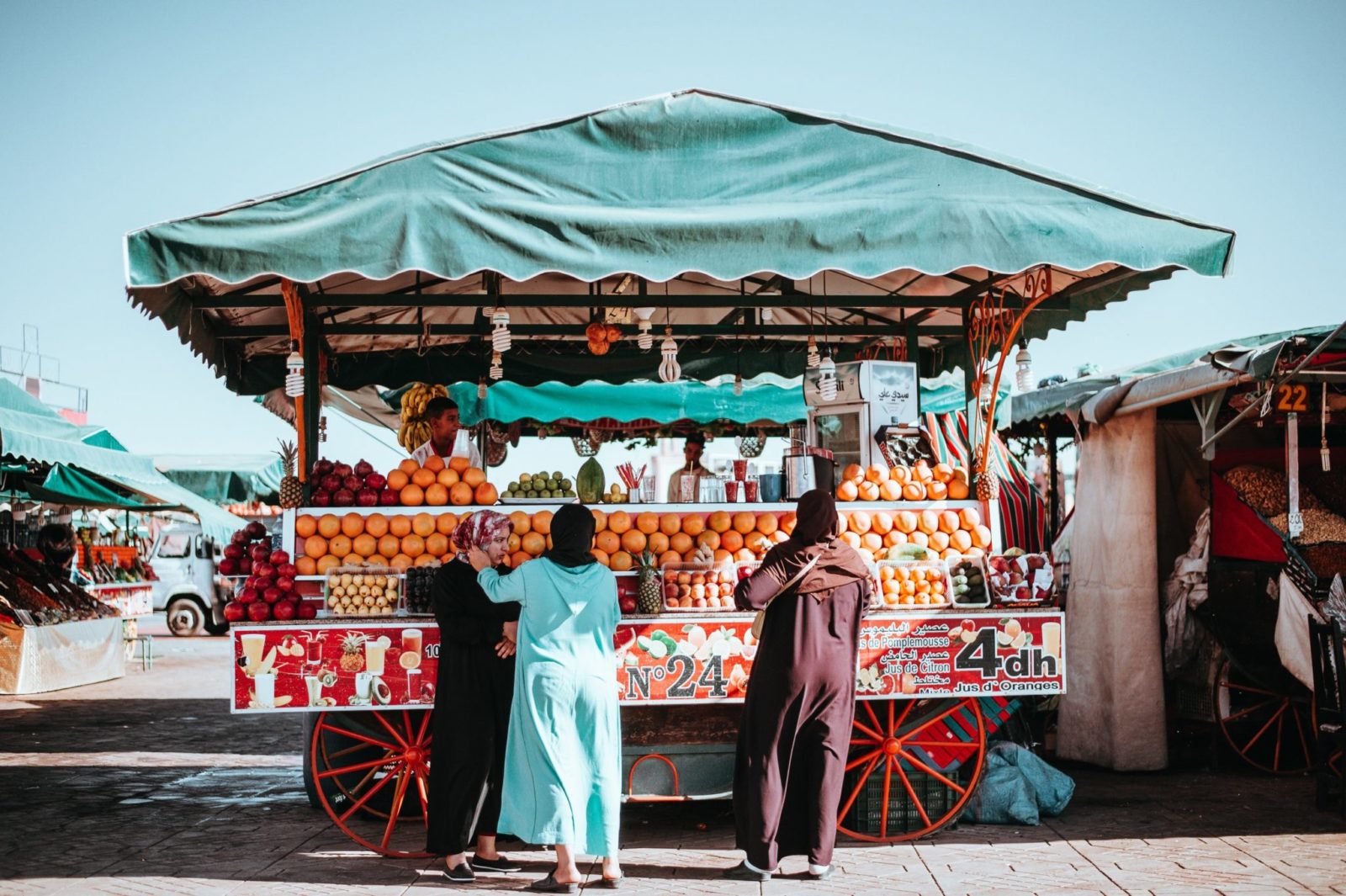 Marrakech, Morocco. Say the words out loud and immediately you're transported. Images of dusty red stone, souks bustling with activity, the smells of barbequed meat and dry spices mixed with leather, the bitter yet refreshing taste of mint green tea, the sound of bartering and the Call to Prayer…it's a multi sensory experience, if ever there was one. As such, it can be an overwhelming tangle of experiences for those new to the city, but with a little know how and guidance, it can also be a hugely rewarding place. We're here to help, with these; our 5 IDEAL travel tips for Marrakech first timers.
BRUSH UP ON YOUR ETIQUETTE
Like any country you visit, it's important to familiarise yourself with the Morrocan way of life, to see how things are done here, so you can assimilate seamlessly and make some friends along the way. One thing that you'll find is that Moroccans are generous with their time and extremely welcoming; someone you have a casual conversation with may invite you home for a meal or to a restaurant, and it's best to accept with open arms, we think. If this happens, it's polite to take your shoes off before entering the reception rooms and if in doubt, just follow your host's lead. 
That said, this is a conservative country, both men and women should cover their shoulders and knees when inside the medina. Don't overtly display affection to your partner in public – holding hands is fine but best not to affront people by kissing. Being a Muslim country, alcohol is forbidden; don't drink it on the street or in public spaces, though you'll find some Western hotels do serve the odd beer if you ask. During Ramadan, don't eat, drink or smoke in public during the day. And importantly, learn a few words, indeed, a few phrases – some polite, some playful – of the local lingo to help you integrate with the people of the city, who view conversation as an art form.
BARTERING IS A DANCE NOT A FIGHT 
The souks are a labyrinth of market stalls and shops selling anything and everything from local food to shoes, bags, pottery, leather, clothes and jewellery. They're helpfully – but chaotically – set out in different sections, so if you're after a certain thing, you only have to look in one area. You've probably heard that a certain amount of haggling is expected, and viewed as a playful, enjoyable experience when done right. Do not, however, skip the pleasantries and jump straight into it. Say hello before offering a price, accept the mint tea that they offer and settle in for a bit of back and forth. And though it's certainly an enjoyable bit of rough and tumble, don't be stubborn for the sake of a few pence; these are people's livelihoods after all. 
DISCOVER THE FOOD
An aromatic, heady and highly complex cuisine served for pennies…what more could you want? Indeed, one of Morocco's greatest draws, and in particular we think, Marrakech, is its abundance of street food stalls; to us, there's nothing better. A street-stall-stable is snail soup, where the suckers are swimming in an aromatic, herbal broth called 'babbouche'; delicious.    
Morocco is also the largest exporter of sardines in the world which makes this oily fish ubiquitous on the grills on local Marrakech markets. Here, they are also often served as fish balls in a spicy tomato sauce or stuffed with chermoula paste then fried. Visit the heart of the action – and the beating atrium of the city – at the medina's central square, Jemaa el-Fna. Flames lick high off grills and each meal comes with a side order of theatre. Perfect. 
Marrakech is equally comfortable with high-end restaurants and has a number of speciality dishes that need to be tried. One such dish is Pastilla or pigeon pie. The delicately spiced poultry pie, blurring the lines between sweet and savoury, is simply superb. The Moroccans are also big on nose to tail eating (as any great cuisine is) and one delicacy you should taste in this part of the world is sheep's head, complete with the eyes, brains and tongue. Go get it.
TAKE A DESERT TRIP OR MOUNTAIN EXCURSION 
The dramatic landscapes of Morocco lend themselves to excursions. And fortunately, the Atlas mountains and Sahara desert are within driving distance of Marrakech. As such, an excursion whilst visiting the city, to the Atlas Mountains and the gateway to the Sahara, Merzouga, shouldn't be overlooked. You'll need the support of a local guide to get the full experience, as the terrain gets barren, the roads incredibly windy and the whole thing a little hair raising in inexperienced hands. Fortunately, a fair amount of travel agencies now exist in the region able to organize desert tours in Marrakech and beyond.
EXPECT TO GET LOST
In Marrakech, Essaouira, Fez or even Tetouan, the medinas are inscribed in the UNESCO World Heritage list, indicating the charms, curiosities and culture that lies within. Owing to their maze-like quality and the shops and cafes which lure you in at every turn, it's necessary to dedicate a whole day or more to them. We'd recommend going mapless, and simply giving in to getting lost. And remember; haggling is considered a highly playful way to pass the time. Essentially, it's mandatory. Embrace the madness.