If you're planning a stag do for one of your nearest and dearest friends, then firstly; congratulations! Fulfilling the role of best man with just the right amount of gentle joshing fused with genuine affection can be a tough balancing act.
Secondly; don't scour Google for your best man speech jokes. They've done the rounds at every wedding we've been to recently!
But forget the speech for a minute; your most important role, of course, is planning the stag-do; a coalition of disparate friends, family and diverging desires for debauchery which can be tough to organise into a single cohesive vision.
And just as it's important to avoid the usual well-trodden one-liners in the speech, so it's equally essential to avoid a stag that's so clichéd it evokes deja vu. You want your best man's big day (the stag, not the wedding) to be unique and personal, not another trip go-karting when he can't even drive.
So, for some cracking ideas for organising a traditional stag-do with a difference, read on…
A Tour Of London's Spiciest Dishes
Rather than simply going out for a high-street, no-frills curry, as is so popular on stag-dos, why not organise something more seismic and significantly spicier, in the form of a tour of London's spiciest dishes?
There's something about a group of men getting together that brings out a certain bravado regarding their tolerance for capsaicin, and what better way to test those bold claims than sampling the most testing dishes the capital has to offer.
From the Cinnamon Club in Westminster and their infamous Bombay Burner all the way to Brick Lane and Aladin Restaurant's Chicken Tikka Blast, there's just so much chilli in the capital to invigorate and stimulate. Just make sure you've got enough toilet roll back at the Airbnb!
A Golfing Trip
If everyone going on the trip is a semi-competent golfer (what a capable crew you've got there!) then an afternoon on the golf course is sure to appeal.
As we're sure you'll know, a major purpose of the stag-do is for those who haven't met to get acquainted, ramping up the camaraderie for the big day proper. Golfing provides the perfect framework for this; you'll get a chance to socialise while you're on the course, and the gentle competitiveness of the sport provides ample talking points for those inevitable lulls in conversation.
To make the golfing trip a little more unique and stag-like, you could introduce a (responsible) drinking game on the course. Some like to play Beer Bogey (mmm, sounds delicious), some choose Mulligan as their drinking game of choice, while others still prefer a Pin Challenge. We've always found it fun to have one simple rule; if you want to tee-off closer to the whole, you have to have a drink.
Get creative with your golf drinking game's rules for the most fun – and unique – results!
Read: 5 IDEAL places to play golf in the south-west UK
Ale Trail
A pub crawl is a great way to spend an afternoon – especially if you've got the route planned out in advance. But this is your best friend's stag, not just an afternoon in the pub!
Accordingly, it's appropriate to turn things up a notch or two. If you'd like to cover a lot of ground, then a railway crawl makes a lot of sense. You can move from town to town, sampling quality ales along the way. If the stag is something of a trainspotter as well as a beer drinker, then this is going to be their dream day out!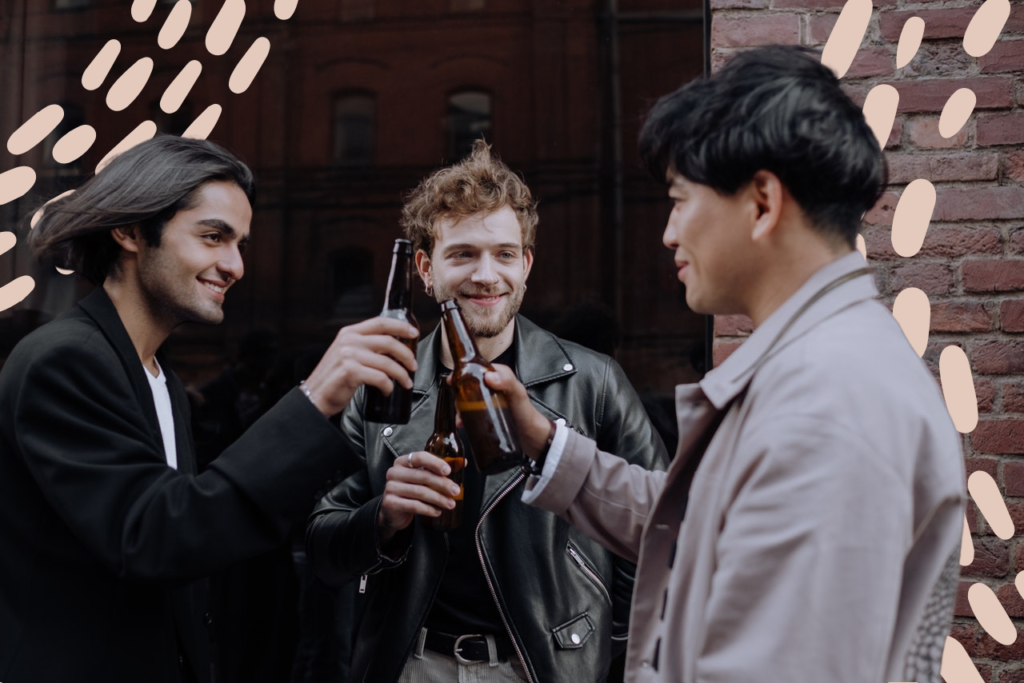 Escape Room
An escape room is a fairly reliable way for a group of relative strangers to get to know one another. While it might not be enough to prop up an entire stag-do, it can certainly help everyone to get acquainted early on.
You need a mix of people, from those with a keen eye to locate clues to those who have good problem-solving skills to solve them. You also need someone who's organised and can delegate tasks to others so that you can work more effectively. This teamwork is great for encouraging bonding.
Pick out an escape room that's highly recommended, but that your guests won't have already been through. If you're arranging your stag-do at the other end of the country (or in a different country), then this might not be such a concern.
For an escape room experience with a difference (and as long as you've got plenty of time on your hands), consider designing your own escape room experience, with questions, clues and puzzles all themed around the stag's life. As an overarching theme for the game, perhaps he could even be 'escaping' the drudgery of single life… Sounds like great fun to us!
Paintball
If you'd prefer something a little bit more action-packed and adrenaline-fuelled, then a day spent paintballing is one of the great clichéd stag-dos, but it's popular for a reason; who doesn't love a day spent in a really hot boiler suit getting pelted with painful projectiles, after all!
To make the day a little more frivolous, there are plenty of paintball companies that specifically cater to the needs of a stag-do – including having the groom wear a special target or getting the whole squad dressing up as superheroes!
Alternatively, you could have the paint replaced with gin and milk, as they recently did on Taskmaster when trying to recreate a traditional stag-do but condensed into just a 60 seconds!
At most paintballing venues, lunch is typically thrown in (or up, depending on last night's antics), but it's worth checking before you arrive.