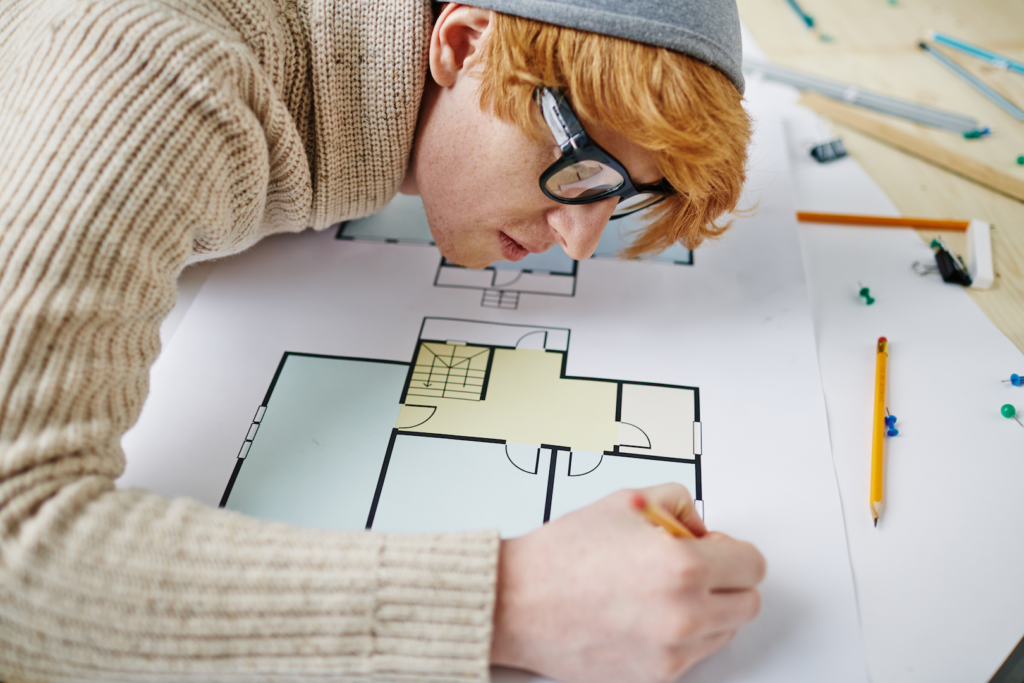 Ideal for those who feel like the walls have been closing in lately.
Are you dissatisfied with all the clutter at home? Have you spent this government-imposed time indoors longing for more space? Does lockdown have you feeling like the walls are closing in? Well, there is a solution; knock those walls down.
If only it were that easy. But planning a home extension is a simultaneously exciting and daunting experience, and to make the process as seamless as possible, you will need to consider a wide range of factors, get to grips with some complex legislation, and use some serious powers of foresight to get the job done.
That said, the benefits of building outwards are vast. Choosing to extend your home is a great way to add space for a growing family and on top of that, doing so also adds value to your property should you be intending to sell up in the future.
With that in mind, here are 5 key considerations when planning an extension to your home, IDEAL for those who feel like the walls have been closing in lately.
PLANNING PERMISSION
The first step to successful planning of any extension is finding out whether you need to apply for planning permission. Not all extensions require it, but it is crucial that you take the time to find out before you begin any work as failing to do so could result in you being asked to remove the extension. This outcome would be devastating, since by then, you will have spent lots of time and money on building.
To find out, the government recommend contacting your local planning authority (LPA). You can do so on the Ministry of Housing's Planning Portal. Via the site, you can also apply for planning permission.
BUILDING REGULATIONS
Whether you need planning permission or not, you will need to abide by current building regulations for the extension to be legal and valid. The good news is that the majority of trades are able to self-certify their own work; these trades include Gas Safety engineers (you can check yourself on the Gas Safe Register), FENSA window fitters, NICEIC electricians and many more.
However, if you are doing the work yourself or the tradesperson you are employing cannot self-certify, then you can work with your local building controls department (LABC) to request that their officers come out and certify the work for you. You can find the closest officers to you here.
PASSING A RESIDENTIAL NOISE SURVEY
One of the most technical sides of building an extension is ensuring that it passes a residential noise survey. To get this done, the airborne and impact sounds caused by the building and its work are measured by a tester to ensure that it meets Part E (resistance to sound) Building Regs. According to Nova Acoustics, a residential noise survey should include advice on the layout of the proposed housing along with detailed instructions for the sound insulation the property needs.
To pass this test, you will need to install specific sound insulation to reduce the levels of noise that pass through the doors, floors and walls of the property.
Airborne tests focus on the level of airborne sound that passes through the walls such as talking, television noises and the radio. Impact tests focus on the level of noise that passes through the floors when there is movement or impact from walking, moving furniture or dropping items.
These tests must be completed for all extensions, and you will need to engage with an official tester who will measure the sound transmission in decibels and inform you whether your work has passed or failed the test. Once you have passed the sound test, you can inform the planning office who will move forward with your application.
SELECTING THE RIGHT DESIGNER
Surprisingly, the law doesn't actually make it obligatory to employ an architect to draw up the plans for an extension. Whilst there is no legal precedent for this, you may find the whole process more manageable if you do have accurate and detailed plans to hand. However, as architects are an expensive option, you will need to shop around to find the best fit before you part with any cash.
According to the government's official website, ''the Architects Registration Board regulates the architects' profession in the UK to ensure that good standards of conduct and practice are consistently maintained''. It's therefore sensible that you find (or cross reference) your architect on the official architect's register to ensure they have passed necessary scrutiny.
PROJECT MANAGEMENT
Another vital aspect of any building work is to have a confident project manager in place with a detailed and realistic project plan. This person could be you, a builder or other professional you hire.
The role of a project manager is to ensure that all deadlines are being met, costs are kept to a minimum, and any issues are mitigated for so that the project is not thrown off track. Projects that do not have a clear leader often end up going over budget and past deadline because there is no single point of contact for queries.
THE BOTTOM LINE
In short, if you are planning a new extension, you must take the time to follow the correct processes so that you end up with a home that is built well and meets all the regulations that are associated with building works.
You do not have to go on this journey alone, and your local planning office will work to support you with answering questions and providing information about regulations and guidance that you need to follow.
Taking the time to adhere to all the requirements and regulations will result in an extension that can be enjoyed without the worry of having to redo any of the hard work that you have already put in place. Only then can you realise your dream of greater space in your home!
Should you have loftier ambitions and are looking to build your home from scratch, then check out our tips on doing just that.