They say variety is the spice of life, right? And with so much of that life spent chained to the office desk, those precious 28 days of annual leave need to be spent embracing the broadest range of destinations and activities possible. Perhaps nowhere on the planet encapsulates life's rich tapestry, of adventure, activity, landscape and leisure like Costa Rica, the jewel in Central America's crown. If you're intent on making the Rich Coast your next holiday, then we've got just the idea for the most varied and exciting itinerary imaginable. This is it; our 5 must visit places to visit in Costa Rica, IDEAL for your next holiday.
SAMARA
Choosing the best beach in Costa Rica is one tall ask; the country is blessed with nearly a thousand miles of coastline and a stunning variety of beaches to boot. So instead, we'll point you in the direction of Samara, a super groovy village ideal for kicking back, hanging out and enjoying that Costa Rican low and languid way of doing things. It just so happens to boast an incredible beach, too.  
Less touched by tourism than much of the Northern Pacific Coast of the country, Samara has a more 'authentic' feel, with the downtown offering hip restaurants and bars whilst still maintaining its Tico soul. The main beach, Playa Samara and the nearby Playa Carillo are as idyllic as they come, with palm trees abundant, calm waters and a coral reef just offshore catering to snorkelling enthusiasts. Take us back.
ARENAL
Beach? Check. Now, it's time to explore the country's amazing landscapes a little further. 90km northwest of capital city San Jose lies the active Arenal Volcano and its surrounding national park, complete with a jungle, hot springs, a waterfall, lake and all the adventure activities you'd expect from such a diversity of landscape. 
You'll want to head for the town of La Fortuna first, which acts as the gateway to the National Park. Even though it primarily caters to tourists, the backdrop of Arenal Volcano towering over the town is jaw-dropping, to say the least, and worth the visit alone.
In the National Park itself, you can go on several trails and hikes which pass through lava fields, and those brave enough to get a little closer will, at night, still see lava flowing down the volcano's sides. Fear not, the park is well patrolled and the volcano monitored by expert wardens; should an eruption be imminent, the National Park will be closed for everyone's safety. An absolute must-visit on anyone's Costa Rican itinerary, this one.
MANUEL ANTONIO
We're heading south now, and to the Central Pacific coast, to another national park with a whole different soul. Parque Nacional Manuel Antonio boasts some of the world's richest and most varied (there's that word again) biodiversity, with three stunning beaches, a rainforest and abundant, exotic wildlife, flora and fauna. White faced monkeys and sloths are perhaps the park's most famous residents, though you'll also see pacas, anteaters, parrots, crocodiles, iguanas and many more creatures besides. 
Though entry to the park will only set you back around £10, a guided tour of Manuel Antonio is highly recommended if you're to catch a glimpse of all those animals. Overnight accommodation isn't available within the park, but nearby town Quepos is just a ten-minute drive. The coast also boasts plenty of resorts.
SAN JOSE
The city of San Jose, Costa Rica's capital, is one so often overlooked. With a reputation for the hectic, loud and sometimes lawless, trepid travellers tend to be in and out as quickly as possible, fixated on reaching the Central American country's famed jungles and beaches in record time. But to do so is to miss out on a vibrant, hip city with an undeniable energy, warm, hospitable people and fantastic food. 
While here, make sure you check out the Pre-Colombian Gold Museum, which contains artefacts harking back over 1500 years, including the country's first ever coin. The National Theatre is also well worth a visit, particularly for its lavish ceiling murals and Beethoven statue.
And it's in the capital that you'll find some of the finest food in the country, too. Number one on that list is most certainly La Sorbetera, in the city's Central Market, which produces some of the world's best vanilla ice cream, using local vanilla beans. Oh yes. The Barrio Escalante neighbourhood has got you covered on the savoury stuff, housing some superb restaurants doing contemporary takes on traditional Tico cuisine.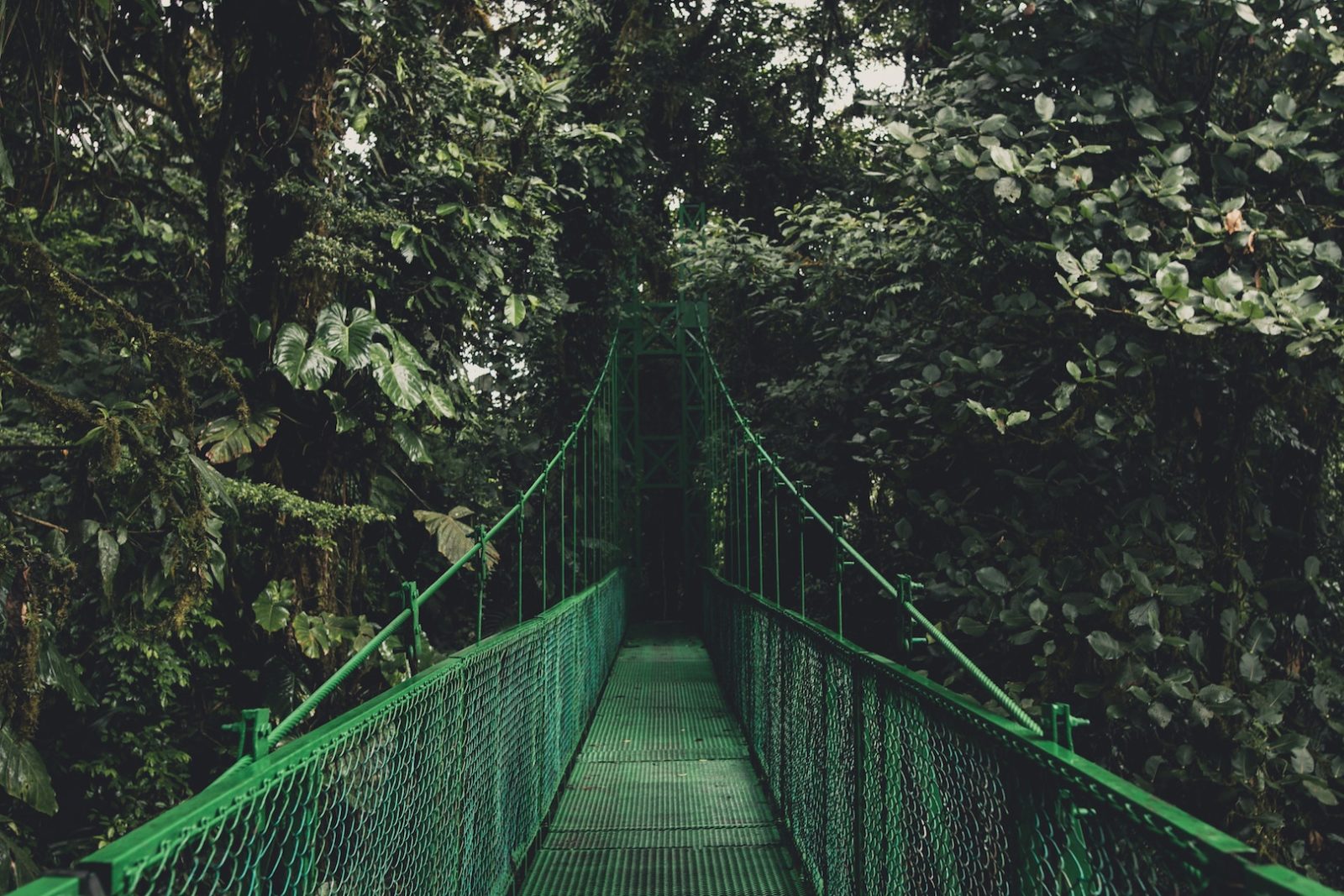 MONTEVERDE
If you've still got the energy for one last place, then it's got to be Monteverde. Again, this one's a little different; the Cloud Forest Reserve has an ever present, mystical mist (must resist the urge to combine those words) hanging over it, and the cloud forest itself is one of the world's rarest habitats. Well, we did say this country was pretty astounding, right? 
Ecotourism is the name of the game here, and visitors flock to these 26'000 acres to check out the lush, ever changing landscape. Particularly well trodden are the Selvatura treetop suspension bridges, which take you above the forests and clouds, granting perspective on the majesty of the reserve. From above you'll enjoy bird watching on a scale almost impossible to describe; this one needs to be seen to be believed. And if that's not enough, the Monteverde Butterfly Gardens and Orchid House are also essential visits. 
We promised variety, right? It's safe to say that Costa Rica has it all.
Looking for a holiday a little closer to home? Then check out our 5 IDEAL bargain flight destinations in Europe for January 2020.