A series looking at the best dining options within walking distance (1 mile) of city landmarks worldwide. Here, we offer our 5 IDEAL restaurants close to Fisherman's Wharf, San Francisco.
We think it's safe to assume that those heading to San Francisco for the first time aren't exactly going in blind; the city is just too iconic for that. As such, we're sure you've already got your boat trip to Alcatraz booked. You've checked the plausibility of walking the Golden Gate Bridge, your inner hippy is already sparking up at the prospect of Haight Ashbury and you're hoping for fresh seafood Fisherman's Wharf.
With so many food options to choose from near the Wharf, it can be easy to grab the first clam chowder you catch a whiff of and move on through the throngs. But to do so would be to miss out on some of the city's best dining spots, all within walking distance. Dig a little deeper, have a little patience, and you'll be richly rewarded, with these; our 5 of the best restaurants close to Fisherman's Wharf, San Francisco.
BOUDIN BISTRO (0.2 miles)
Most of the city's touristy dining spots are, well, just that; packed with visitors and as such, a little soulless and underwhelming. The exception, we think, is the Boudin Bakery chain, as well as Boudin Bistro, found on 160 Jefferson Street, Fisherman's Wharf. The bakery chain is ubiquitous with San Francisco, and makes a rightful claim to being both the city's oldest business still in operation and perhaps more impressively, to baking the original San Francisco sourdough, a loaf which forms part of the fabric of the city.
Visit one of their bakeries in the area or head to Boudin Bistro for a clam chowder served in a sourdough bowl; there really couldn't be anything more San Franciscan than that.
Website: www.bistroboudin.com
Address: 160 Jefferson St, San Francisco, CA 94133, United States
GARY DANKO (0.3 miles)
From something citywide to somewhere very much one of a kind. Gary Danko is the finest of fine dining establishments found in Fisherman's Wharf, boasting a Michelin star and seventeen years of top-notch food and service to boot. Cutting edge this is not, but classical French cuisine using the finest ingredients found stateside is cooked with the respect that deserves. The Dungeness crab salad is a thing of elegance and beauty, and desserts are outstanding. A real special occasion kind of place, but worth every penny if you fancy being spoiled.
Website: garydanko.com
Address: 800 North Point St, San Francisco, CA 94109, United States
THE CRAB HOUSE AT PIER 39 (0.5 miles)
If you're after something a bit more informal, then the Crab House at Pier 39, a tourist favourite on the edge of the Fisherman's Wharf district, will be right up your street. Or pier. Right up your pier.
Consistently voted as having the 'best crab in San Francisco', if it's shellfish you're after, this is the place. Yep, while there are other delicious crustaceans on offer here (try the roasted mussels and shrimp) it really is all about the crab; crab Louie salad, crab angel hair lasagna, a whole crab which demands you don a bib and plastic gloves and get elbows deep in shell and tomalley…it's just fantastic. The restaurant's views of Golden Gate Bridge certainly do no harm either.
Website: www.crabhouse39.com
Address: 203 Pier 39, San Francisco, CA 94133, United States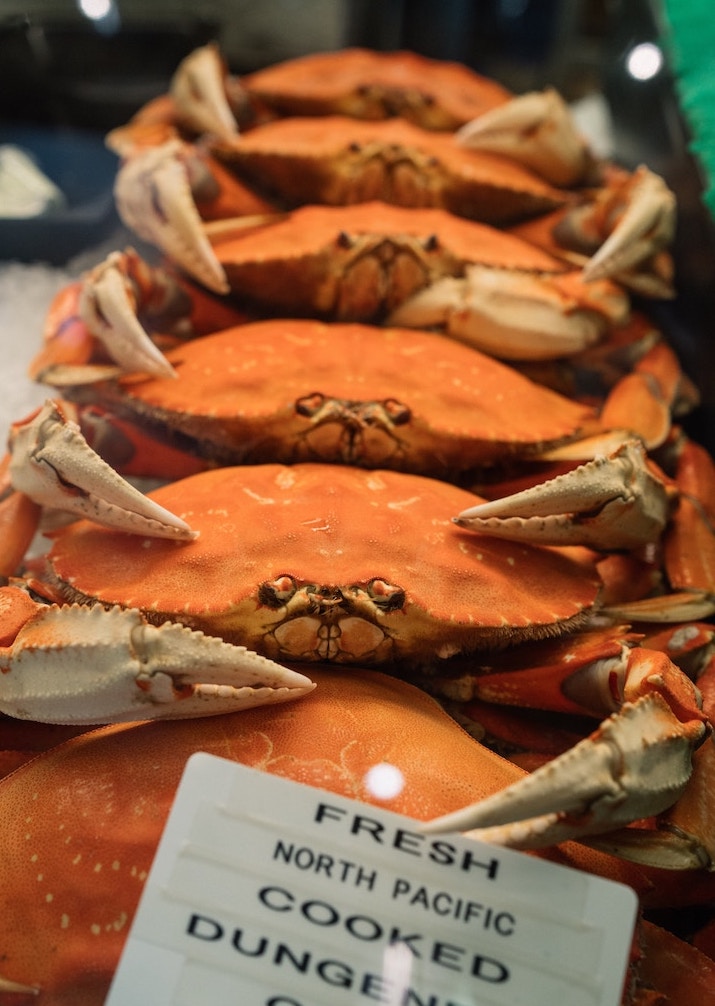 LAI HONG LOUNGE (0.9 miles)
Stroll a little inland from Fisherman's Wharf and you'll find the dining options expand infinitely, with the city's famous Chinatown (the largest of its kind outside of China) being the focus of some of the city's best food, full stop. Though you could head here with nothing on the itinerary and no juice on the phone, simply follow your nose and eat very well indeed, if you're looking for something sit down and guaranteed to be delicious, it has to be Lai Hong Lounge on Powell Street, which you'll happen across just before reaching Chinatown if you're walking from the Wharf.
Though the vibe is quaint and very much authentic, and the menu as large as you'd expect from that description, it's all about the dim sum here. The Har Gow shrimp dumpling and crispy pork belly bao bun are superb. Take note; they do an amazing brunch deal, when you might not have to queue for quite so long.
Website: www.lhklounge.com
Address: 1416 Powell St, San Francisco, CA 94133, United States
GREENS (1 mile)
Seafood, sourdough, Chinese…all very typical of delicious dining options in the city. Greens, back on the waterfront in the Fort Mason Center, serves a different type of quintessential San Franciscan cuisine; the locally grown, sustainable and healthy kind. This cracking vegetarian restaurant was one of the first to fully articulate that ethos of 'farm to table' nearly four decades ago. It's been an influential, inspirational restaurant ever since, championing local produce and minimal waste while the world caught up.
This year has seen 40th anniversary celebrations with special menus designed by some of the country's best chefs, including Chez Panisse's Alice Waters. We hope the next 40 years bring much more of the same!
Website: greensrestaurant.com
Address: Fort Mason Center, Landmark Building A, 2 Marina Blvd, San Francisco, CA 94123, United States