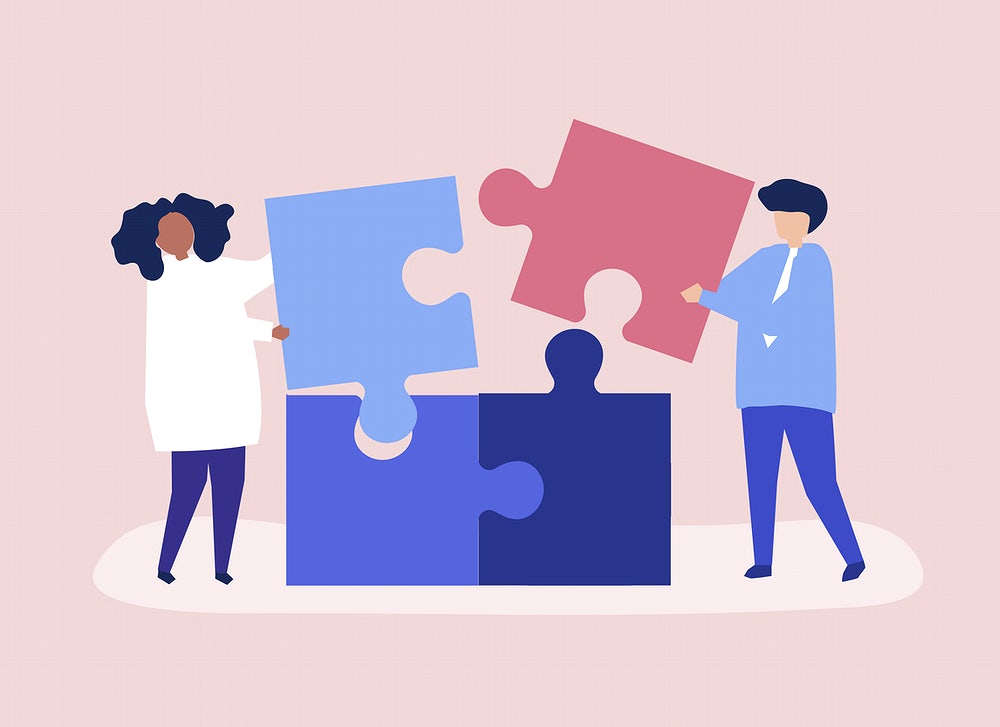 The popularity of puzzles soared over the last lockdown, with jigsaws and board games seeing a particular rise in sales. An even more interesting trend seems to be emerging in this latest of lockdowns; puzzle inspired interior design.
Yes, really. Actually, it does kinda make sense; if you have kids or have friends with kids, you've probably seen those colourful foam puzzle playmats. But since we're all confined to home and keen to find some frivolity any way we can, many adults have been asking ''why should kids have all the fun?''
As such, and to keep things entertaining during bleak, boring times, why not consider incorporating puzzle designs into your interiors for a playful vibe? Ideal for a unique interior through which you can express your creativity and boldness, if you're looking to give your home a quirky update and add a touch of playfulness to your home decor, take a look at these 5 puzzle-inspired designs.
JIGSAW PUZZLE WALL ART
If you're tired of the usual posters and cliché wall art – last seen in your ex-boyfriend's shared student flat – then you could instead opt for jigsaw puzzles for your wall decor. While they are best known as a great way to pass the time, they can also be the perfect wall accessory to help you spruce up your living space. Don't deny it; you'd be immediately drawn to one in a friend's house. We certainly would.
Why not frame those puzzles that you've completed (or given up on) over lockdown? Or, create a custom jigsaw puzzle assembled from your favourite photograph – a unique and memorable wall art through which you could celebrate your family's most treasured moments and provide a talking point when guests are round.
If you're considering something more traditionally artistic – with a puzzle-based flourish, of course – then there are lots of fine art jigsaw puzzles out there, from Vincent Van Gogh's 'The Starry Night' to more modern pieces like Jonathan Adler's Rainbow Hand. Frame and hand them for a unique take on a classic.
If those don't feel suitable, you can always simply look for some great jigsaw puzzles for adults and then choose one that will best complement your space aesthetically.
STATEMENT PUZZLE CHAIRS
If you don't have a focal point in your living room, opting for statement puzzle chairs is a great way to provide visual intrigue to your domestic space. As a result of their uniqueness, they are quite innovative and can fit in almost every interior design, although they seem most apt in the Swinging Sixties style favoured by Austin Powers, a retro Mad Men-esque design, or something more contemporary and minimalist which needs a single pop of colour to provide visual juxtaposition.
The Pallares chair is among the most popular puzzle stools out there, and is created by combining three identical parts made from natural fibre tetera and polyester resin. All three parts are interchangeable and come in different colours that you can match according to the colour palette of your living space. Generally speaking, such interlocking chairs create the perfect amount of playfulness to a very orderly place.
Or, check out Lese Chair's Perplexing Puzzle chair, which is held together using 3D puzzle principles and calls to mind the popular optical illusion Penrose Stairs if you look at it long enough!
JOYFUL PUZZLE RUG
If you want to introduce some more colour to your living space, you can do just that by incorporating a multicoloured rug. And since you're here, keen on evoking the spirit of playfulness, nothing comes close to a puzzle rug to add life and originality to your minimalistic decor.
The Imperial puzzle rug is perhaps the most popular puzzle rug style, and its assembly means it fits any interior space. Each puzzle piece comes in a wide variety of colours, so you can mix and match them in order to create unique patterns; if you're on a certain kind of trip, this could represent hours of fun. Alternatively, this rug is best used in its traditional sense; as a soft, colourful floor covering which can be devoted to a child's safe play.
PARQUET PUZZLE
If you want to avoid rugs altogether, you can get creative with your flooring and experiment with parquet puzzles to achieve originality in your living space. In general, puzzle flooring is most common in children's playrooms, but you can make it work in your living room, too.
The beauty of parquet puzzles is that they have the ability to bring charm and character to any interior due to their unique aesthetic. This type of flooring is available in many colour schemes that you can mix and match in order to make the entire space stand out.
There are many parquet puzzle ideas you can choose from with the irregular puzzle design and the jigsaw puzzle style being the most popular among homeowners.
PUZZLED BATHROOM TILES
Decorating your bathroom space doesn't have to lean purely on the functional. In fact, it can be just as exciting as decorating the rest of the house. So, don't be afraid to get creative! If you want to step out of your comfort zone and spruce up the appearance of your bathroom walls, go for puzzled tiles which are a great alternative to traditional solid colour tiles.
If the overall aesthetic of your bathroom is rather more minimalist, opt for monochrome puzzles as a unique flooring design. You could lay out a chessboard in tiles or even go for flooring in the style of the famous Coffer Illusion; now that would be an aesthetically intriguing floor design!
Be warned, the latter may cause dizziness in visitors!
THE BOTTOM LINE
If you want to design an interior with a difference, and have a style which will instantly become a conversation starter with your family and friends, then puzzle-based design is the perfect way to evoke that playfulness and sense of mischief in guests and residents alike. We can't wait to be invited round!