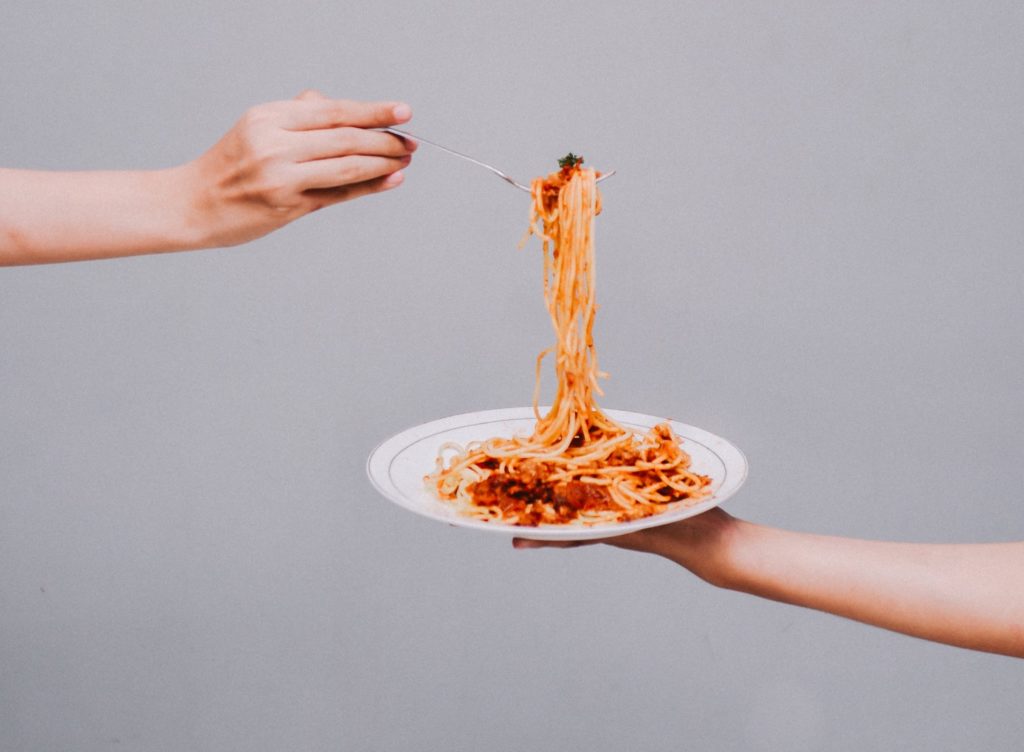 Ideal for feeding your family during lockdown
Day who knows of lockdown life and our dinner creations are getting ever more eccentric. Our sense of restraint seems to have given way to unbridled creativity in the kitchen with, shall we say, mixed results.
But when great cooking is involved, less is so often more. With just a couple of ingredients easily found in your store cupboard, you can whip up a great dinner in no time. There really is no reason not to eat clean and healthily during self isolation. Here are 5 quick and easy pasta dinners, IDEAL for feeding your family during lockdown.
PENNE WITH ROASTED TOMATO ARRABBIATA
Tomatoes turning ropey certainly don't look all that appetising raw. But they can still be made into a delicious pasta sauce. Simply roast them in the oven with olive oil and salt over a high heat until the skins begin to blacken slightly. About five minutes before you anticipate the tomatoes reaching their peak, chuck a few cloves of skin-on garlic into the roasting tray, to soften and sweeten them.
Then, blitz everything in a food processor with a sliced long chilli or two ('arrabiata' does mean angry, after all, and as such calls for enthusiastic heat levels), adding a little more olive oil to create a smooth, emulsified sauce. Season with a little more salt as desired, and check for the ideal sweet/sour balance, which is always unpredictable with tomatoes. Adjust accordingly with sugar and vinegar.
This is delicious with penne, a few torn basil leaves and some freshly grated parmesan. Buon Appetito!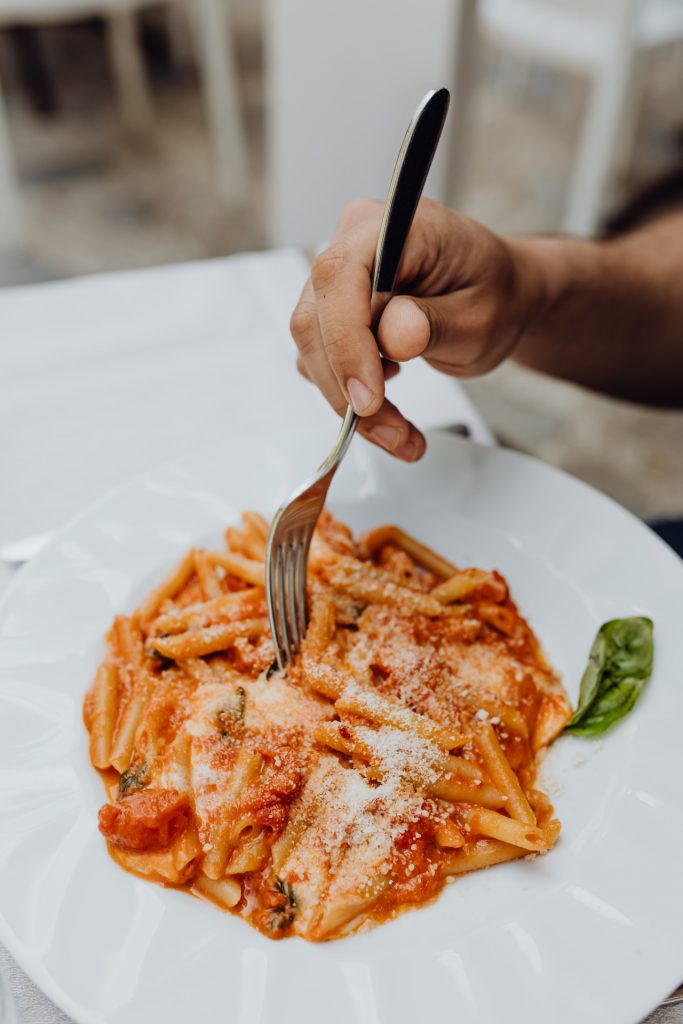 SPAGHETTI WITH FROZEN PEAS, SPRING ONIONS & HAM
Sensible substitutions are the name of the game right now. If you don't have spring onions, then bring in some sliced shallots, onion or even chives. Don't fret if you have none; just leave that step out. Ham can be replaced with bacon (just add it earlier since it needs cooking) or chorizo. Basically, this is the perfect time to riff and experiment; no one's watching.
Put a pan of sea salty water on for your spaghetti and when it's rolling, add your pasta.
Add equal parts butter and olive oil to a warm pan and slowly sweat sliced spring onion – the white and light green part, reserving the dark green for later – for around 15 minutes. You don't want to colour them, just soften until totally giving.
Around two minutes before your pasta is done, toss a good handful of frozen peas into the spring onion mix; they cook in no time. Season gently with salt (the ham will bring more salt later) and generously with pepper.
Lift your spaghetti out of the boiling water with tongs and add to the pea and spring onion pan, bringing some of the pasta water with you. Shake and toss thoroughly in a cheffy fashion to emulsify the liquids into a homogenous sauce. Top with wisps of cured harm (parma, iberico…but let's face it, some smoked German stuff from the cornershop tastes great too) and freshly grated parmesan. Enjoy.
TINNED SARDINE RAGU WITH RIGATONI
It might sound odd but it's damn delicious – trust us – and a cheaper, healthier alternative to your standard red meat ragu.
Start with a soffrito; a mix of diced vegetables used in many Italian recipes to form their backbone. Though the 'holy trinity' of white onion, carrot and celery is standard, you could use fennel, leek, shallot, even red peppers as the base; needs must, and all that, and if it keeps you from going outside, then sacrificing a little authenticity is ok.
Anyway, gently fry off your sofrito mix in a confident glug of olive oil until softened but not coloured. Grate a little garlic into the frying pan if that's your thing. At the same time, set up a pan of salted boiling water. After the sofrito mix has sweated sufficiently add a small spoonful of flour. Stir to coat the mix and cook off for a couple of minutes.
Next, add tinned sardines in tomato sauce to the sofrito, along with a touch of extra passata and a dash of chicken stock. Season with soy sauce or worcestershire sauce, salt and a pinch of sugar, and simmer until it reaches a ragu like consistency (this should only take around 10 minutes) with the subtle sheen of fat that the best ones boast.
Put your rigatoni (penne, or even tagliatelle, will do otherwise) in to boil for 7 minutes, and turn off your ragu, allowing it to cool in the pan (in our humble opinion, this one tastes even better lukewarm). When the pasta is done, pull it out of the boiling water with tongs and into the ragu pan; bringing a little of the pasta water into the ragu is welcome. Mix thoroughly and add a knob of butter for a little richness if you wish. Finally, top with parmesan and some parsley if you have it. Yep, we love the cheese and fish combo. Don't @us.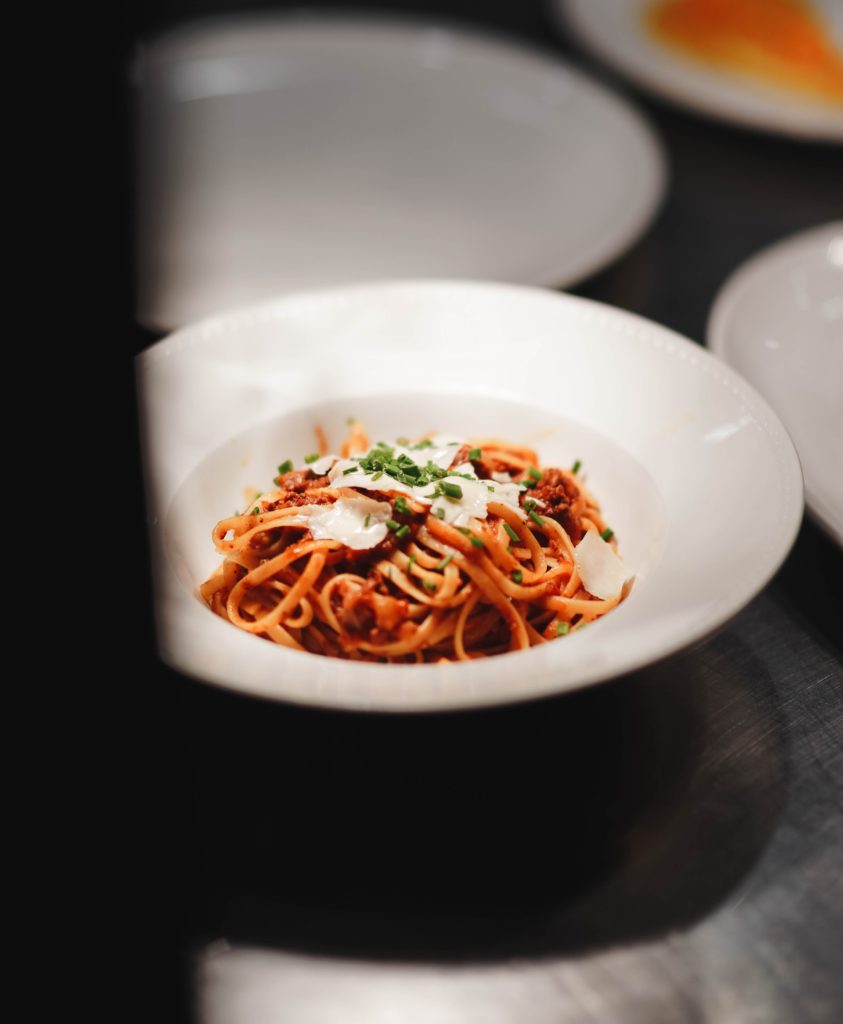 A PESTO OF LEFTOVER LEAVES WITH SPAGHETTI
It's such a shame to see that bag of rocket, watercress, spinach – anything green and leafy basically – go to waste just because it's started to turn. Yet, it feels so wrong in a salad once the leaf has lost a little of its vitality.
The solution? A quick pesto of any salad leaves which are seemingly going south. Just blitz them up with olive oil, toasted pine nuts if you've some lying around, and grated parmesan. We like to season ours with lime zest and juice, but that's up to you. To make a meal of it, this pesto can be spun through some spaghetti.
PASTA WITH CHEESE & PEPPER
If you've paid even the most cursory attention to food media in recent years, then you'll already be familiar with the ubiquity of 'cacio e pepe'. Translating literally as cheese and pepper, along with some pasta, that's all you need to have in your store cupboard (though some recipes use butter, too) to whip this one up. That, and some dexterity, because it takes a little knowhow to form a smooth, unctuous sauce from just those ingredients and some pasta water.
In the right hands though, and it's pure alchemy. Perhaps the finest version we've laid our eyes (and tongue) on is the famous rendition in London sibling restaurants Padella and Trullo. Check out the recipe for their classic pici cacio e pepe here. Of course, you don't have to make your own pasta; it's a preparation that responds well to most dried shapes.