Ideal for those looking to synergise the seasons with their style.
Whether it's your blood or your collar that's blue, this calming colour looks truly flattering on just about skin tone. Indeed, incorporating blue into your wardrobe in diverse shades ranging from arctic to indigo ensures your colour palette is an endless resource, all year-round. 
And that diversity is ideally suited to the ever changing mood of Winter, when one moment we're battening down the hatches ready for the Beast from the East, and the next we're flinging open the curtains to ever lighter mornings and the prospect of Spring.
As such, you're going to need to harness all the versatility of this great colour to be Winter war(drobe) ready and to see out these rest of the season in style. 
Rather than talk 'till we're blue in the face, let's cut to the chase; here are 5 shades of blue to wear this winter, IDEAL for those looking to synergise the seasons with their style.
NAVY
Navy blue is one of the easiest colours to wear in the Winter months, and is now so ubiquitous, it's practically considered a neutral tone. That's why navy blue suits have been such a big trend in recent years; the colour somehow manages to act as both a bold statement and a blank slate for other colours to flourish next to.
You can wear navy blue in just about any setting, too. Of course, the only current setting is the home – but navy will look good whether your Zoom call is an important work appraisal or a Friday night 'pub' quiz with pals.
Generally speaking, fashionistas recommend choosing solid navy for large outerwear pieces like winter coats and jackets, paired with more brightly patterned statement pieces for dresses or jumpsuits. Or, a stark white shirt or T-shirt paired with a navy jacket, shirt, or cardigan harnesses the power of contrast skilfully. 
If you're keen to brighten up your outfit in the face of Winter's gloom, then doing your patterns subtly is best; a simple pocket in paisley, a funky tie inspired by Jon Snow (whilst we'd love to make a joke about Winter is Coming, we actually mean the journalist) or even some trousers in a more daring shade all complement an outfit based primarily around navy. 
MILLENNIAL BLUE
Millennial blue is a pastel, powder blue that might be traditionally assigned to the Spring season. But because this shade of blue (along with millennial pink) has become so popular in recent years, its usefulness has reached backwards, beyond the Spring months and into the latter stages of Winter. 
And why not? This powdery blue tone is the perfect mix of muted and icy to work in your Winter wardrobe, and feels somewhat symbolic, heralding the clear, crisp skies which define the season's transition into Spring.
To work millennial blue into your own unique style, the colour looks particularly good in soft, cosy materials, such as Cashmere sweaters and loose fitting satin shirts. 
Popularised by Kate Middleton, pea coats in millennial blue are the perfect outerwear to help you see through the remainder of Winter. These coats pair wickedly well with neutrals. Throw on a white top, some dark jeans, and a pair of nude heels and you'll be feeling like a million bucks.
This shade also makes for great accessories like purses and shoes. If you're not ready to jump in the deep end with pastels during winter, then this is a good way to utilise the trend without it being front-and-centre of your fashion choices.
CLASSIC BLUE
In 2020, classic blue was Pantone's colour of the year. Each year, Pantone chooses a colour that it feels represents the global culture of that moment. It reflects art, fashion, and the overall mood of the here and now. So when Pantone chose classic blue, it felt like a real statement – previous winners have been esoteric shades like Cerulean, Sand Dollar, and Rose Quartz and Serenity – of the public's desire for comfort and consistency in turbulent times.
Classic blue is a straight and true blue, and speaks of a certain trustworthiness in the wearer. It's familiar, comforting and easy on the eyes. Because it isn't too vibrant, it's easy to incorporate this colour into your Winter wardrobe smoothly. To deepen the colour and mute it slightly for the season, consider wearing it under darker layers or with other dark pieces.
Shop for a classic blue top and throw a black jacket or cardigan over it; yep, that old satorial diktat about blue and black not belonging together has been widely dishonoured in recent years.
Dress head to toe in classic blue and pair it with chunky dark accessories. Or, you can flip that on its head and dress in darker shades with classic blue accessories thrown in; classic blue looks great on a pair of shoes, don't you think? If you're ready to buck tradition, you can brighten things up by pairing classic blue with a contrasting orange-yellow. The colours will boost each other's vibrancy without clashing.
COBALT
Cobalt blue is a deeper gem tone blue. Unlike cerulean (which we'll introduce shortly) it doesn't have any green tint, and is more skin to navy, but with the volume turned up. It's bright, it's eye-catching, but it's dark; a juxtaposition well suited to a sunny Winter morning, don't you think? 
This shade of blue was huge on the runways for Fall/Winter 2020-2021 and we expect cobalt to be massively popular for a while yet.
For a show-stopping look, shop for dresses and oversized coats in this shade, instantly taking any outfit from "average" to "all eyes on you." It's a powerful colour, and wearing it as your main colour is not for the faint of heart, but when deployed tastefully, there's no stopping cobalt's charm.
If you're not ready to go all-in for cobalt blue, it's also a great colour for accessories. These can be bags, jewellery, shoes, or even socks. If you're thinking of incorporating some blue socks into your winter look, specifically, then No Cold Feet's complete guide has a lot of good tips. With cobalt, a little really can go a long way.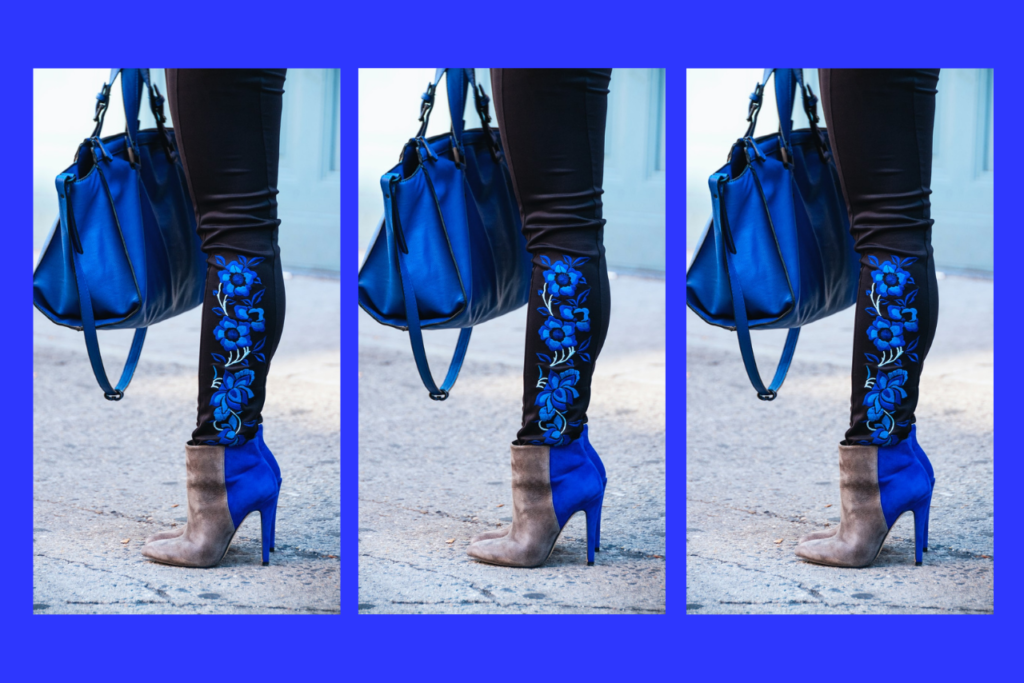 CERULEAN
Speaking of that esoteric Cerulean, it's actually a gorgeous, rich gem stone teal shade of our beloved blue. And you guessed it, the colour works brilliantly as a defining Winter hue!
Gemstones during the Winter months are a given, and the great thing about deploying them in this shade is that it feels bright and vibrant while still being dark enough for the restraint required from a Winter wardrobe.
This particular colour seems to be very popular on the runway, specifically for dresses or suits, as it holds its own in a head-to-toe look. And because it's a deep, rich tone, it's still gentle on the eyes, even when worn full-body. While you can find accessories and coats in cerulean blue, it's not common as an accessory colour. Instead, stick with larger pieces that really showcase the colour in all its splendour.
THE BOTTOM LINE
With so many great shades of blue to consider, and a generous diversity at the heart of the colour, you can find something in blue for every occasion. Yep, blue boasts variety ranging from the deep and rich to the light and powdery; use it, and your Winter wardrobe's fashion credentials all but azured.
Assured, we mean assured…hope you got that!