Georgian townhouses, Victorian farmhouses, Edwardian terraces, and pre-war detached houses are all staples of the Great British architectural landscape. With their high ceilings, ornate cornicing, and traditional layout, they are some of the country's most cherished compositional styles.
That said, what makes these old properties so unique can also be their downfall. At times, period homes in Britain can lack the high functionality of more modern places. Harness the best of both worlds then, with these 5 ways to give an old property a contemporary edge.
OUTSIDE
Let's start with where visitors first set eyes; your home's exterior. Perhaps the easiest way to upgrade the outside of your property is by changing the colour of the door; a simple flourish, we realise, but one which can change the whole place's kerb appeal when in the right hands.
Grey is the colour du jour when it comes to contemporary doors and windows, and by changing to this, you'll instantly modernise your home. Why not go the whole hog and change the window casings too? You can even retile the roof from traditional red to a cool and contemporary slate grey if you're fully committed to this colour.
Box plants like lavender, rosemary, and thyme around the front door or along the driveway instantly make an impact, too. By using flowers and herbs that were once found in traditional herb gardens and planting them in modern plant pots you'll be seamlessly mixing old with new.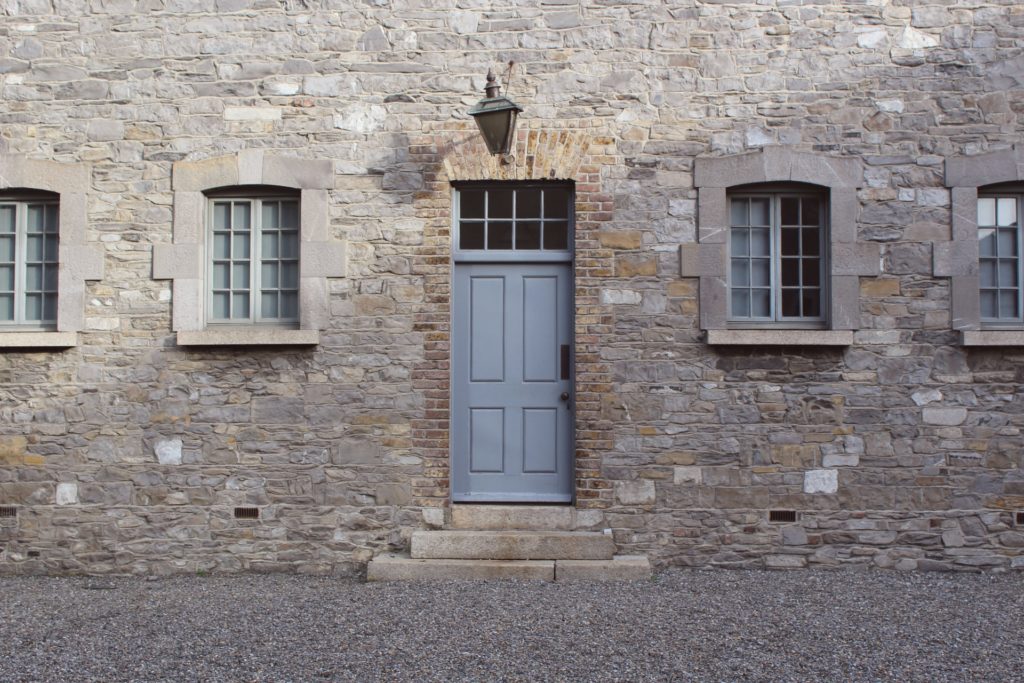 LOBBY & HALLWAYS
The entrance to a home sets the tone, and first impressions count. Indeed, lobbies and hallways can offer a wealth of design opportunities, especially in period properties which are generally larger than most. The key here is to enhance and highlight the original features such as the coving, tiled flooring and balustrades and contrast them with modern elements, to highlight aesthetic juxtaposition, rather than something jarring.
The hall and lobby offer an opportunity to turn a non-space into something spectacular. If you're lucky enough to have original tiled flooring, offset it with some contemporary occasional chairs. Accessories such as modern table lamps and sideboards can further ramp up that sense of modern twists in traditional settings.
If you don't have the floor space, focus on the walls instead – a modern mirror will open up the hallway and create an illusion of spaciousness and the creation of a picture gallery with modern, mismatched frames will further emphasise your stylistic flair. And when it comes to the staircase, consider painting your period style balustrades a contemporary colour – think bright yellow or red – to really make an impact.
MAKE THE MOST OUT OF NOOKS & CRANNIES
An alcove here, an alcove there; the great thing about period properties is that they are full of nooks, crannies and structural intrigue. Make the most out of them by creating some extra storage space, in turn freeing up room in other parts of the house which can show off a certain modern, minimalist tendency.
Add a sleek fitted wardrobe under the stairs, which can include open shelves, drawers or hidden compartments. Or, depending on the design structure, create a dedicated space under those stairs with a bench for storage and add cushions in a variety of textures to create a cocoon of contemporary cosiness. 
If your period property has a fireplace, introduce some shelving either side showcasing all your contemporary design and architecture books – you get the picture, now paint it.
DRESS UP THE WALLS & CEILINGS
Many period properties have really high ceilings; you know what we're picturing here. Make the most of them with large scale, contemporary artwork to create a modern contrast to the home's structural period features. From modern geometric design aesthetics to pieces that reflect the cultural issues that are important to us today, there's a wealth of work out there to suit all tastes.
Cast your contemporary gaze further, and onto the ceiling. The great thing about period properties is that you can get really creative with it comes to statement lighting; think a big, statement piece or a funky fan.
And where once we would paint that space above the picture rail white to keep the room feeling light and airy, for a contemporary and cosy twist, use darker colours like deep blue or forest green on the upper walls and ceiling to act as a statement of contrast; chalk paint can do wonders here, creating depth and texture in any ceiling alcoves.
REPLACE THE KITCHEN
If there's one place which can cope with a complete, contemporary reworking in a period property, it's the kitchen. Indeed, pairing a contemporary kitchen with an older property can really highlight the period charm of the rest of the house – and vastly improve the functionality of the home's heart.
When compared with more traditional kitchens, modern spaces expertly utilise natural light, with bifold doors often becoming a staple feature. You don't have to completely rework the room; we think traditional kitchen tiles can look hyper-modern when paired with sleek kitchen surfaces like marble and concrete, for instance.
Finally, the contemporary kitchen relies on a certain amount of free space and a sense of minimalism, so make sure appliances are hidden from view when not in use or cleverly built into walls.
THE BOTTOM LINE
The key to modernising a period property is all in embracing its historic character while contrasting that traditional heart with modern elements. Do so harmoniously, and your house can have a unique charm all of its own.