But not too wild, mind. We don't want to be charged with sending your little ones feral on an overdose of deliciousness, but now that disclaimer's out the way, let's get to it.
As you'll well know, kids tend to burn up their energy easily and with speed. In between meals, it's important to keep them nourished and energised using the power of snacks they find impossible to resist. And that level of nibble-based enthusiasm won't be because they're hooked on sugar, preservatives and other processed junk. Oh no, it'll be because you've made them yourself, with love, care and attention to the ingredients and process.
Because every parent feels peace of mind knowing exactly what's going into their child's diet, right? With that in mind, here are 6 homemade snack ideas your kids will go wild over.
SHORTBREAD
Shortbread is generally made from butter, flour, sugar, all of which are commonly found in your pantry, negating those excessive shopping trips for esoteric ingredients whilst the little ones lose their patience.
The cookie dough for the shortbread lasts for at least a week in the fridge, meaning you can make it in advance when you have a spare minute, ready to bake when you need. What's more, it's a really easy thing to bake; check out a simple shortbread recipe for the ratios, which you can scale up according to your family's size (and appetites!).
BANANA OATMEAL COOKIES
For sure you and your family will have tried oatmeal cookies before, but the addition of banana will be a covert way of sneaking in one of their five-a-day. The great thing about this is that you only need two ingredients to whip up these delightful cookies, without the need for any flour or butter; a relatively healthy option, then!
Simply mash or blend some banana and mix it with the equivalent amount of oats. Then, add the mixture to a baking tray lined with baking paper and bake at around 180°C for 10ish minutes. The only thing that is left to do afterwards is exercise massive restraint not to eat them all in one sitting.
APPLE SANDWICHES
This snack doesn't involve any bread at all. Rather, you just need to sandwich some caramelised bananas and raisins in between two thick slices of apple; calling them apple sandwiches is just a playful affectation which might appeal to the little ones. You know what they're like.
If your kids aren't really a fan of raisins, you can even substitute them for chocolate chips. However, in this case, it is better not to caramelize the bananas and sandwich them in the apples fresh, to avoid excessive sweetness in the final product.
FRUIT MUFFINS
Muffins are staple domestic snacks all over the world, but rather than serving plain muffins to your kids, ramp up the delicious, nutritious stuff by adding strawberries, blueberries or any other fruits in season.
Just follow a typical muffin recipe and add the strawberries or other fruits to the batter. Before you let your kids devour it, make sure to adorn the muffin's lid with further fresh fruit. The irresistible nature of the baked goodie will have them eating more fruit than usual, for sure!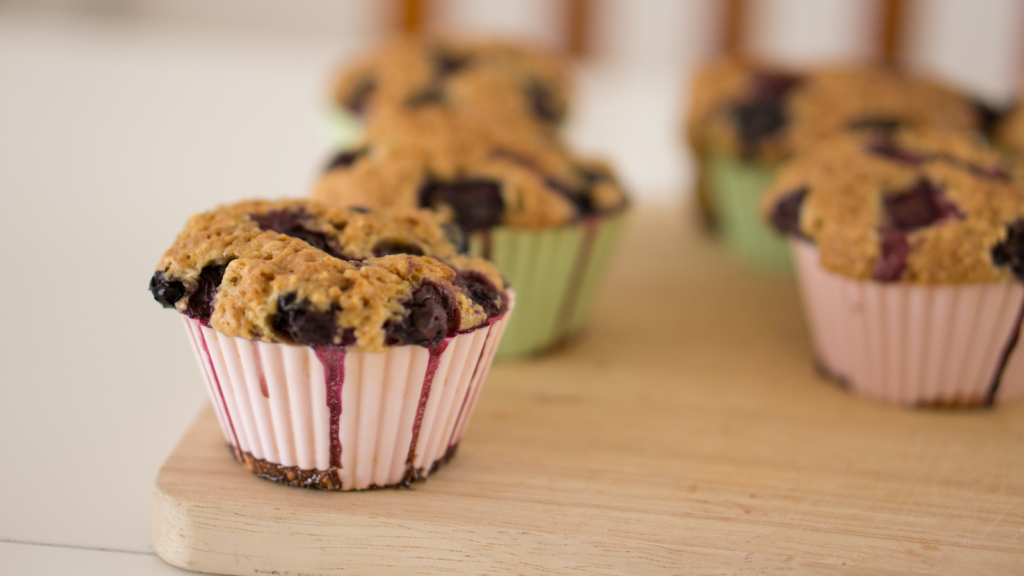 CHOCOLATE OAT BARS
All kids love chocolate, right? And the great thing about this chocolate oat bar recipe is that you don't have to bake it; you just need some rolled oats, smooth peanut butter, apple sauce, and of course, chocolate. You can go for dark chocolate for a healthier alternative without much impact on the final flavour, too, if that's your jam.
Combine all ingredients together, except the chocolate, and line it up in a pan. Top the first layer with melted chocolate and let it rest for a while. Put another layer of the oat mixture and put it in the fridge. Slice it into bars before serving.
SWEET POTATO CRISPS
If you have a hard time getting your kids to eat vegetables, then have them cook up a batch of sweet potato crisps and watch their little hands returning for more time and time again.
Transform sweet potatoes into crisp and mouth-watering chips by slicing them thinly (using a mandolin is best, but only in an adult's hands, being careful not to slice off your fingertips!), rinsing and drying them, drizzling over a little olive oil and baking them in a low oven (around 120°C is ideal) for around two hours.
To really ramp up the healthy element, serve these sweet potato crisps with a deceptively healthy dip, such as red pepper hummus or guacamole.
Pssst! We couldn't help but noticing you were keen on the ol' cooking and kids combo. You might enjoy these tips on ways to have fun cooking with kids, then. Check it out!