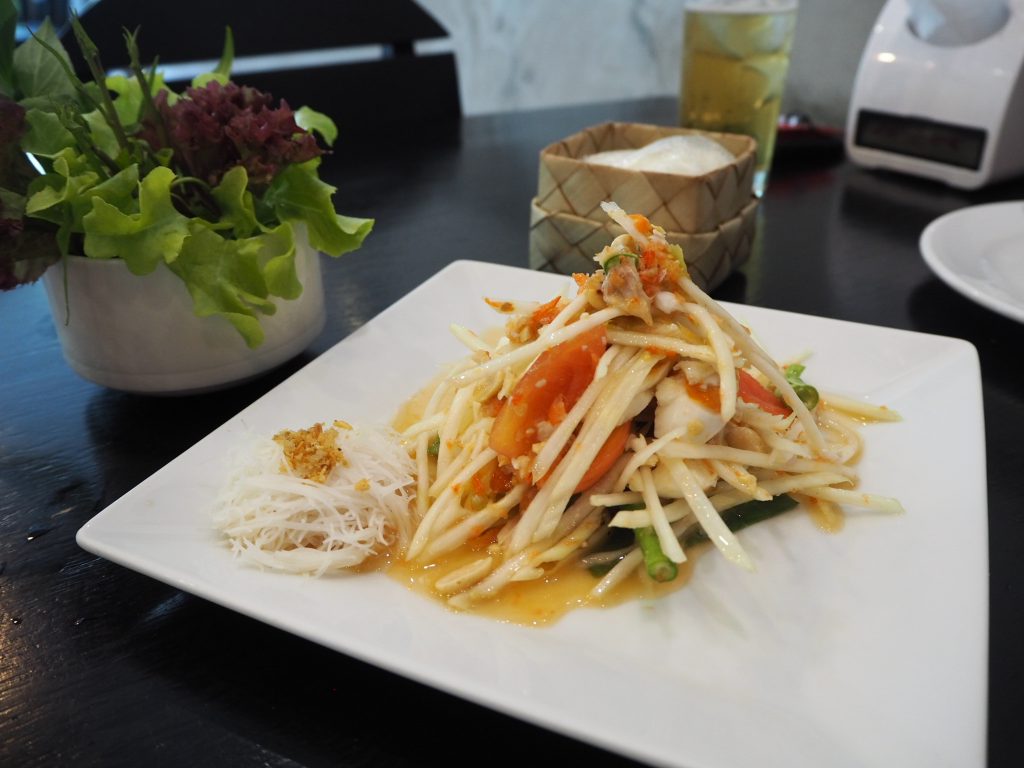 Routinely named as the world's best salad, som tam is one of the best recognised dishes in the Thai food canon and eaten all over the country in different forms, guises and levels of pugency. Green papaya, although not essential to qualify as a som tam, is usually the basis of the dish, along with a spicy, sweet, salty and sour dressing. To be pounded to order, this sharp, assertive dish is beloved of Bangkokians and as such, can be found on most streets in the city. Want the best version? Well, we're more than happy to narrow down the options to just the best, with this; our 5 IDEAL places to eat som tam in Bangkok.
BAAN SOMTUM
There are 29 different types – at the time of writing – of som tam at this wildly popular Sathon joint (though other branches in the city exist, this is our favourite). When you enter – or, even as you approach in fact – the ubiquitous chorus of pounding pok poks indicates you've arrived. Go for a salted duck egg version, or one paired with sweet pork and kanom jim noodles. High levels of spice are guaranteed, so make sure sticky rice is to hand. Harmonious som tam accompaniments like grilled meats and larb are served with skill, too.  
Address: Baan Somtum (Sathon) 9/1 Soi Pramuan, Si Wiang Road, Bang Rak, Bangkok,
Website: www.baansomtum.com
Bann Somtum | © Authors own
SOMTUM DER
Somtum Der's New York sister restaurant made big news in 2016 by winning a Michelin star, then losing it (reduced to a Bib Gourmand) the following year. The original is in Silom, and was awarded a Michelin plate in Bangkok's inaugural guide. The room is bright and airy, with an always occupied mezzanine and youthful vibe perfect for sinking a few singhas and enjoying the Northern Eastern hospitality. The place has the feel of a fast food joint, in menu design and speed of service, but as a place for entry level som tam, it's perfect.
Address: 5/5 Saladaeng Rd, Khwaeng Silom, Khet Bang Rak, Krung Thep Maha Nakhon 10500
Website: somtumder.com
PHED PHED
As a general rule, 'Thai' or 'Bangkok' versions of som tam tend to be sweeter, with renditions which hail from the Northeast of Thailand (Isaan) or Laos leaning towards the pungent and with minimal sugar. Phed Phed proudly falls into the latter camp, serving up uncompromisingly spicy, insanely delicious food from the country's north east. This, it is said, is where som tam originated, making the journey over the border from neighbouring Laos. Fermented fish sauce (nam pla ra) and a rougher chop of papaya indicate you have yourself an Isaan version, and at Phed Phed, the som tam Isaan is as good as it comes. Stay for a whole host of other amazing dishes, but do reserve in advance; this place is seriously popular with locals and walking in will only lead to disappointment.
Address: Soi Phaholyothin 8  Samsennai, Phyathai Bangkok 10400
Website: www.phedphed.com
Phed Phed | © Authors own
STREET FOOD SOM TAM ON SILOM SOI 9
Mention Som Tam Su Saan to a local and they'll know where you mean. This is one of the most popular Isaan street stalls in the city, and where there's food from the Northeast, there's most definitely som tam. The name is a nickname from the graveyard opposite, but don't let that put you off; pull up a stall Larb Bpet Yasothon (which is also famous for their duck mouths) and choose from a large array of salad options. Stay for the soups; a punchy, powerful revelation.
Address: Silom Soi 9
LAY LAO
When speaking of the perfect, quick Thai lunch, the 'holy trinity' is often mentioned; sticky rice, grilled chicken, and of course, som tam. Lay Lao in Bangkok's hip Ari district provides all three. Being a restaurant with links to the seafood mecca of Hua Hin, many of the som tams have a pleasing shellfish bent; there's a black crab,dried clam and squid version which notches high on both the saline and satisfying levels.
Address: 65 Soi Phahon Yothin 7, Phahon Yothin Road, Phaya Thai, Bangkok  
Website: www.facebook.com/laylaoaree
Lay Lao | © Authors own
SOM TAM JAY SO
The 'Queen of Som Tam' has earned her culinary crown at this Silom Issan salad and grill shop with super fiery som tams made out front and good vibes within. It's always full at lunch, a hugely popular spot for office workers, so go there at 11am or 2pm to avoid the rush. This is real deal Lao leaning som tam with fermented fish sauce and other delicious accoutrements of the region like paddy crab and apple snails. Ordering ain't easy, as the menu is a do-it-yourself checklist only in Thai, but the staff are super friendly and more than willing to help. A must visit.
Address: Soi Phiphat 2, Silom, Bangkok 10500