Though we're not the first to say it, and we certainly won't be the last; the Hungarian capital really has it all. With a splendid setting alongside the Danube river separating it's two notably distinct sides of Buda and Pest, few cities can rival it's charming, accessible and lively character. While in recent years it's gained a reputation as an amazing bachelor party capital, there's so much more to the big B than that; a fascinating, informative and fun destination for all, we think. With that in mind, here are the 6 IDEAL things to do in Budapest.
EXPLORE DISTRICT VII
Budapest has earned a reputation as being the playground for twenty something hedonists wishing to venture further afield than the usual party hotspots of Amsterdam, Barcelona and the rest. For those folk, District VII is definitely the hippest place in the capital. Though once ravaged by war, left run-down and ruined for many years, after undergoing a restless revitalisation, the historic Jewish corner has blossomed into an up-and-coming cultural hub. Jam packed with bars, cafés and restaurants, the bohemian atmosphere of District VII has been likened to Berlin's Kreuzberg.
If you're planning a visit then hitting the ruin pubs with their worn-down pieces of furniture and thrifty interiors should definitely place high on the itinerary. The best of their kind have live music and DJs on the weekends, as well as film nights and art exhibitions. One of our favourites is Mazel Tov which serves up delicious Israeli/Mediterranean food in a green and leafy setting.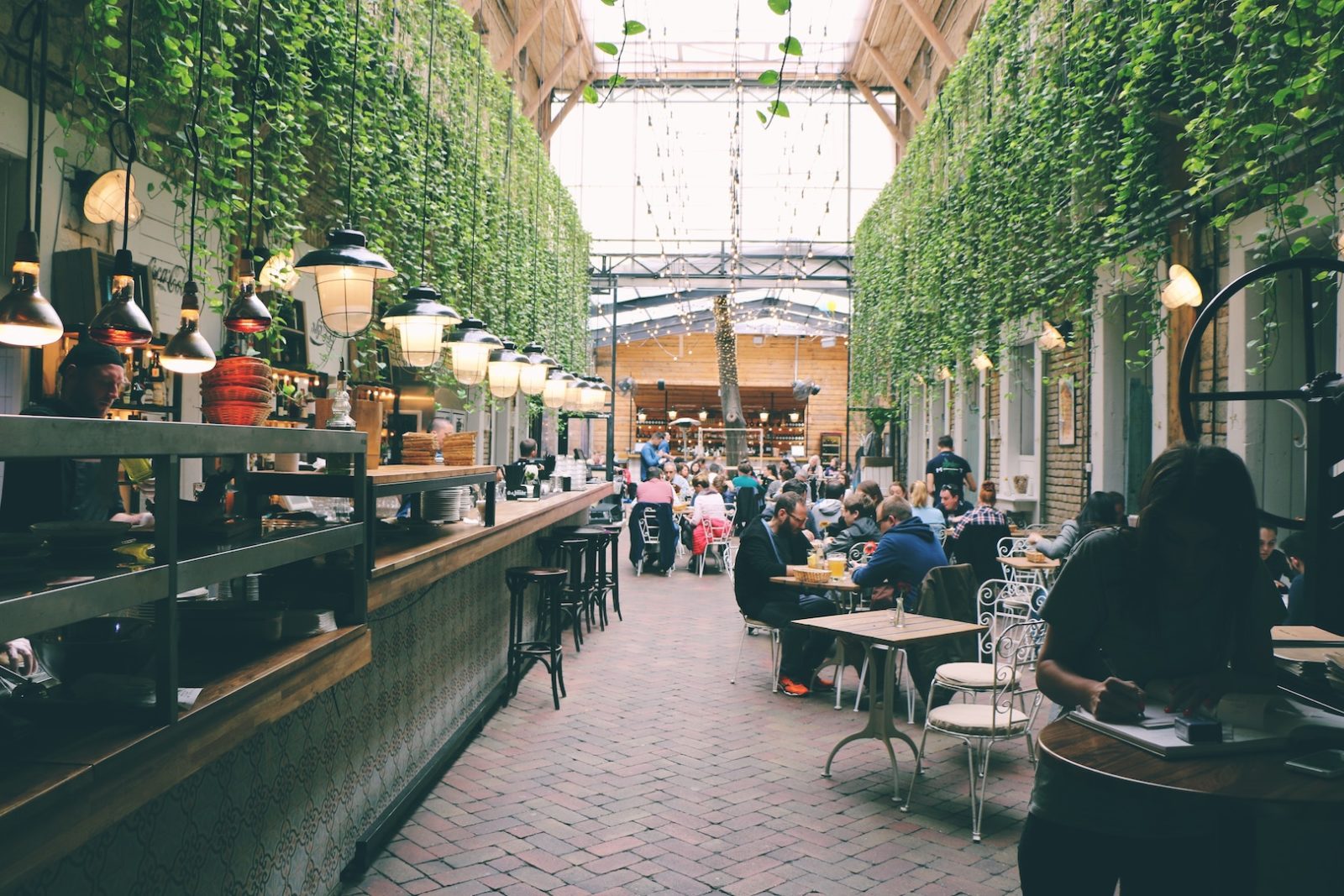 TAKE A THERMAL BATH
Thermal Baths are a huge part of the Hungarian lifestyle and Budapest is home to the country's most famous. Széchenyi boasts the title of Europe's largest medicinal bath, with waters high in calcium, magnesium and hydrogen carbonate, it's believed that the water in the baths provides relief for a number of health problems including arthritis, blood circulation and disorders of the nervous system. Széchenyi has a number of indoor thermal pools with below the surface temperatures reaching 40°C and three grand outdoor pools, including an activity pool with a whirlpool. The baths are open all year round, even when it's snowing. Brrrr.  Other popular baths worth checking out are Rudas Baths and Gellért Baths
EXPLORE THE CITY'S HISTORY
Like any other city, the history of Budapest's is long and varied, with years of wars and invasions behind it. One place where you can learn about the countries chequered past is at the intriguingly named House of Terror. This museum contains exhibits related to the fascist and communist regimes which Hungary went through earlier in their history.
Another glimpse into the city's past is a heartbreaking memorial known as 'Shoes on the Danube'. You can find it just in front of the Hungarian Parliament Building, where 60 pairs of 1940s-style shoes are sculpted from steel and true to life in size and detail commemorate the killing of 3,500 civilians killed by Arrow Cross militiamen in Budapest. The victims were ordered to remove their shoes before being shot and falling into the river.
TAKE A TRIP TO CASTLE HILL
Budapest's Castle District, lying in the hilly west bank of Buda, is home to some of the city's most important medieval monuments, museums and if that's not enough, it's also a Unesco World Heritage Site.
Here, atop Castle Hill, stands Buda Castle, home to the Hungarian kings in Budapest, and overlooks the entire city and offers a wonderful panoramic view of the Pest side. Perhaps our favourite site though is the fairy like fortification of The Fisherman's Bastion. This impressive neo-Gothic and neo-Romanesque structure is yet another place to take in the spectacular views of the city and if you really want your socks blown off, then climb one of the ornate turrets and take in the Budapest panorama. Other sites attractions in the Castle District include Matthias Church, Funicular Railway and the Labyrinth under the Castle Hill.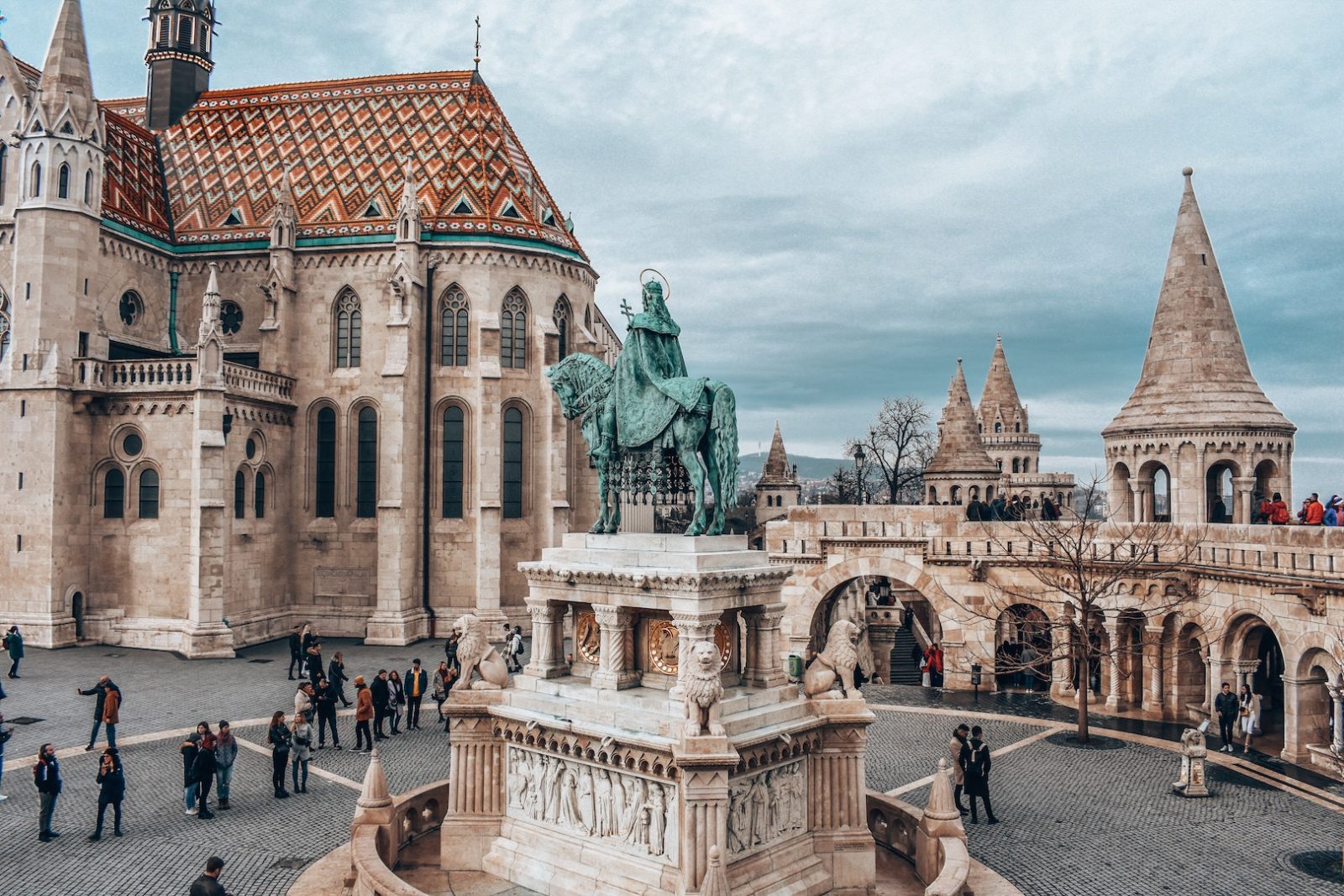 VISIT CENTRAL MARKET HALL
There are plenty of local delicacies to try in Budapest and for classic comfort food on the go then Lángos, a deep fried flat bread which is served fresh and hot, it's topped with sour cream, grated cheese, and garlic butter. After one of the best places to get it? Central Market Hall.
This market, in a restored neo-Gothic building, is where you can pick up the best local produce and handicrafts in the city. Other local specialties on your list to sample should include Töltött káposzta, a cabbage stuffed with ground pork and beef, rice, tomatoes and sauerkraut, and like many Hungarian dishes, a generous amount of paprika. You also shouldn't miss the Hungarian sweet delicacy Szamos Marzipan which even has its own museum. You can sample the famous Tokaji wine and in the basement of the market you'll find a corner sharing all the information you'll ever need about the country's 22 wine regions.
THE CHRISTMAS MARKET
If you're visiting Budapest in December, then no trip to the city would be complete without a trip to the Christmas market. Each year, the historic Vörösmarty Square is transformed into the annual market, where locals and visitors alike come together beneath the Christmas lights display, with the sound of live Hungarian folk music playing loud and lushly.
Expect authentic food vendors offering everything from traditional dishes such as Goulash soup, sauerkraut, and sour cherry pastries to winter warmers such as raspberry schnapps and apple cider. You'll find hand painted Christmas decorations for the tree here along with beautifully crafted garlands made of dried fruits, leaves and cinnamon sticks – perfect for dressing your front door when you return home.