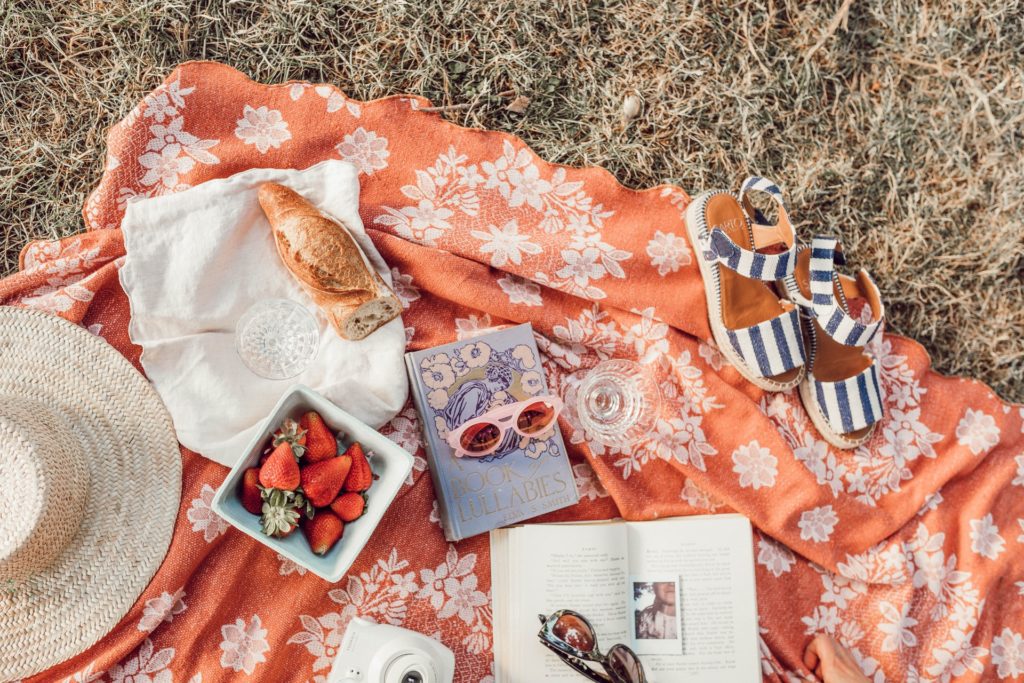 There are a total of 8 bank holidays in the UK, but those that fall in May have always been our favourite. We don't think it's a stretch to say the nation agrees. Traditionally welcoming the first, early vibes of summer, and reliably blessed with great weather, May bank holidays see barbeques lit on the beach and tins cracked in the park, and the collective setting of out-of-office replies for the long weekend is a wonderful feeling.
Not so this year. With the country confined to their homes, things are looking a little different and if you're to enjoy the long weekend off work, at home, you're going to have to get creative. 
Here's some ideas; our 6 IDEAL ways to have a proper British bank holiday at home.
BACKYARD BEACH
As the old refrain goes 'oh I do like to be seaside' and when a bank holiday comes around, we love to flock there in droves. This year, you're going to have to bring the beach to your own backyard for the same effect.
The most important element of any beach (don't @us Brighton) is of course sand. To mimic the seaside in your own backyard, why not turn one of your flower beds into a sandpit? All you need is a plastic liner to protect it, a bag of play sand and for that real beach aesthetic, some scattered shells. Place a paddling pool next to your beach to create the sea (adding salt to the water is optional) and voila, your very own homemade seaside resort. Accessorise with a hammock, a couple of striped deck chairs and a bucket and spade.
PICK ON A PICNIC IN YOUR PARK
Picnics are an essential part of any bank holiday weekend. Indeed, come most sunny long weekend, parks are reliably populated with quilted blankets, overflowing wicker baskets and the sound of prosecco bottles popping. The good news is that it's not hard to bring the vibe of busy parks to your garden with a picnic on the lawn (providing you have one, of course).
Perhaps the best thing about having a picnic in your garden is that you have more control about the food arriving in perfection condition; no soggy sandwiches, here. 
When it comes to throwing the perfect picnic, there are a few rules to follow. Firstly, it's all about quality not quantity. There's a tendency to overpack when it comes to picnics, offering everything and anything but with nothing given the proper attention it deserves in the preparation. Instead, elevate your picnic with seasonal ingredients and complementing dishes; think sausage rolls just warm from the oven, a quiche using bang-in-season asparagus and a homemade strawberry tart with just whipped chantilly cream to finish. A lot of pastry, we realise, but today's all about treating yourself.
When it comes to drinks, an English sparkling wine, jug of Pims or a mocktail deploying seasonal fruits are the ideal accompaniments. Bottoms up!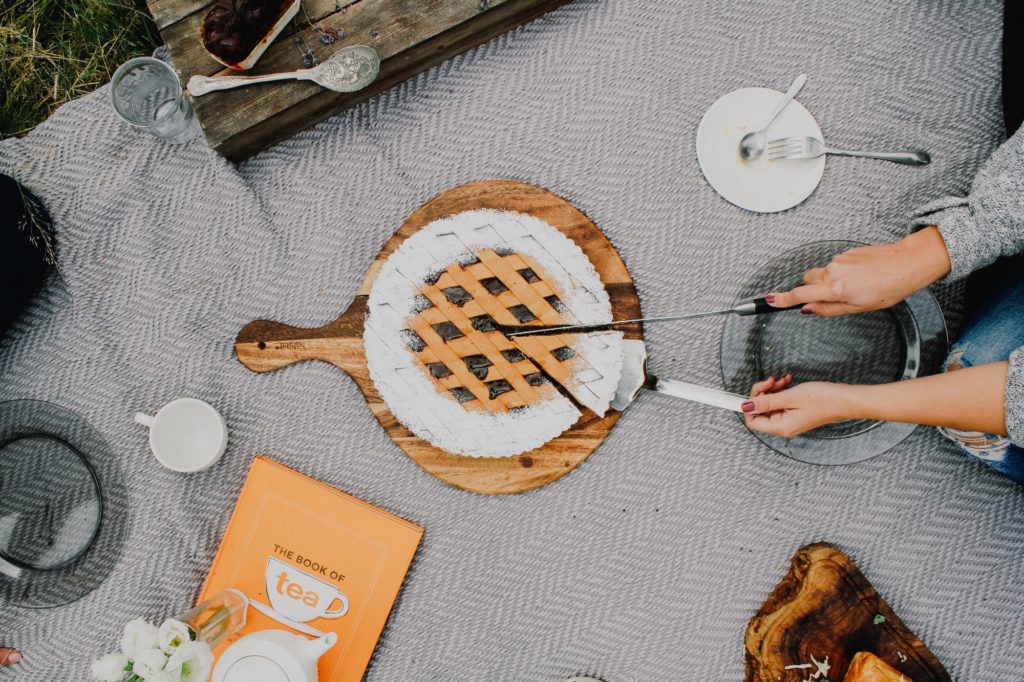 BRING ON THE BOTTOMLESS BRUNCH
Speaking of sparkling wine (and bottoms, for that matter), bottomless boozy brunches have become somewhat of a Bank Holiday tradition here in the UK. Every cafe and restaurant with a license in the UK does them, paired with a Mexican version of avocado toast and a whole lot of crowing.
Bring the free flow to the domestic space with your very own bottomless brunch at home. Accompany your bubbles with perennial brunch favourites like eggs Benedict and pancakes with maple syrup and bacon, and make sure you've got some Gaviscon at hand for the afternoon.
A PROPERLY PAIRED BANK HOLIDAY BBQ
Would a bank Holiday be complete without a BBQ? Across the country this weekend, barbecue tongs will be click-clacking open. But instead of burgers and sausages, why not elevate the humble barbeque into something more exciting and delicious?
While there's certainly nothing wrong with burgers, sausages and a side of coleslaw, for something different try grilling a whole fish (mackerel is brilliant right now) served alongside a salad of fennel, tomatoes and rocket? Or, give a leg of lamb the low and slow treatment with grilled courgettes and salsa verde. It's the sides that make the whole, we think.
Don't limit the pairing just to the food side of things. Check out our guide to which beers you need to pair with the most popular barbecue grub. Taking into account the tasting notes and flavours of the beer, then matching these with the flavours of each dish will make your backyard bash go from ordinary to extraordinary in no time.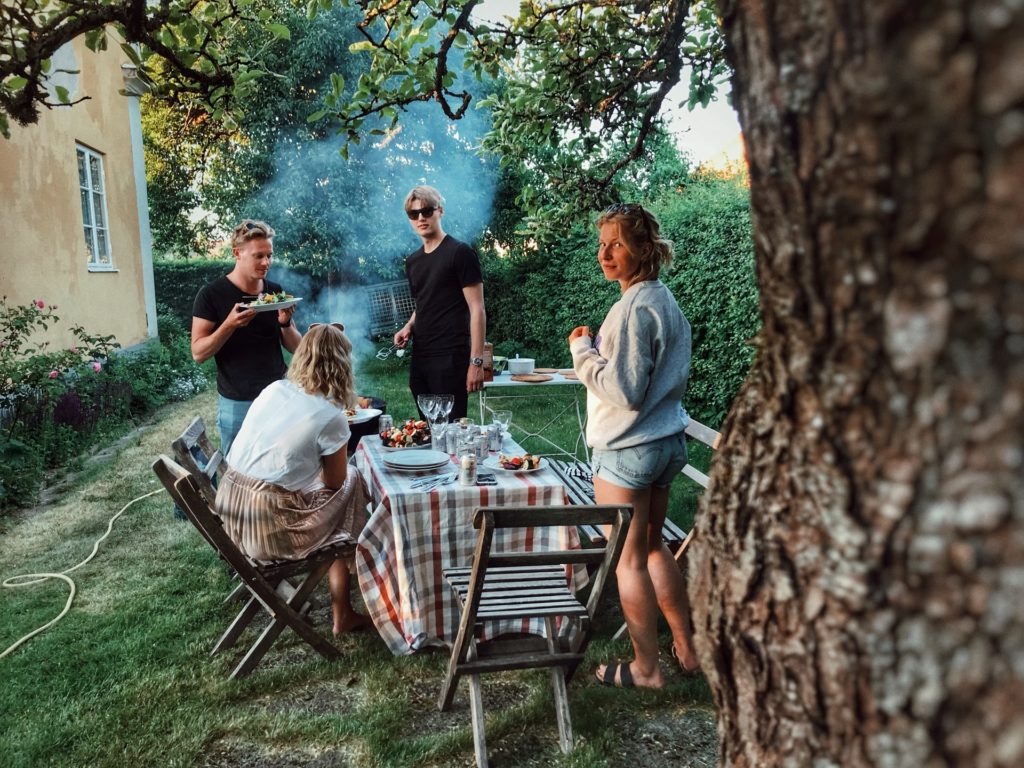 YOUR VERY OWN BEER GARDEN
Picnic benches, bevvies all round and the sun blazing down – what better to enjoy a bank holiday heatwave than a beer garden? 
To create the right atmosphere for your very own beer garden, it's all about the props. Start by naming your garden pub and creating some signage. Next, dig out your Christmas lights and string up them around the garden; nothing beats that twinkle, right? Don't have pint glasses? Serve your drinks in jam jars instead like a trendy east London pub. If you're to get properly superfluous, repurpose an old wine bottle and stick a wooden spoon in it for no other reason than aesthetics.
And while the pub picnic table is the key aesthetic to any pub garden, just setting up some chairs and tables to create a social atmosphere will suffice. Fill up a wheel burrow with ice and beers and you have your own self-serve bar. And don't forget the tunes!
A WEEKEND AWAY?
If you traditionally choose to spend your May bank holidays on the continent, using the time off for a European city or beach break, then this year you'll have to bring your favourite destination to your home instead. Yep, you can pretend you're sipping on Sangria in Spain, slurping down a bowl of spaghetti alla vongole in Italy or dining on charcuterie in France; all you need is to put in a bit of effort and use your imagination.
To pull off a holiday at home, you'll need some country specific props. Start with the backdrop –  use your TV to display images of your city or country of choice. Perhaps sling up some flags. Create a playlist with the very best music of that region and prepare country-specific dishes, and there you have it. What a lovely way to spend a weekend.