It all starts with the wedding invitation. Nope, not the first time your eyes met across a crowded pub, not the first date, nor the first….erm….or that all important proposal. In fact, it's when you start putting your mind to your invites that things get real. Indeed, never has the phrase 'by failing to prepare, you're preparing to fail' been so pertinent.
Because when you're distilling your life and love into a single day, everything needs to be perfect; a succinct, condensed reflection of what brought you and your partner to this point in time, the single most vital moment in your life. And once those names are committed to prints, stamps licked and letters sent, there really is no turning back. It's important to get this part right, then. Well, we're here to be you brush up on your wedding invitation wording samples and be your bridesmaids, best man, ushers and everything in between, with this; our 6 IDEAL wedding invitation ideas.
STORYTELLIN'
The best wedding invitations not only provide critical information – a given – but they also tell a story. Perhaps in words; a page of prose about how you fell in love and the rest, told with the flair and finesse of a novelist. The scene is then set for the big day (though be careful not to use up all the speech anecdotes here!). Alternatively, a story could be told in pictures; cartoon renditions of the happy couple, even a storyboard, can inject a really playful sense of fun in to proceedings. If you need inspiration on the finer details to help you tell your story, or simply a little pick-me-up to keep your focus and help prepare for the big day, consider a bride box service, which sends you gifts, tips and tricks on a monthly, bi-monthly or quarterly basis. Lovely stuff.  
MONOGRAMMED WEDDING INVITATIONS
A monogrammed creative wedding invitation exudes a freshness that's particularly prescient for spring weddings. The delicate text lends itself well to both bohemian and garden party wedding themes especially, and such themes of love blossoming and new starts are oh so succinct for newlyweds. 
FLORAL FLOURISHES 
Speaking of garden party weddings, invitations with floral flourishes are ideal for summer weddings. The abundance of delicate florals works with romantic, garden, boho, and many other nature-inspired wedding themes. But, be forewarned. Your guests are going to expect flowers bursting from every seam, nook and cranny of your wedding venue if you set the flowery tone with this type of invite.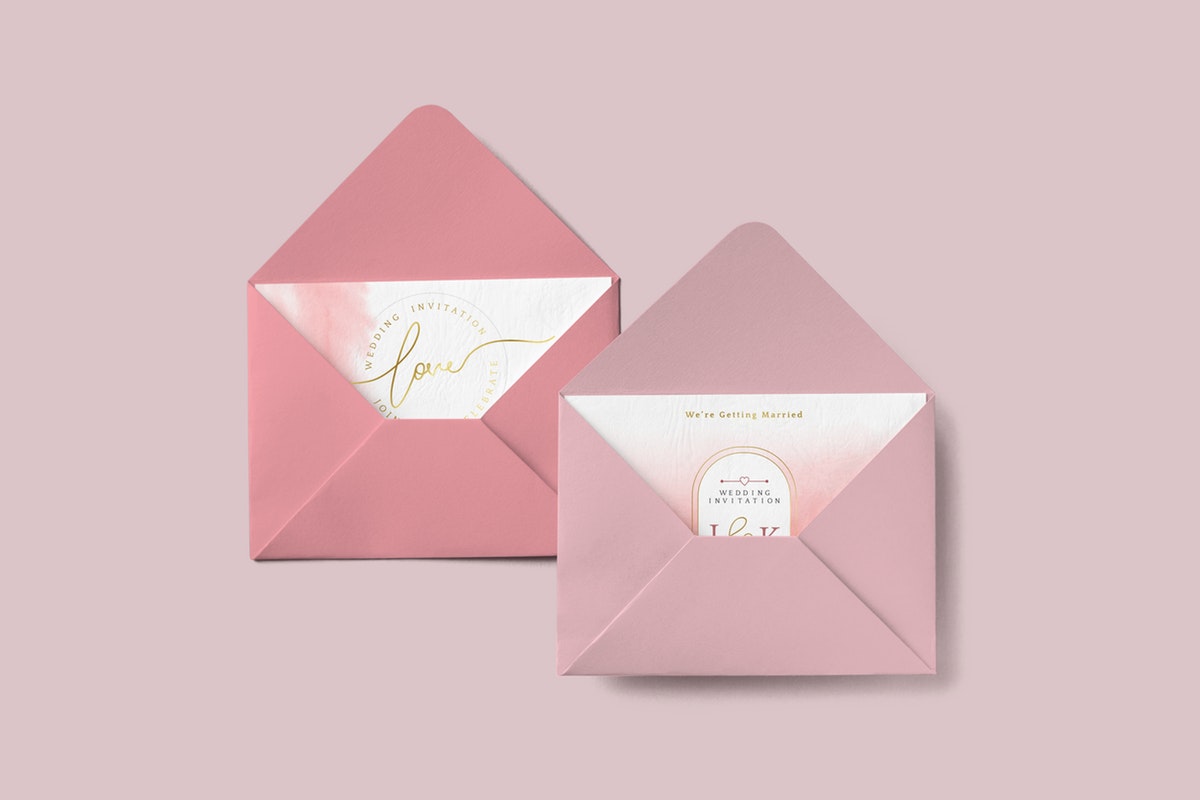 ART DECO INVITES 
The bold geometric motif of art deco themes bring an air of class that more than likely mirrors the vibe you'd like your wedding to give off. For greatest effect, why not prompt your guests to sport vintage 1920's Parisian style and dance the night away. When art, print and picture is thematically leading this much, you might find yourself stuck for the actual wedding wording. If you aren't quite sure what to write on your invites, make sure to brush up on your wedding invitation samples first. Knowing all of the information that's required helps you plan ahead and choose the correct layout.
DESTINATION ANYWHERE 
Should you be a couple who loves to travel, then a passport design will be perfectly suited to your carefree, world conquering romance. Your guests will be immediately intrigued when they receive a vintage passport design in the mail. Consider printing visa pages of some of your most beloved trips together to tell the story with more depth and personality. Go a step further and include information about your honeymoon in the passports. Go on, make all those guests jealous!
IT'S TRADITIONAL FOR A REASON
Last, but not least, is the traditional wedding invitation design. When you picture the classic 'happily ever after' wedding theme, you picture white with accents of gold, silver, and diamond, don't you? We know we do. That tactile touch of texture through hand applied gold leaf and raised text letterpress is almost compulsory in such a design, and all the better for it. Ultimately, the genre you choose should reflect yours and your partner's personality. May the best card win!