If you haven't got to grips with your New Year's resolutions yet, it's time to bag yourself a gym buddy! We've teamed up with British and National wrestling champion and owner of Right Path Fitness, Keith McNiven, to reveal why having a friend to motivate you during workouts can really benefit your weight loss journey.
WORKOUTS BECOME FUN
Motivating yourself to get out of bed, go to the gym and do a workout isn't easy, especially if you don't have a daily routine in place. Having a gym buddy means that you've got someone else holding you accountable and expecting you to show up – you won't want to let them down!
YOU WON'T BE LONELY
Going to the gym alone isn't for everyone.You may feel self-conscious, like people are watching you or judging you. Having a friend with you means you can focus on your workout and encourage each other. Laughing and chatting as you exercise makes the whole experience more enjoyable.
THERE'S HEALTHY COMPETITION
We've all got a competitive streak, even if you don't know it yet! Although at first it may seem intimidating, working out with someone else makes you perform better. Especially if your gym buddy is fitter than you are, as you strive to keep up with their pace.
THEY KEEP YOU ON FORM
Working out with a gym buddy means you have someone with you to watch your form during exercises, especially when you're using weights. This is even more helpful if your buddy has some experience of training, as they'll know where to correct you and suggest new exercises.
IT'S EASIER TO TRY NEW THINGS
Have you always fancied trying a new class but don't want to go alone? Gym classes are a great way to add variety to your workouts and they could become a regular part of your routine. Take a friend and you can be newbies together.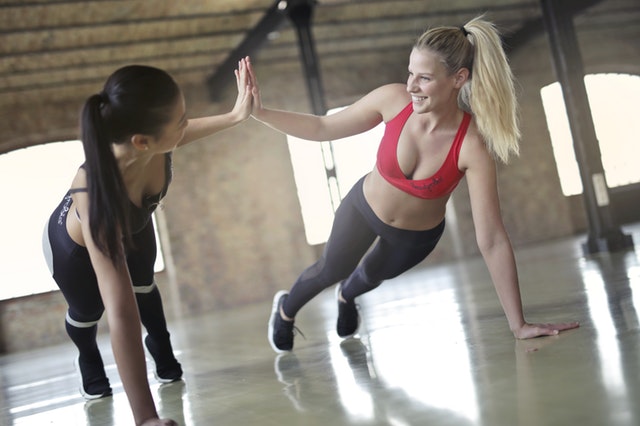 IT'S A CHANCE TO CATCH UP
If you only meet your buddy once or twice a week, by the time you meet up you'll probably have lots to talk about. Make the most of your time in the gym and find out what's new in their life. By the time you've had a weekly rundown, you'll have run for miles!