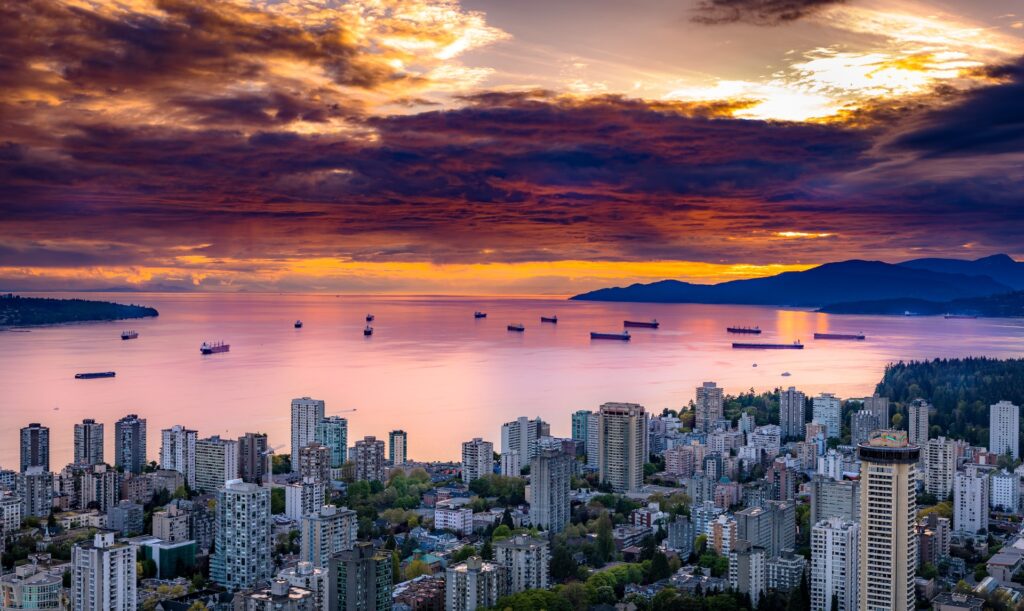 Ideal for day out and about with the family.
Vancouver, Canada's third largest city, is one of diverse and jaw-dropping natural beauty. Sitting on the country's western coast, with the Pacific Ocean in front and the North Shore and Coast Mountains behind, we've rarely seen a more beautifully framed place.
And you will see it; there are 28 kilometres of uninterrupted waterfront paths meandering around Vancouver's perimeter for you to traverse, and Grouse Mountain (often called the 'peak of Vancouver') a free, thirty minute shuttle ride away for you to climb. We can't decide which has the best views.
Of course, this much natural wonder positioned so close to a lively, cosmopolitan urban centre spells good news for families. Let's put it bluntly; take a trip here and no one is getting bored. Should you be looking to fill your itinerary with child friendly activities in the city's bustling centre, you've come to the right place; here are 6 things to do with the kids in Downtown Vancouver, Canada.
STROLL THE SEAWALL, STANLEY PARK
We had to start in Stanley Park. Because in this 405 hectare park in Downtown Vancouver, flanked by the ocean and largely composed of forest, there is just so much to see and do. If you're looking to book family holidays to Canada but aren't sure which city to aim for first, then we'd go as far as to say that Stanley Park should influence your decision.
Vancouver boasts the world's longest continuous, undisturbed waterfront path, at nearly 20 miles, and looks out to the waters of Burrard Inlet, Coal Harbour and English Bay, all fed by the Pacific Ocean.
The waterfront path of Stanley Park itself encompasses nearly 10km of this seawall, and strolling it is one of Vancouver's most beloved recreational activities, taking in views of the city and the water at whichever level of leisurely you wish to wander. Just mind the cyclists!
*Stanley Park has remained open throughout COVID-19, though some vehicle restrictions apply*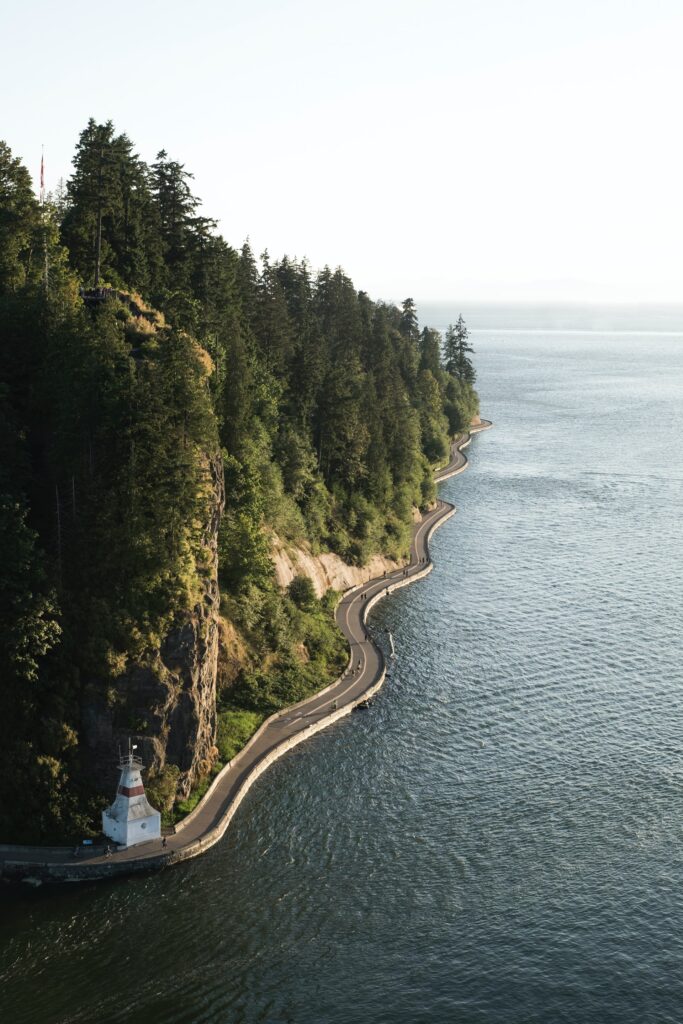 MAKE A SPLASH AT THE VARIETY KID'S WATER PARK, STANLEY PARK
Because while you're here, it would be rude not to, right? The Variety Kid's Water Park is found in Stanley Park too, at Lumberman's Arch, and is one of the largest of its kind in the city, with slides, cannons and geysers all intent on soaking you through. In the best possible way, of course.
Open from 1st June to 1st September, 10am to 6pm, this is a great place to cool off after your stroll along the seawall, with paddle depth water throughout making it great for the little ones in your group. Best of all? It's free!
VISIT VANCOUVER AQUARIUM, STANLEY PARK
Just a short stroll from the Variety Kid's Water Park (we did say you wouldn't get bored in Stanley Park, right?) is Vancouver Aquarium, another crowd pleaser for the kids, all in ridiculously close proximity. Sometimes, an inner city, park based aquarium can be a little underwhelming, but you won't be disappointed by the variety of marine and mammal life here. What's more, the aquarium's focus on conservation, learning and approachable education about climate change has received plaudits and awards globally.
Divided into nine different galleries and habitats, famous residents amongst their 70'000 strong roster of animals and fish include the aquarium's beloved sea lions, otters and penguins, as well as the educational Dolphin Habitat which houses Helen, a rescued white-sided dolphin, and several beluga whales. Incredible!
Do be aware that from 7th September 2020, the aquarium has been closed for renovation and rethinking.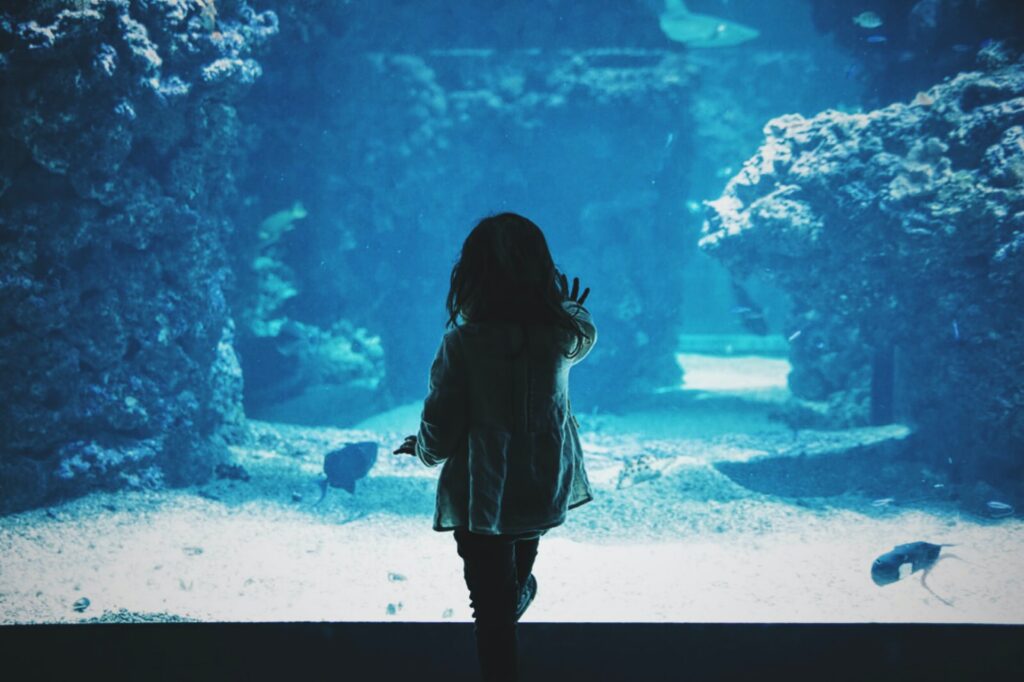 SWIM IN THE SECOND BEACH SWIMMING POOL, ENGLISH BAY
We're still in Stanley Park, cooling off and splashing about once again, this time in the Second Beach Swimming Pool at English Bay. This 80 metre heated, outdoor, freshwater pool is open from May until September, and sits right on Second Beach, one of Vancouver's nine urban beaches.
It's accessible straight off the seawall path, meaning families can recline on the sand, take in the views of the bay or swim in the pool, all within giggling distance of each other. What's more, the swimming pool runs adjacent to a couple of kid's play areas. They'll never want to leave!
KIDS MARKET AT GRANVILLE ISLAND
But leave they shall. Whilst we haven't exhausted all that Stanley Park has to offer, we thought we'd make for Granville Island next, and to its Kids Market. Getting there is half the fun – it's not the destination, it's the journey, and all that – and the kids (and adults) are sure to enjoy this particular journey, on the AquaBus Ferry.
Running from 7am until 10:30pm, this fun little ferry sails around the False Creek inlet, stopping at various sites including Hornby St., Stamp's Landing, Yaletown (foot of Davie St.), and Science World, before docking at Granville Island. Once there, the Kids' Market is a toy shop, ice cream parlour, adventure playground and dressing up box, all rolled into one! Bring your wallet for this one.
Open from 10am to 6pm, daily.
EXPAND YOUR MIND AT THE SCIENCE WORLD, FALSE CREEK
Hop back on that AquaBus and head for Science World, at the end of the False Creek inlet. Instantly recognisable by its iconic, glass fronted globe-like structure, it features permanent galleries, interactive exhibitions and regularly changing one-off specials, all designed to inspire inquisitive minds in children and adults alike. What's more, each day there are several live shows on the subject of either air, locomotion or chemistry.
And if that wasn't enough, the OMNIMAX Theatre, housed at the top of the building, is the largest wrap-around, dome screen in the world, and shows films all day, every day!
Be aware that due to coronavirus restrictions, the Science Museum is currently operating at reduced hours, from Thursday to Sunday, 10am to 5pm. It's also imperative you book in advance for a three hour slot, due to safety measures leading to limited capacity.