Those bedrooms you see in the movies, in catalogues and on adverts for 5 star hotels…they just look so comfy, hey? So damn sinkinable. So inviting that we've tried to bed down on the pages of a glossy magazine depicting one, just to feel something.
We know what you're thinking; the consistent, narrative thread which runs through these gorgeous bed arrangements must be money. A bed which looks this soft, this fluffy, must be the result of big bucks, right? They've probably hidden some fat stacks beneath the mattress, you'd assume. You might be surprised, then, by what we're about to reveal. 
It's actually eminently doable to get your bed and by extension, your bedroom, looking as glam and luxurious, but for less. Let's get to it; here are 6 tips for achieving that 5 star hotel bed at home this summer.
TOPPER THE CLASS
Upgrading your mattress will be something you'll never regret. After a period spent clocking up restful, deep slumbers, you'll wonder why you didn't so sooner. However, if splashing out on a new mattress isn't an option, consider investing in a mattress topper to replicate a similar effect but for much less investment. Indeed, a topper can transform a lumpy, bumpy and uncomfortable mattress into one which will have you 'oohing and ahhing' every time you slip into your bed. 
Bear in mind that a topper can warm your bed up or cool it down, depending on the material it's made from. Memory foam toppers, due to their dense material, can interrupt air flow, causing you to wake up all clammy  – not ideal for summer, that's for sure.
Instead, choose a topper specifically designed with cooling technology and high breathability, perfect for the warmer months as it can help regulate your bed's temperature, which ends up with a better night's sleep when all is said and done.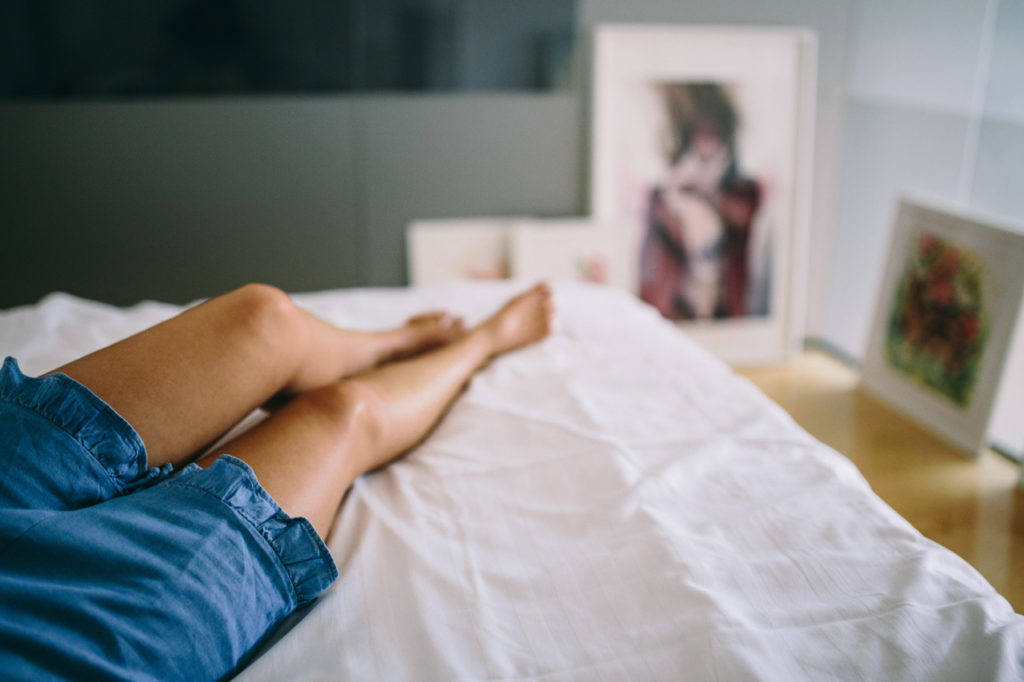 A DARN GOOD DOWNER OR QUILT
It's getting warmer and summer is around the corner. As such, we understand if youre moving your mouse north west right now, ready to click that red cross button and file this article in 'things to read in winter'. The need for cosiness is less pressing with hotter months on the horizon, we agree, but you can still achieve that hotel room bed without making it a stuffy, stifling night's sleep.
Yep, we get that nobody wants to spend their summer nights kicking off the duvet cover, but to emulate a super-soft, plush hotel bed that's cool and comfy, the addition of a down comforter is a must. To be more specific, a lightweight down comforter made especially for summer is what you should be seeking.  
If feather's ain't your thing and makes you sneeze more than those pollen filled, hazy dog days of summer, then choose a hypoallergenic alternative. For a 5 star sleep experience, ensure you opt for one made from a natural, breathable material like bamboo or cotton, perhaps with sweat wicking features, too.
A lightweight, box stitched, quilted bedspread is a good alternative to a down comforter in the summer months – just add soft cotton sheets underneath (more of that later). Many 5 star hotels use them to add texture and a pop of colour. You can channel this energy at home by opting for bedspreads products with a box stitching style and thin padding; great in summer as they allow air circulation and keep your body cool.
HEADBOARD HEAVEN
Without fail, luxury hotel beds boast beautifully upholstered headboards. It gives the bed that wow factor, and that extra bit of drama and opulence that you want when forking out on a hotel room. Moreover, it provides a strong statement backdrop for all those pillows that luxury hotel rooms have. Speaking of which…
THE PERFECT PILLOW MIX
When it comes to that luxury look, more is definitely more, especially when it comes to pillows. Start with oversized square pillows; we recommend 65 x 65 cm continental pillows which add support, depth and interest to the bed and really bring home the luxury hotel look.
Next, top with your regular size pillows. In fact, some luxury hotels offer a pillow menu – an a la carte menu, if you will, of different luxury pillows designed to cover the range of sleeping styles for different guests. While we're not suggesting that you own all the different types of pillows out there, it's worth doing your research to find out what kind of pillow best suits you (try several sizes out in a bed or bedding shop; no one will give you funny looks, we promise). Once you've found your pillow, to emulate that five star look we're fans of Oxford pillowcases, which have a decorative fabric border around the edge.  
Here's how to layer your pillows: toss the white large pillows along with the headboard and the textured pillows on the facing side. Add the decorative cushions or small sized pillows to the middle for an added texture. 
MAKE IT COUNT WITH QUALITY BEDDING
Slipping between the sheets should provoke a satisfied groan, even if you're sleeping alone, we think. To provoke that feeling at home, first you've got to say goodbye to old scratchy sheets and splash out on some quality bedding – we're talking about those silky yet crisp sheets that every luxury hotel has.
Don't be parsimonious here; considering the average person spends 33 years in bed, spending good money on quality bedding shouldn't be seen as frivolous. Quite the opposite, in fact; it's an investment in your future years of quality sleep.
On your journey to sumptuously soft sheets, getting your head around the different types of thread count is important. Thread count is a way of measuring the vertical and horizontal threads per square inch of your bed linen. Put simply, the higher the thread count, the more threads there are in the linen.
Why should you care? Well the higher the thread count, 800 for example, the denser and more luxurious the feeling of the material. However, you needn't splash out on ridiculously high count sheets; a thread count of 300 (or higher) is about right if you're to achieve the feel of a 5 star hotel bed.
No matter which thread count you choose, the primary indicator of quality is the fabric. Steer clear of any polycotton (polyester and cotton mix) and instead opt for linen rich in cotton; think percale with a high cotton percentage, Egyptian cotton with long fibres that promote breathability and softness, or smooth Supima sheets which many regard as the best cotton that money can buy. Remember in the summer months a sheet is sometimes all you sleep under – so make it count. 
STICK TO CLASSIC WHITE
In most luxury hotels, you've probably noticed that the bedding is reliably, consistently white. This is because all white bedding creates something hospitality professionals call the 'halo effect', where guests think that a hotel suite is brand spanking, sparkling new just because of those white sheets, and this leads to a more positive overall impression of the hotel; 'what's beautiful is what's good' and all that. 
So for a fresh, luxe hotel-inspired space, white bedding is always best. You can always introduce a pop of colour with the aforementioned decorative pillows and quilted bedspread if you wish. 
THE BOTTOM LINE
Pheeww, that was some deep dive into the mechanics behind the perfect hotel room bed and its application in the domestic setting. We're exhausted, are you? We think we need a lie down…