It's been weeks since our entrance into a shop hasn't been soundtracked by reminders that the festive season is upon us. The lights, the advent calendars, even the smell of mulled wine; all of it seems  to serve as a gentle prod to start getting organised. Even if you're one of those perfect people who annoys the rest of us by having all gifts bought by December 1st (if not the middle of July), there's still the matter of decorating the house – not too early, please – and most importantly, the tree.
There's should always be pride of place (hidden at the back, camouflaged amongst the foliage) on the tree for sentimental old ornaments, but maybe this year you'd like to freshen things up. Out with the old, in with the new, indeed. There's a whole stockings full of great ways to reimagine your Christmas tree so many in fact, that you might just want have a tree in every room! With caution and good taste in mind, we've whittled it down to just six. So, here are 6 unique ways to decorate your IDEAL Christmas tree.
Bring Nature In
Bring the beauty of nature into your home with a tree decorated with the bounty of the season. Use pinecones as you found them or give them some shine with a quick spray of gold paint and a sprinkle of glitter. Tie them on the tree with twine or gold cord. Make strings of rosy fresh cranberries (uncooked, of course), and swag them on the branches. Tuck some raffia or burlap ribbons here and there. Compile little ribbon-wrapped bundles of cinnamon sticks and tie them on the tree for their wonderful scent. Dried orange slices are fragrant, too. Go crazy and make candleholders and wreathes if you have the time and willpower. The possibilities are endless and the creativity of foraging only adds to the sense of fun.
Personalise It
Make yours a tree that no one else could possibly have (or want to have!) with personalised family Christmas tree decorations featuring photos of the entire clan. Gather up your favourite snaps, new and old, or shoot some specially for the purpose. You could use photos of your pets, too, and pictures from places that you've spent as a unit and are special to you all.
To keep them extra close at this time of year, you might also include photographs of beloved relatives who are no longer with you.  Making some sentimental Christmas ornaments of your kid's hands out of gingerbread or salt dough adds an extra special touch. Why not got the extra mile and customise your Christmas tree with a monogram, complete with your family's name embroidered on it, giving a whole new meaning to the term 'family tree'.
Coat It In Treats
Christmas isn't all about eating sweets, but it's a great excuse anyway. Make your tree an edible delight with candy canes, a chocolate Santa, paper cones filled with treacle toffee, striped ribbon candy, gingerbread men and women, small netting bags filled with gold-wrapped chocolate coins or sugared almonds, and whatever other confections strike your fancy. You can use the real deal exclusively, or mix it up with ornaments in the same theme. Swag the tree branches with strings of popcorn and set a beautiful sugar plum fairy on top for the perfect finishing touch.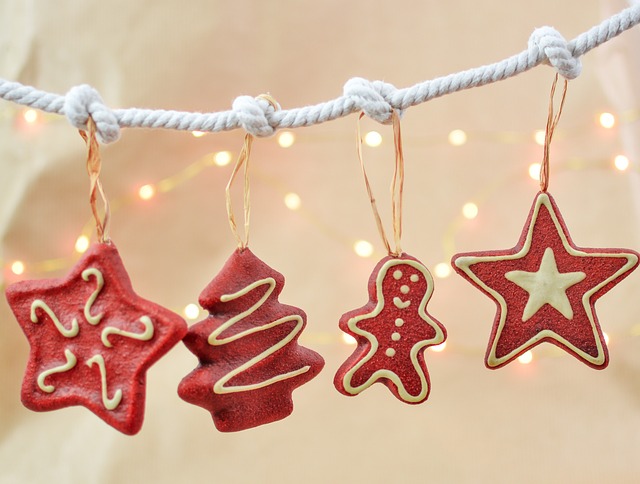 Channel Your Retro Side
If you've got a collection of original vintage ornaments, you're one step ahead of the game, as they're very much in vogue this festive season. If you don't, fear not; you can create a retro look with today's modern reproductions of the glass bauble and icicle ornaments of years ago. Add chains of coloured paper, handmade snowflakes, strings of old-style bubble lights, and don't forget the tinsel.
Get Colourful
Traditions of good taste dictate white golds and silvers as an expression of elegance and sophistication. But who wants to conform, hey?  You could create a fabulous rainbow, if you wish, which brings glamour and a sense of playfulness. Look for baubles and ornaments in red, orange, yellow, green, blue, indigo, and violet, and arrange each colour around the tree starting with red on the bottom tier and progressing to the top in the same ROYGBIV order as the spectrum. Add a bold rainbow patterned Christmas skirt for extra effect and top it all off with a statement golden star.

It Was On A Starry Night
Create a dazzling tree decked out in silver, white, and gold star and snowflake ornaments of all shapes and sizes to give the impression of looking upwards, perhaps searching for a glimpse of Santa's sleigh? The flicker of twinkle lights and strings of LED lights that look just like candles and clip upright onto the branches will bring the starscape in. Heavenly!