Spring can be a quiet time for developments in the garden. But right now – with time on your hands and an outdoor space at home a huge blessing – represents the perfect opportunity to be making the most of your garden.
If you've got trees, early spring is one of the best times to get them into shape. Whether you have a domestic or commercial property, spending some time on tree work now can avoid problems later.
Pruning can be used not only to reduce the risk of issues, but also to improve the look of the trees in your garden. Most deciduous trees should be pruned during this time as this is their dormant period.
The trees that can be pruned at this time include oak, hornbeam and maple. With all of this in mind, we spoke to the expert tree surgeons at Kings Landscapes to bring you these 7 IDEAL tips on looking after your trees at the right time.
HOW TO CHOOSE THE IDEAL TREE SURGEON
While you might be able to carry out some basic pruning yourself, more complicated work, particularly if it's to be done at height, should always be carried out by a qualified tree surgeon.
Work carried out by a professional tree surgeon will ensure that your trees aren't damaged, as well as avoiding the likelihood of any mishaps with surrounding property getting damaged. You also eliminate the risk of injuring yourself.
There are a few things that you can check for when you choose a tree surgeon:
Qualifications – check that the tree surgeon you're considering is properly qualified. Tree surgeons must hold NPTC/Lantra Awards certificates for chainsaw use, but also check for other qualifications in arboriculture.
Insurance – make sure that any tree surgeon you consider is covered by public liability insurance. Contractors should hold at least £5 million of coverage.
Working to British Standards –  tree surgeons should work to at least BS 3998:2010 Tree work. 
Free quotes – you don't want to end up with a bill that you can't afford, so make sure that whoever you approach will give you a free, no obligation quote before they start work. Some tree surgeons will even provide an online tree surgery quote if you upload photos of the work needed. As much as saving you money, this is about an exchange of trust and decency.
Full 'end-to-end' service – it sounds obvious, but you don't want to be left with a load of waste on your property when the tree surgeon leaves. Check that the company you choose will remove all waste from site or if you will need to hire a skip from a waste removal company. Some will even chip waste for use as mulch, or split logs that can then be used as firewood.
Some of the terminology around tree surgery isn't always immediately clear to the layman. Let's shed some light on a few concepts you'll likely be hearing much more about…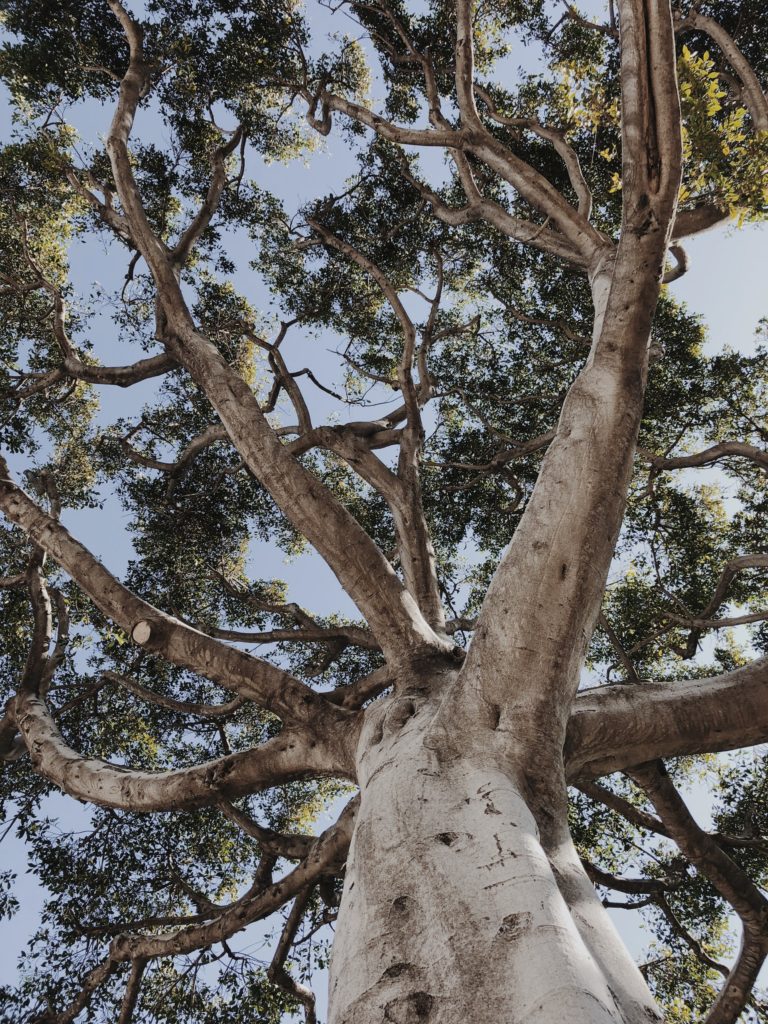 CROWN LIFTING
Crown lifting is a technique for lifting the crown of trees (the bit with the leaves). Essentially, this involves the removal of the lower branches.
Crown lifting is an effective way of allowing more light under the tree and into nearby buildings. It also prevents lower branches from obstructing pathways, or preventing people or vehicles from passing under the tree.
CROWN REDUCTION
Crown reduction is used to create a well-shaped tree by reducing the total size of the crown. It can also be used to remove diseased, damaged or dead branches. Generally, the crown size is reduced by between 10 to 30%.
Crown reduction is quite an extensive form of tree pruning and is often used on larger mature trees that have substantial decay to their roots systems which may make them unstable. It can also be used to prevent a tree from encroaching on overhead cables.
CROWN THINNING
Nope, this isn't that thing you're using a caffeine infused shampoo to arrest. Instead, crown thinning is a less severe process than the aforementioned crown reduction. Here, secondary branches are removed in order to reduce the density of the crown. Thinning reduces the weight of the crown, as well as allowing more light to pass through. For this latter reason, it's often used to reduce the amount of shade that a tree casts.
Crown thinning will also reduce the risk of trees being damaged by strong winds, as it reduces resistance by allowing the wind to pass between branches. The health of the tree will also be improved by the removal of dead or damaged branches. Should you want to breathe fresh life into your garden, this is an excellent way to do so.
POLLARDING
Pollarding is a particularly heavy form of pruning primarily used to maintain the tree at a height much shorter than the one it would reach naturally. The initial pollarding can make the tree look quite bare at first due to the number of branches removed. However, regrowth soon appears.
Annual pollarding is subsequently carried out in order to restrict the tree to the desired height. Pollarding can extend the life of a tree and will certainly prevent it from outgrowing the space that it is.
HEDGE TRIMMING
There are two main types of hedge trimming. Maintenance trimming is carried out on more established hedges in order, as the name suggests, to maintain their shape. This is carried out at different times of year depending on what type of hedge you have.
Formative trimming, on the other hand, is done in the first couple of years after a hedge is planted, and is designed to create and nurture its shape. Formative hedge pruning is normally carried out in late winter or early spring.
It should be noted that if you need a tree surgeon to hard prune an overgrown hedge species such as hawthorn this should again be done in the winter when the plant is dormant.
ONE LAST WORD ON EMERGENCIES
If there's one thing you can guarantee happening in the UK, it's bad weather, and strong winds can be a disaster for trees. Although it's rare for trees to be blown down completely, it is quite common for strong winds to cause damaged or broken branches.
In such cases, it's important to speak to a tree surgeon who understands how to carry out emergency tree work quickly and efficiently. That way damaged or broken branches can be removed quickly and safely, reducing the chances of them causing any further harm to either the tree or nearby property. Removal of these branches will also remove the risk of them injuring passers-by.
THE BOTTOM LINE
However many trees you have on your property, however old they are and whatever the species, speaking to a tree surgeon today is a great way to make sure that they look great well into 2020 and beyond.