Fa la la la la! Tis the season to deck the halls with your own Christmas decorations. Okay, we'll stop singing now.
Whether you've asked Santa for arts and crafts supplies for Christmas, a gingerbread house template or a clock making kit from Homecrafts, there's no need to wait for the big day to get creative. There's also no need to spend big. The festive season is the perfect time to whip out the glitter and get to work on a whole range of handmade goodies. So, with that in mind, here are 7 IDEAL ways to DIY your Christmas decorations.
Make your own wreath
Make your own gorgeous wreath this year out of Christmas baubles for a unique, super festive display. All you need is baubles of different sizes and colours, tinsel, a wire coat hanger, a wire cutter and a glue gun.
Simply untwist the ends of your wire coat hanger and bend it into a big circle. Start by removing the caps from the baubles, then gluing them back on with the glue gun to secure them. This part is essential as you don't want them falling off. Then add the baubles one after the other onto the coat hanger into a pleasing arrangement, remembering  to make each side fairly even. Once you're happy with the aesthetics, bring the hanger together and secure. Finish off the wreath by adding tinsel so it looks extra festive. You can also use your glue gun to stick on any bows, ribbons or additional embellishments that take your fancy. Unlike wreaths made out of foliage, this gorgeous wreath can be used year after year.
Create sparkling lanterns
Candles offer a warm glow on a cold winter's night, so why not pop on a Christmas movie and relax in the light of a flickering flame? To make your very own sparking lanterns, simply get hold of some clear Mason jars and make sure they are clean. Use a flat brush to apply clear glue to the inside of the jar. Apply it thickly at the bottom and lighter towards the top. Next sprinkle in some silver glitter and tip away the excess. Leave to dry, pop in a candle and you'll have a twinkling lantern to last you the entire festive period and beyond.
Make salt dough decorations
If you're looking for ways to keep the kids entertained throughout the Christmas holidays, have a go at making some salt dough decorations. These can be hung on the tree or given as Christmas presents and look really beautiful when they're painted and varnished. Following a basic salt dough recipe is easy enough and with an assortment of cutters you'll be able to make some fantastic creations – just remember to poke a hole in the top of each one before placing them in the oven as this will allow you to loop some ribbon through at the end.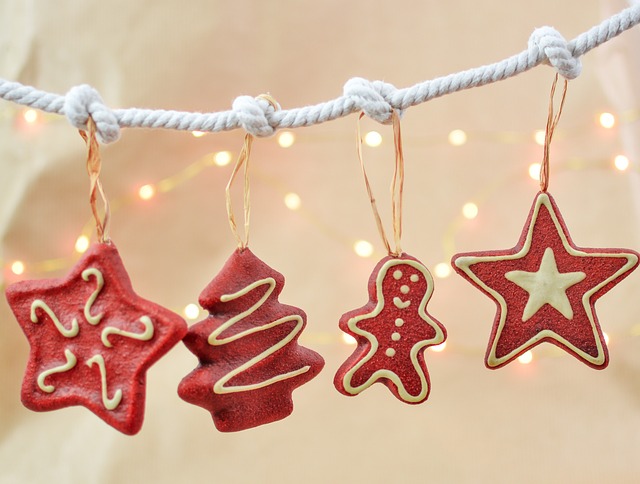 Try your hand at wine bottle snowmen
If you've got some empty wine bottles lying around, don't take them to the bottle bank just yet. Instead, clean each of the bottles and paint them white. Leave to dry before carefully painting on a cheerful snowman's face. When you're happy with your design, tie a patterned bow around the neck of the wine bottle for decoration and place in the centre of your Christmas table. If you're feeling creative, you could try many different designs to make your display more interesting.
Make wine cork angels
A tipple or two over the festive period is to be expected and, as well as making use of empty wine bottles, you can also reuse corks by turning them into beautiful angels. To do this, simply take a cork and glue a small wooden ball to the top using a glue gun (wooden balls can usually be found in DIY stores or online). Use a fine tipped marker to draw a face onto each of the balls. Use the glue gun again to add a twine loop to the back of the angel. Finally, make a bow with ribbon and secure it so it looks like angel wings. These little delights can then be hung from the tree or attached to presents.
Paint your own baubles
Fun for all ages, painting your own baubles is the ideal Christmas activity.  All you need is a pack of  shatterproof baubles (any colour or size will do) paint, a paintbrush, glitter and glue and your imagination. You can even buy packs of 'paint your own bauble kits' to make things even easier.
Create a cookie tin Christmas tree
If you're pushed for time and need to make a display that's simple but still effective, try making a cookie tin Christmas tree by wrapping tins of different sizes in festive paper. Once this is done, stack them in size order with the biggest at the bottom and the smallest on the top before draping the display in tinsel. If you have some empty boxes at home, cover these in wrapping paper too and complete with bows to make them look like presents.
When it comes to making Christmas decorations, you can be as inventive as you please. There is no right or wrong way to make your home beautiful, so simply go with the flow and be as creative as you can.