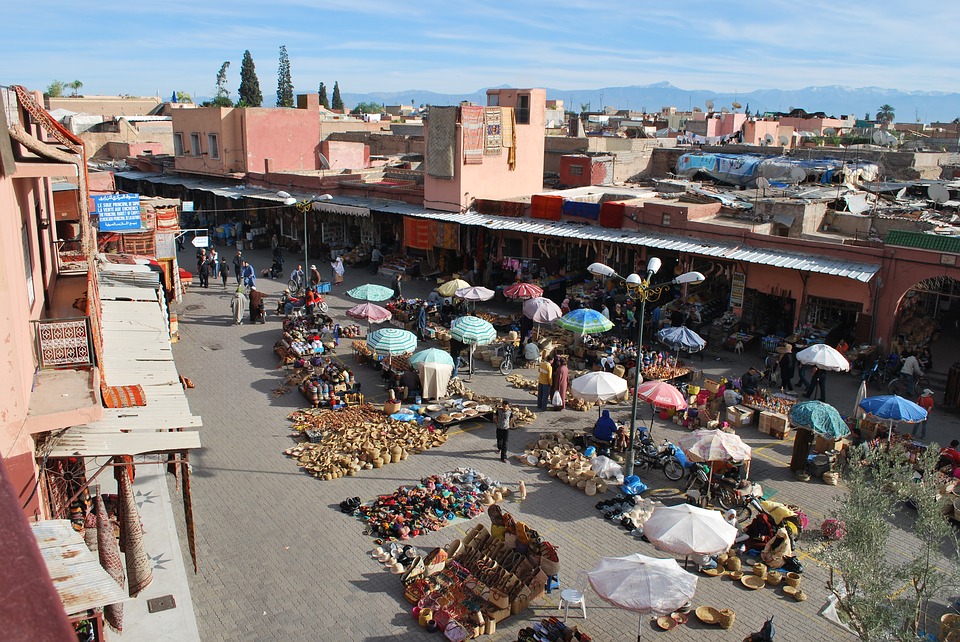 The southern market town which grew into one of the most visited cities in the world -becoming a UNESCO world heritage site in the process – Marrakech is an intoxicating tangle of crossed cultures, wires and lanes, all bound together with a unique and unrelenting energy. When the abundant buzz rings a little too loudly in your ears, the chance to escape to the peaks of the snow-capped Atlas Mountains or journey by camel into the vast Sahara Desert is a getaway pretty much unrivalled anywhere in the world. This city has so much to offer families, couples, or those seeking a quieter trip, so with the help of Travel Republic.co.uk, here are 7 IDEAL things to do in Marrakech.
EAT MOROCCAN STREET FOOD
One of Marrakech's greatest draws is its abundance of street food stalls; an aromatic, heady and highly complex cuisine served for pennies as life buzzes around you – to us, there's nothing better.  Visit the heart of the action – and the beating atrium of the city – at the medina's central square, Jemaa el-Fnaa.  Flames lick high off grills and each meal comes with a side order of theatre. Perfect.
SOAK UP SUNSET
There's nothing quite like sitting on a rooftop as the sun sets over the medina, taking in the atmospheric sounds of the city which seem to rise in harmony with the heat. There's no skyscrapers here, and the view over the city, of organised chaos bathed in clay-red hues, of a thousand families putting out their washing on rooftops and a thousand pots bubbling, brings an appreciation of a culture of great majesty, one which feels familiar and totally foreign in tandem.
TAKE A TRADITIONAL HAMMAN
Indulge in a traditional hamman and do as the natives do. These ancient baths have been soothing weary bones for over 2,000 years, and although the steam and high, high heat may seem counter intuitive to a city of such swelter, it's the perfect respite from the bustle beyond its walls. Marrakesh is a busy city and sometimes it's nice to have a little break, relax and have a massage. It's a great way to unwind and enjoy a bit of pampering – hey, these guys invented 'the oasis of calm', so I think we can trust them.
GO SHOPPING IN THE SOUKS
Hit the souks for all your shopping needs and be treated to spectacular local entertainment at the same time including acrobats, street dancers and snake charmers. The souks are a labyrinth of market stalls and shops selling anything and everything from local food to shoes, bags, pottery, leather, clothes and jewellery. They're helpfully – but chaotically – set out in different sections, so if you are after a certain thing you only have to look in one area. Take a map as it's easy to get lost, and that's something of an understatement.
TANTALIZE THE TASTE BUDS IN THE CITY'S RESTAURANTS
Marrakech is home to many exquisite restaurants. Treat yourself at Marrakesh's Le Grand Café de la Poste – a journey back in time to Marrakech's old post office for a lunchtime treat.  Relax on the veranda of this glorious colonial Art Deco bistro and relish the French cuisine with Mediterranean influences or hit local's favourite special occasion destination Al Fassia.
ENGAGE IN THE ART OF CONVERSATION
No city is more well practiced, precise and playful in the art of conversation than Marrakech. Barter and banter, bravado and blessing; it's all going off in the city. Strangers approach, sometimes with no other intention than to practice their English and whet their wit. Hawkers peddle their wares armed with razor sharp repartee and local cooks quote the latest British sitcoms in pitch perfect pronunciation. If conversation is your art, then Marrakech is a gallery.
VISIT THE BADII PALACE
Take some time to explore this former formal palace, which now sadly lies in ruins. The spot provides excellent views of the city and has hidden tombs for you to discover. The Badii Palace costs only 10 dirhams (just over £1), and is worth it just to get an impression of what the palace was like (and get some panoramic snaps of the city, of course).