The food of Chiang Mai and Thailand's north is completely different from the rest of the country – balanced, less bracing than its regional counterparts, herbal, and most importantly, so darn tasty. Here at IDEAL, we're huge fans of Andy Ricker, chef and owner of Pok Pok in the US, and something of an expert on the cuisine of Chiang Mai. So, we followed his advice on what to eat in the city, and here's what we loved the most; our 7 IDEAL things to eat in Chiang Mai, Thailand.
GRILLED CHICKEN AT SP CHICKEN
Okay, so we're starting with a restaurant which does food from the country's Issan region, rather than the 'Lanna' food of Chiang Mai, but this one is simply too good to miss. This could possibly be the best grilled chicken we've ever tasted. Those birds – much smaller and more flavoursome than their British counterparts – are brined, marinated, stuffed with an aromatic filling of pounded lemongrass and garlic, and cooked over charcoal. Order it with papaya salad and sticky rice – the holy trinity of Issan cooking – and of course, an ice cold beer, and you'll leave a very satisfied customer.
SP Chicken closes at 5 pm every day, so get there for lunch or an early dinner to avoid disappointment. If you really fancy chicken and can't make it to SP on time, Cherng Doi does a version almost as delicious.
Eat at: SP Chicken.
KHAO SOI
With origins in Burma, this is one of Northern Thailand's most iconic dishes, and one of only a handful in the region which uses coconut milk. It's a deep, sweet, salty and fragrant curried noodle soup, usually served with braised meat swimming in the broth and topped with crispy noodles. Several condiments, such as sliced shallots, pickled mustard greens and chilli jam arrive in tow, allowing you to season to your own discerning tastes. Once you've tried it, you'll want to eat it again and again.
Eat at: The best place by far to grab a bowl is the famed Khao Soi Lam Duan Fah Ham.
LAAP
There are two really distinct varieties of laap: one from Issan and one from Chiang Mai. While we love both, the Chiang Mai version is perhaps the more intriguing of the two. Laap is best described as a minced meat salad; enthusiastically spiced, beautifully balanced and eaten with lots of fresh herbs. Chiang Mai's laap is punchy and has a pleasing depth and bitterness, with the distinctive flavour of local spice prickly ash rounding things off. If you can stomach it, the raw larb is delicious.
Eat at: Sorn Chai, opposite Thapae Gate does perhaps the best laap in town. However, if you fancy trying the raw lversion, go to Laap Kao Cham Cha.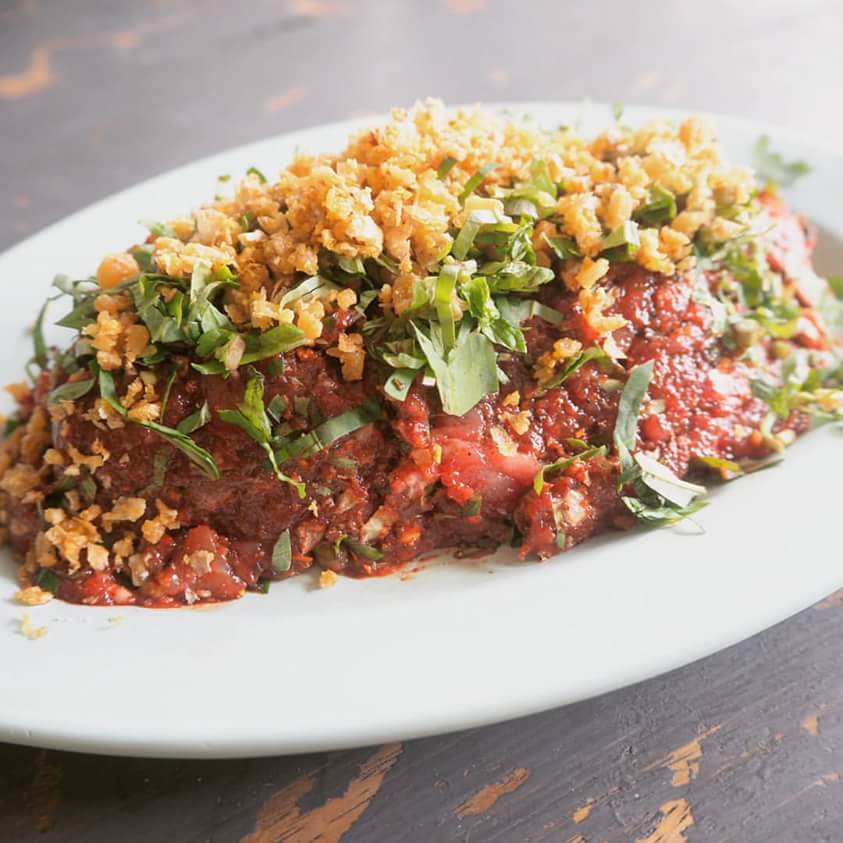 KHAO KHA MU (PORK KNUCKLE OVER RICE)
This is a curious but utterly delicious Chinese / German via Thailand mash-up. It involves slow cooked pork knuckle, a wonderfully gelatinous broth and a cured and creamy boiled egg, all over a bed of rice. It's deep, moreish and a textural delight. Sweeter and less spicy than most dishes found in Thailand, it provides relief when you just can't eat another curry. This dish is quite sweet, so a dash of the homemade relish, a few cloves of garlic and some of the chillies adorning the tables compliment it well.
Eat at: The cowboy lady at Chang Puak Gate Night Market.
KAENG HUNG LEH (BURMESE PORK CURRY)
Our favourite dish in the world. Kaeng Hung Leh is a beguiling balance of sweet, salty, sour and spicy. Drawing influences from Burma, the dish uses a good heft of turmeric not so commonly found in regional Thai cuisine. Each restaurant offers a slightly different interpretation of the dish but commonly pork belly and shoulder, as well as green beans, form its backbone, with fried shallots and tiny pickled garlic cloves giving crunch. The real highlight, though, is the broth. It is deep, rich, fragrant and heady. Mop it up with handfuls of sticky rice and you're as close to food heaven as we've ever found.
Eat at: Sorn Chai, Huen Muan Jai or Huen Phen.
SAI UA (NORTHERN THAI SAUSAGE)
Forget bratwurst, salami, cumberland and chorizo – our favourite sausage in the world hails from the North of Thailand and is found all over Chiang Mai. The sausage contains numerous herbs and has the pleasing sour tang of a gentle ferment. The exterior is usually crisped up over an open flame, offering contrast to the softer middle. This interior reveals a kaleidoscope of colours provided by turmeric, red and green chillies lemongrass, kaffir lime leaf and more. The taste is every bit as complex, aromatic and delicious as this list of ingredients suggests.
Eat at: This sausage is ubiquitous, you can find it at nearly every street food stall/ night market.
NAHM PHRIK
Food in Chiang Mai needen't always be meat focused. Nahm Phrik is a delicious dipping sauce served with a handful of fresh vegetables to scoop it up with. There are many varieites of Nahm Phrik, all unique and sometimes very spicy.
Eat at: Everywhere.