The late, great David Bowie once remarked that Berlin was: "the greatest cultural extravaganza that one could imagine", and Germany's capital city is still very much one of the most iconic and important places in the world.
With so much vibrancy in its cultural and historical heritage, it has proven to be one of the most popular destinations for travellers from all four corners of the globe. For those looking to tackle Berlin for the first time, here are our 7 top tips to keep in mind.
BE AWARE OF THE WEATHER
There are so many reasons why a traveller, student, recent TEFL graduate or even retiree might choose Berlin as the destination for their adventure, but the weather certainly isn't one of them. 
Whilst the German capital can have some absolutely spellbinding summer days, it's more likely that you'll become closely acquainted with overcast clouds and the odd drizzly shower on your trip here. No wonder Berlin is often referred to as 'The Grey City', though that might actually refer to the granite builds that define its skyline.
Anyway, that rather downbeat weather is a common sight the locals have gotten used to over the years, and one which no one lets dampen their mood or cramp their style. One of the best tips we can therefore offer up is to always plan your attire with the weather in mind, and ensure that you have plenty of backup plans indoors just in case the rain goes against you.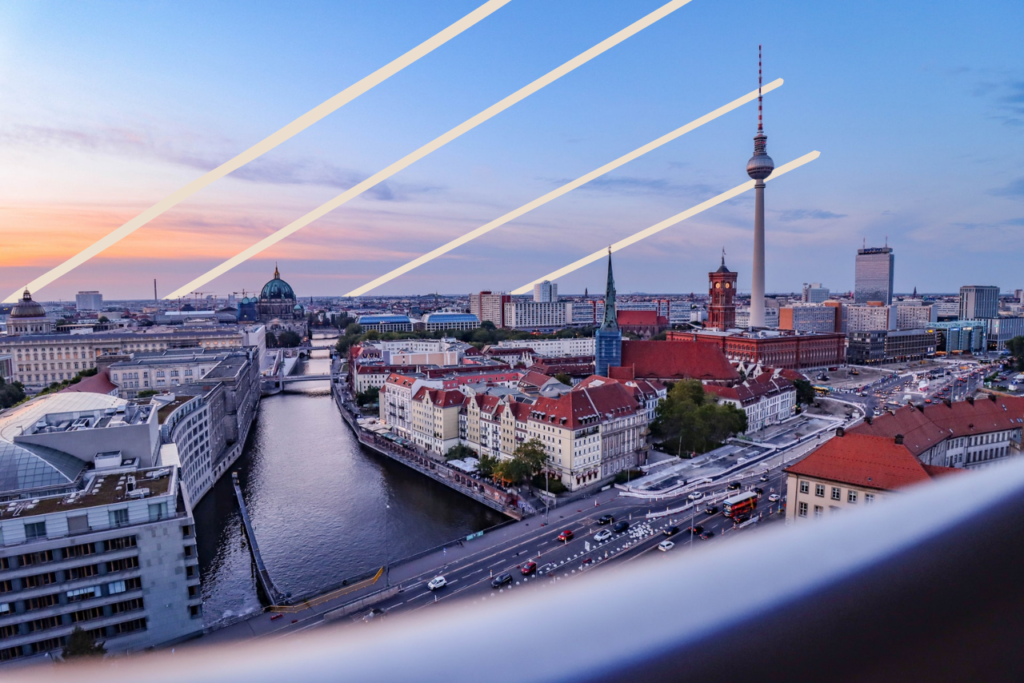 Photo by Florian Wehde on Unsplash
ENJOY THE GREEN SPACES
If the sun does deign to shine, however, then Berlin is blessed with some amazing green spaces, earning it another apt nickname: 'The Cities that Trees Built'. There are over 1,000 parks in Berlin to choose from, and all of them offer a great spot to unwind during a trip; some of the best include the Landwehrkanal, the Tiergarten, Treptower Park and Tempelhof Field (an archaic runway turned public park!) for a place to chill out and have a picnic with the locals. 
Berlin is famously known as one of the greenest cities in the world with its plethora of repair and recycling centres, food rescue programs and sustainable farming methods, as well as its excellent use of green spaces. 
For something particularly unique, we just love Preußenpark (also known as Thaipark), which hosts up to 100 Thai street food vendors in a beautiful tree-lined park in Berlin's Wilmersdorf district. The local Thai population have been meeting here for more than two decades, and every weekend, you'll find delicious homemade curries, spicy salads, and plenty of takeaway Thai sweets being served up here. The most popular time to visit is on Saturdays, between 2pm and 5pm. Heaven!
FOODIE BERLIN
Open-air Thai feasting isn't the only foodie highlight in Berlin. In fact, in recent years the city has started to gain a serious reputation in the fine-dining world for intricate, ultra-modern takes on traditional German delicacies, and we're very much here for it. 
Perhaps the finest realisation of this vision is at chef Marco Müller's 3 Michelin starred Rutz, which uses sustainable practices and progressive cooking techniques to get the very most from local produce, all infused with that Berlin swagger.
Another fine dining restaurant well worth checking out is Cookies Cream. Despite the name, this isn't an ice cream shop with cute branding and a devoted teenage following. Instead, it's one of Europe's most highly regarded vegetarian restaurants.
The speakeasy feel of the entrance, where you enter through back streets and a car park before finally knocking on a back door/fire exit, feels properly illicit. The clublike doorway shouldn't come as a surprise; the owner learnt his trade running underground raves, and the vibe indoors is industrial, too. The food, however, is refined, sophisticated and fun to boot.
Cookies Cream is just one part of a brilliant vegetarian food scene in Berlin, one of the best in the world. Whether you're a vegetarian, pescetarian, flexitarian or a plain ol' carnivore, you'll be satisfied in the city!
GET ON YOUR BIKE
As we mentioned, Berlin has made a real effort to revamp itself as a sustainable and green city in recent years. One of the biggest drivers behind this has been the real concerted effort the city has made in transforming the pedestrian and cycle networks, both of which has led to Berlin having the fewest number of cars per person amongst the major German urban areas.
500,000 daily bike riders account for over 13% of the total traffic in Berlin, with the city boasting 710 bicycles per 1,000 residents. This means, if you're keen to fit in (and keep fit!) with the locals, cycling is the way to get around. 
Even in the wet and the wind, the city is packed out with cyclists making use of the paths that are built into the pavements and a number of roads that are reserved exclusively for bikes. So, not only does a bike represent great value for money, a good amount of fitness and a real authentic way of tackling the city, it's also the most convenient mode of transport going in the heart of the city! 
EMBRACE THE NIGHTLIFE
Berlin, and Germany on the whole come to think of it, has a reputation for not being short when it comes to partying once the sun goes down.
With daytime and public drinking being as socially acceptable as having a takeaway latte on the go, Spätis (small and local convenience stores that are known for staying open especially late), are the best way of ensuring you're topped up with as much world-famous German beer as possible.
There are events on almost every single day in Berlin away from all the major landmarks, so keeping an eye out on Facebook or Instagram for the latest goings-on is always a good tip.
In Berlin, the best events tend to happen post-midnight. Everything from restaurants, bars, comedy clubs, Biergartens and movie theatres are all open until late, so the options are as close to endless as you can get in the nightlife capital of the world.
For club-lovers, the notorious Berghain (which had been closed for some time) is now finally opening back up. That said, it remains formidably difficult to enter, and that's putting things mildly.
Fortunately, there are plenty of other places to get down and dirty in Berlin. For wild weekends spent in warehouses, check out ://about blank, a multi-room venue that hasn't even been legal for that long! Funkhaus is another favourite for the 24-hour reveller, whilst Theros is the place to go for ground-shaking techno tunes. Alternatively, you could just follow your ears; there's always the rumblings of a party in the distance in Berlin.
LGBTQ+ BERLIN
For LGBTQ+ travellers, Berlin is an inclusive, welcoming place. For starters, the city is home to Schoneberg, the first and largest gay village in the world. During the day, head to Schwules Museum, which is one of the most culturally significant documenters of LGBTQ+ history out there.
Next, why not head to Neues Ufer for an afternoon coffee at one of the city's oldest devotedly gay cafes (a favourite of David Bowie during his Berlin exile), and then end the evening on the dancefloor. Depending on your stripes, Prinzknecht caters to a leatherclad crowd, whilst WOOF is hugely popular with bears and otters. Or, you could do both!
ENJOY YOUR OWN STYLE
Rest assured; Berlin is a city that grabs creativity with both hands – so wear and act however you like. There are no dress codes or need to worry about conservative modesty in Berlin. Liberal self-expression is something that Germany has fought and worked for so powerfully over the years, and it is something that they truly embrace in their capital city especially.
THE BOTTOM LINE
Berlin is a character in itself with all of its charms and idiosyncrasies, making it a destination that a visitor should be able to embrace themselves, as they would hope it does to them. A willingness to enjoy the maverick quirks and eccentricities of Berlin and its people is definitely needed at times, but these are, in our opinion, what really helps give the city its sparkle as one of the most interesting places to visit in the whole of Europe. Viel Spaß!