Go to Vegas and leave with money still in your wallet? What kind of crazy world do you live in? One of abstinence, asceticism and early nights, no doubt. But no, doing Vegas with affordability in mind is possible. 
In fact, a little mindful behaviour towards your money in the City of Sin can actually unearth hidden gems, unlock potential and be a whole lot more adventurous than simply staying on the strip and at the tables. We're here to help you do it right, with these; our 8 insider tips on making your trip to Vegas a little kinder on the wallet.
Opt For Off-Strip Hotels
The allure of the Strip is undeniably enticing, but remember that this prime location comes with a premium price tag. Instead, consider staying in off-Strip hotels or vacation rental homes. These accommodations offer facilities akin to the Strip's ritzy hotels but at gentler prices. Additionally, the local flavour of these establishments could add an incomparable charm to your Vegas trip.
Go Midweek
Sure, should you be going to Vegas, you'll likely be wanting the fully blown, 100%, everything goes experience. As such, you might think that the weekend is the time when the City of Sin is at its most sinful. You'd be wrong; Las Vegas is a 24 hours a day, seven days a week, 365 days a year type of place, with the volume turned up to eleven every day without fail.
The only difference in the timing of your trip is this; the midweek is far more affordable when it comes to booking a hotel (a whopping three times more at the weekend, if you can secure a room at all) and getting a lower table limit, should you be spending time in the casinos.
Practise That Poker Face In Advance
Las Vegas is of course synonymous with casinos, and it's often said that a trip to Sin City is incomplete without a flutter on the tables. However, it's crucial to remember that at the heart of these glitzy casinos lies an industry designed to profit. As such, walking into a Vegas casino without any knowledge or practice can be a quick way to part with your hard-earned money. It's highly recommended to brush up on your table skills and understand the rules of other casino games before you arrive.
Whether it's online poker platforms, mobile blackjack apps, or organising a friendly casino night at home, there are numerous ways to develop your gambling skills. By doing so, you can step into the dazzling world of Vegas casinos with confidence, giving yourself the best chance of leaving with your wallet in a healthy state. With the surge of online bingo sites, such as the new UK casino and bingo site Happy Tiger, offering no-stakes, no-deposit versions of various games, it's possible to do so prior to arrival.
Happy Hour Drinks & Food
Early in the day, in the middle of the afternoon, late at night; there's no rhyme or reason to happy hour in Vegas, but one thing's for sure – somewhere, anytime, there will be discounted food and drink specials on offer.
Happy Hour is one of the best ways to be kind to your wallet on your trip to Las Vas, so instead of wandering around, hoping to stumble on happy hour, head over to the community website www.lasvegashappyhour.net. Dedicated to discovering the best deals in Vegas, the site lists nearly all of the happy hour offers in the city.
One place that we have to mention is the 'High Roller Happy Half Hour'. For thirty minutes, you can ride the world's tallest observation wheel and enjoy the delights of an open bar. For a daytime ticket you'll have to put down $40, however, considering you'll get a spectacular view of the city combined with free drinks, you'll definitely get your money's worth.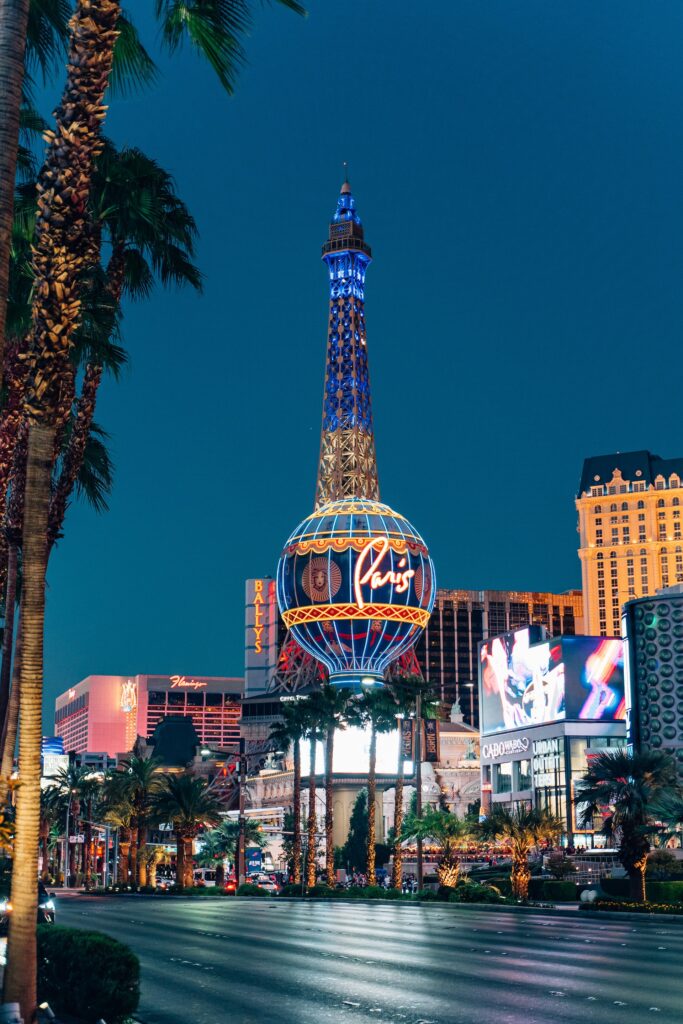 Free Drinks & Floor Shoes
Inside the casinos you don't necessarily have to spend big to have a good time, either. The Flamingo's Wildlife Habitat sees 15 acres devoted to flamingoes, pelicans, tropical birds and fish which you can see for free. Equally as impressive, The Silverton Casino boasts a massive, 117'000 gallon aquarium complete with swimming mermaids. The casinos also put on regular, free to view floor shows for gamblers, punters and curious members of the public alike.
At Circus Circus, the world's largest permanent circus, you can watch some pretty incredible, gravity bending stunts, and at the Rio Hotel you can get stuck into the carnival atmosphere with floats, costumes and boundless energy. And if you're looking to keep refreshed for free, as long as you're dropping money into a machine or playing at one of the tables, you're nearly guaranteed to have a filled glass and perhaps some snacks to keep you standing too.
And if you're lucky, you can even score free drinks watching someone else play or just standing around the casino floor. Just remember when the fun stops, stop.
Explore Old Las Vegas
While the bright lights glitz and glamour is alluring, one night can be enough when it's such a full throttle place to be. Instead of spending all your time on the main drag, emptying out your purse metaphorically with every step you take, consider instead devoting some of your time to downtown Las Vegas.
In doing so, you'll reap the reward of cheaper hotel rooms, cheaper food and low limit gambling. This side of town is the real deal, where it all started; the historic heart of Las Vegas and also home to the renewed business district. Arguably there's more going on here then on the strip, and if you scratch the surface just a little, you'll find a more affordable and more fun city awaits.
Never Pay Full Price For A Show
Shows in Vegas are notoriously expensive, with some of the residencies from huge, international artists commanding the highest ticket prices in the world. There are ways around this, however. Look for discounts online and even in the local newspapers. Many shows offer matinee or late-night discounts with the same level of entertainment but at a reduced rate.
Aside from buying online, lookout for any of their nine booths on and around Las Vegas Boulevard, from the Premium Outlet Mall north of The Strip to the Town Square Mall on the south end.
Public Transport
Finally, where possible, make use of the city's efficient public transport. The Vegas Deuce on the Strip, for example, runs 24/7 and costs just a few dollars for a full day pass. Not only will this save you a bundle on cab fares, but it's also one of the best ways to experience the vibrant Vegas buzz up close.