For newcomers (and even a fair few residents), Bangkok can be an impenetrable juggernaut of a city. It's not exactly walkable, the traffic's impassable, the weather is either oppressively hot or dramatically wet, and learning the language can be tricky.
But scratch the surface just a little and you'll be richly rewarded with a city whose food, hospitality, welcoming attitude and sophisticated nightlife is pretty much unrivalled anywhere else on the planet. With that in mind, here are 9 IDEAL travel tips for getting the most out of Bangkok.
Tuk Tuks, Taxis & The BTS
If you're not travelling solo, taxis are usually cheaper than getting the metro or BTS. Always ask for the meter when you get in (which starts at 35 baht) otherwise you may be surprised by a vocal figure when you reach your destination and end up paying well over the odds.
Often, you'll be flat out refused by a taxi driver. Don't take offence; this is because the journey you're requesting is likely a slog across town that might cover only a couple of miles but take a couple of hours to complete.
Indeed, if it's rush hour, avoid getting a taxi at all costs – unless you want to be stuck in gridlocked traffic for the entirety of your evening.
Tuk tuks, contrary to popular opinion, don't represent a particularly cheap way of doing things. The initial price you'll be quoted will be pitched high and almost certainly much end of being more expensive than the equivalent journey in a taxi. If you do want to take one, be prepared to barter, but don't overdo it; remember it's only a pound or two, and your tuk tuk driver may well need it more. And hey, a ride in one still represents a pretty fun way to get around town, so do pay for the novelty from time to time!
If you're travelling by yourself, the BTS and metro (which both offer air-conditioned respite from the heat) are the most efficient ways to get around the city, avoiding traffic and providing a decent sit down, too.
Bangkok's public canal boats are also fun and super cheap if you need to get up river between dawn and around 7pm. Even if you don't, it's worth a trip on one while you're in the city, as much of the city is defined by the Chao Phraya river, with many of Bangkok's key landmarks on its banks.
Uber doesn't operate in Thailand but Grab Taxi is available and running efficiently in all of the big cities. It's remarkably cheap and reliable, with a trip across town rarely coming in at more than a couple of quid. Using Grab also negates the often difficult issue of explaining your desired destination to taxi drivers. Your pronunciation may be poor and drivers in Thailand often can't read; a simple pin drop on a map will be your saviour. You will, of course, need a SIM card with internet data to make the most of the app. Which brings us on to…
AIS Traveller SIM
Before you arrive in the city, get your phone unlocked as a matter of priority. And then, once you've arrived, head to one of Bangkok's many massive shopping malls, make for the ubiquitous AIS Mobile Shop, instantly recognisable by their open-plan layout and green frontage, and request an AIS Traveller SIM.
Running for either 8, 15 or 30 days, for just 299 Baht (around £7), 599 Baht (around £14) or 1'250 Baht (around £30) respectively, you get either 15 GB, 30 GB or a whopping 300 GB of high-speed internet access, as well as free and unlimited access to social media apps. Considering how easy it is to get lost in Bangkok, this fantastic deal will make your trip so much smoother, granting you access to Google Maps, the aforementioned Grab Taxi, and so much more, wherever you may be.
Though other tourist-directed SIM card packages are available, we've found AIS to provide the best coverage. And don't worry if you're concerned that your Thai isn't up to scratch to buy a SIM card confidently; all AIS Mobile Shops have an English speaking team member.
BK Magazine & Time Out
If you're keen to learn about the latest goings on in the city, from the best recent restaurant openings to what concerts are happening this weekend, then pick up a free copy of BK Magazine (Starbucks usually stocks copies of them), which labels itself as an insider's guide to Bangkok. Published every Friday, it's filled with up-to-date information about the latest events and goings-on in the city. They do, of course, also have a website with even more up-to-date information, but sometimes it's nice to take a break from your screens, hey?
Right back to your screen, and we'd also recommend checking out Time Out Bangkok's website for similar updates on what's going down in and around the city. And for a broader look at some of the best, more permanent things to do here, head over to Bangkok Attractions.
Finding The Best Places To Eat
If you're planning a day out eating, research the area you're heading to first, making sure you have one or two back up restaurants in the same area, just in case your first choice is closed or full, both of which happen regularly and unpredictably. Planning ahead is key in this city, otherwise you'll end up feeling stranded, frustrated and hungry.
Don't always assume that a bricks and mortar, roof-over-your-head restaurant will serve the best food. Some of the best dishes you'll find are on the street or even in a shopping mall. There's so much to say about eating in Bangkok, in fact, that we've created a guide on it here.
Some of the best places to find new food recommendations, both in the street food and fine dining categories, include:
Vlogger Mark Wiens's excellent YouTube channel, on which he eats around Thailand extensively, but particularly in Bangkok, where he lives.
Bangkok now boasts a regularly updated Michelin Guide with a whopping 186 entries and counting.
The aforementioned BK Magazine and Time Out Bangkok detail new and old restaurants of every cuisine and price point, all over the city.
Your very own IDEAL. Check out our tips on where to eat Southern Thai food in Bangkok for a little flavour of what we love the most here, or if you're after 'Western food', our guide to the best Italian food in Bangkok.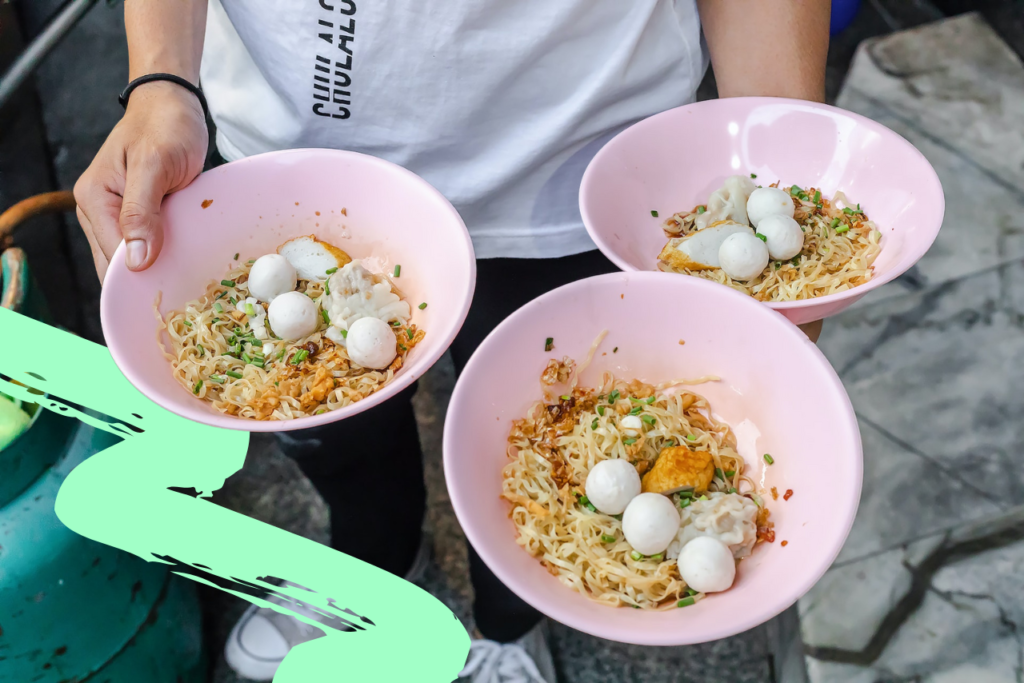 A (Focused) Night On The Town
Bangkok is a night-time city. The best time to truly experience its unique culture is when the sun starts to set, the temperature cools (slightly!) and the smell of grilled meat fills the air. When this magical part of the day takes place, enjoy views of the fantastic skyline at sunset from one of Bangkok's many sky bars, or simply sip a cold one at street level for around a tenth of the price.
Some of our favourite cocktails bar in the city include The Locker Room, BKK Social Club, and Tropic City, though if you're planning a night out, it's sensible to remain in the same area for the evening, otherwise the whole night out will be spent travelling or in traffic.
With that advice still ringing in your ears, there are also several great bars on a single strip, Soi Nana, in Bangkok's Chinatown, if you're keen to keep your night out incredibly focused. Don't miss Teens Of Thailand, Ba Hao, and Wallflower, to name but three of our favourite bars here.
Oh, and if you're looking for something a little more in keeping with the 'backpacker' ideals of visiting Thailand, then Jack's Bar, on Wat Suan Phlu Alley in the Bang Rak district, is often referred to as "Bangkok's cheapest riverside bar". It's only a five minute taxi ride south of Soi Nana (or a 30 minute walk, if you're feeling brave!).
Do be aware that a lot of food stalls and markets don't serve beer, but they have no objection to you bringing your own – though never drink close to a temple. You can't buy alcohol from 2pm to 5pm anywhere or during any Buddhist holiday, either.
Mosquitos
Never step in a puddle, because mosquitoes always target dirty ankles. Dusk next to a river is a feeding frenzy, so take extra care – but don't let that put you off as it's a beautiful time of day in Bangkok. Make sure you carry insect repellent with you in the evenings and always wash your legs when you get home, or better yet have a shower.
If You Need To Cool Down…
Bangkok has a thriving shopping mall culture, with ever more glamorous and gaudy plazas seemingly cropping up every week in the city. Whilst you may not be visiting Bangkok to check out the latest Gucci apparel or Tag Heuer timepiece, these shopping malls are certainly worth a look; not only are they enthusiastically air-conditioned, but you'll find some of the best (and best value) food here.
Should you need to cool down at street level and there's not a shopping mall close to hand, the fridge section of the ubiquitous, unavoidable 7-Eleven franchise does a similar job!
IDEAL Tip: Try the pad krapao at a 7-Eleven – it's surprisingly good. In Bangkok's City Tower 7-Eleven in Sathorn, they even serve up freshly made pad krapao from their dedicated food counter. Although, if you want a superior version, make a trip to Mark Wein's Phed Mark in Ekkamai.
Bag Essentials
There are certain items to carry around that will make your life easier in Bangkok. These include:
Your address: If you're staying at a hotel or hostel, get them to write down the address in Thai to show a taxi driver. If your hotel card already has the address on it, then you're set!

Screenshots of directions: If you don't have Wi-Fi, take a screenshot of where you're going and some directions to it.

Hand sanitiser: When eating outside, it's best to wash your hands diligently before dining. Due to COVID, most places, including street food vendors, will provide sanitiser now.
Mosquito repellent: Because, well, were you paying attention a few sentences ago?
Toilet roll: Accidents may happen if you're eating a lot of street food. That said, it should be noted that hygiene levels have noticeably gone up (and instances of diarrhoea lessened) since COVID.
A shawl: As the BTS is super cold, yet Bangkok is super hot.
A COVID-appropriate facemask: Though the requirement to wear a mask in public in Bangkok no longer applies (as of late June 2022), most do still wear theirs, as a sign of respect for their fellow Bangkokian.
Remember Your Manners
Thais try to inject fun into every aspect of life, so even if you're hot, flustered and frustrated always smile and never take yourself too seriously. People will respond with help and warmth.
The concept of 'sanuk' runs through daily life, and is often translated as 'fun', but really, it's a more all encompassing notion than that; an ethos and way of life where you shouldn't take yourself or life's daily events too seriously.
Approach every interaction with a respectful playfulness and you'll find life in Bangkok runs much more smoothly.