Bienvenue to the sparkling world of Champagne, France. Even saying the word seems to evoke a sense of glamour and indulgence, don't you think? 
Few places in the world are as synonymous with luxury as this enchanting wine region, and visiting Champagne certainly isn't a time for penny-pinching. From sipping exquisite fizz to indulging in Michelin-starred cuisine, there's no shortage of opulent experiences awaiting you.
Today, we're embarking on a journey through the crème de la crème of Champagne, hoping it – and we – rise to the top. With that in mind, here are 9 things to do on a luxury vacation to Champagne, France.
Savour A Wine Tasting Tour
We had to start here. No self-respecting luxury trip to Champagne would be complete without immersing yourself in its namesake beverage. Begin your luxury vacation with a wine tasting tour at some of the region's most prestigious wineries. Visit renowned maisons such as Moët & Chandon, Veuve Clicquot, and Dom Pérignon for an exclusive glimpse into the art of champagne making.
Five-Star Hotels
Rest your head in the lap of luxury at one of Champagne's many five-star hotels. Book a room at the elegant Royal Champagne Hotel & Spa, which offers breathtaking views of the vineyards and a world-class spa. Yours for just €1000 a night.
Alternatively, indulge in the historic charm of Château de Fère, a 16th-century castle turned boutique hotel. Room rates start at €260.00, which, all things considered, isn't such a bad deal.
Take A Hot Air Balloon Ride
Gaze upon the picturesque landscape of rolling vineyards from a unique vantage point – a hot air balloon (cue callback to ''rising to the top''). Embark on a sunrise or sunset flight, sipping champagne as you float above the stunning scenery.
There are a number of companies that offer hot air balloon rides in the Champagne region of France. Some of the most popular options include:
France Montgolfières – This company offers hot air balloon rides over the Champagne region from April to October each year. Rides begin at either Reims or Epernay, and typically last around an hour. Bookings can be made online via their website.
Aerfun – Aerfun offers hot air balloon rides over the vineyards of Aÿ, Bouzy, and Epernay in the Champagne region. Rides start at €270 per person, and can be booked online via their website.
Air Adventures – Air Adventures offers hot air balloon rides over the Champagne region from April to October each year. Rides start at €250 per person, and can be booked online via their website.
Montgolfières et Châteaux – This company offers hot air balloon rides over the Champagne region, with options that include a Champagne tasting and a château visit. Rides start at €250 per person, and can be booked online via their website.
Explore The Champagne Route
Discover the charming villages and vineyards that make up the famed Champagne Route. Rent a luxury car and drive through the scenic countryside, stopping at local producers for tastings and tours. Don't miss the iconic Avenue de Champagne in Épernay, home to some of the most prestigious champagne houses.
Attend Exclusive Events
Throughout the year, Champagne hosts numerous exclusive events that cater to the luxury traveller. Plan your visit around the annual Habits de Lumière festival, which happens each December in the town of Epernay, and features gourmet dinners, fashion shows, and fireworks.
Or, attend the prestigious Concours Mondial de Bruxelles, an international wine competition held in Reims.
Here are just a few other key events happening in the region across the year:
Épernay Champagne Week: a week-long celebration of all things champagne in the town of Épernay, held in March.
Foire de Châlons: a large agricultural fair held in Châlons-en-Champagne featuring food, wine, and live entertainment, held in August.
Fête de la Champagne: a three-day event in the town of Ay, featuring tastings of local champagne, live music, and fireworks, held in June.
Montgolfiades: a hot air balloon festival held in the town of Vitry-le-François, featuring balloon rides and live entertainment, held in September.
Harvest: various villages and towns throughout the Champagne region hold harvest festivals and celebrations from late August to early October.
Relax At a Luxury Spa
Unwind and rejuvenate at one of the region's opulent spas. Les Sources de Caudalie offers vinotherapy treatments, incorporating grape extracts and vineyard-inspired ingredients into their indulgent services – talk about celebrating a true sense of time and place!
For a more traditional experience, visit the historic Spa Guerlain at Domaine Les Crayères. The spa is located in a refurbished chapel, offering historic and elegant ambiance, with high ceilings and large windows that let in natural light. Guests can choose from a variety of treatments, including facials, massages, body scrubs, and other rejuvenating therapies.
Visit UNESCO World Heritage Sites
Champagne is home to several UNESCO World Heritage sites, including the hillsides, houses, and cellars of the region. Explore the historic Reims Cathedral, where French kings were once crowned, or delve into the underground chalk quarries of the Crayères, which now serve as wine cellars (of course).
Dine At Michelin-Starred Restaurants
Perhaps unsurprisingly, Champagne boasts an impressive culinary scene, including six Michelin-starred restaurants. Treat your taste buds to a gastronomic experience at 3-starred L'Assiette Champenoise, where Chef Arnaud Lallement showcases his innovative cuisine in a restaurant that was once owned by his parents (the lobster dish ''a tribute to my dad'' is just wonderful).
For arguably an even more intimate setting, visit Le Parc at Les Crayères, where Chef Philippe Mille serves up refined French dishes in a stunning château – the dining room's natural light simply needs to be seen to be believed. The champagne list here boasts over 900 types, one of the most extensive on the planet. Well, you did say you wanted luxury, right?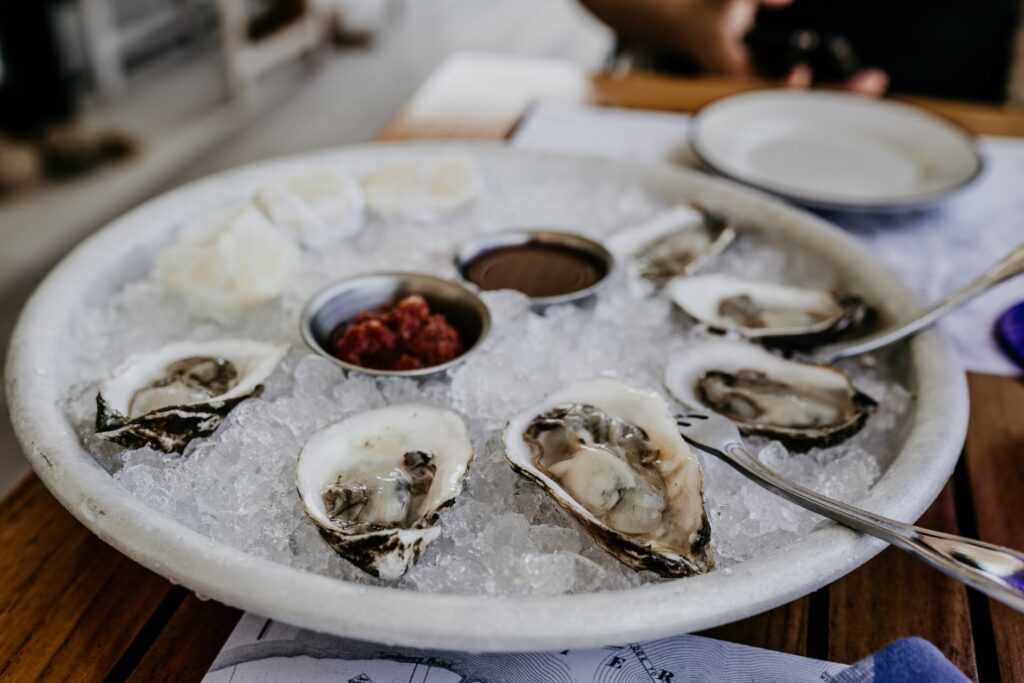 Shop For Luxury Goods
No luxury vacation would be complete without a little shopping. Stroll through the upscale boutiques of Reims and Épernay, seeking out designer clothing, artisanal chocolates, and, of course, bottles of the finest champagne to bring home as souvenirs.
Don't forget to explore the bustling markets, where you can sample freshly baked bread, cheese, and other regional delicacies. And if you're a fan of history, take a break from shopping and visit the stunning Gothic architecture of Reims Cathedral or the Romanesque Basilica of Saint-Remi in Épernay.
The Bottom Line
Champagne, France, is a treasure trove of luxurious experiences that cater to the discerning traveller. From wine tastings at prestigious maisons to hot air balloon rides over picturesque vineyards, this enchanting region offers an unforgettable vacation. So pack your bags, and prepare to be dazzled by the sparkle and splendour of Champagne. Santé!
If you look at the home pages and the different trips that flash up around France and Italy, feel free to pick a location they do and right about it from a luxury travel perspective.