A new luxury trainer business has just set up shop in Leicester with the aim of drawing in the "sneakerheads in droves". Indeed, just yesterday Solsneaks opened its doors on the lower floor of the Highcross shopping centre, and a peak inside reveals some very expensive kicks, indeed.
Leicester Mercury reports that "The store is selling high-end and limited edition trainers, including Yeezys, a collaboration between Adidas and Kanye West, Nike Dunks, and Jordans, which were first produced by Nike for basketball star Michael Jordan in 1984. Luxury label Dior designed its own pair of Jordans – priced at a whopping £7,500 – making them the shop's most expensive pair of shoes."
It's those latter kicks that are still the headline act when it comes to such luxury shoe shops. In the past year, the Jordan brand has made Nike over $5 billion. Michael Jordan himself earns $150 million per year from the brand, and with over 35 pairs of Jordans available in multiple colourways, it's safe to say that this is one of the most recognisable shoes around.  
But how did Air Jordans become so popular? And what made them transcend their status from basketball shoes into some of the most sought-after collectibles?
The key to understanding this is knowing the history of Air Jordans. So if you're ready to learn more about your favourite sneaker, let's dive in…
1984-1985: Humble Beginnings
At the start of his career, Michael Jordan had just graduated from the University of North Carolina and was drafted by the Chicago Bulls. He had already made a name for himself at his university, winning NCAA championships.
So, when he signed with Nike in 1984, the company paid him $500,000 a year. This was the most they had ever paid a rookie player for an endorsement deal. And if you're wondering, "what are Air Jordans?", they're the sneaker line that came with this endorsement.
So who made Air Jordans? The answer is in Peter C Moore, a former architect-turned-sneaker designer. He sketched the first Jordan design on the back of a napkin. Moore noted how Jordan seemed to "fly" through the air when he played. He decided to combine this image with a basketball logo featuring wings.
And for the first Jordans, Nike decided to make them white, black, and red. The only problem? The NBA had very strict rules and only allowed white sneakers.
Jordan wore his shoes anyway, netting him a $5,000 fine every time he wore them on the court.
And instead of changing Jordan's shoes, Nike realised that this was a perfect marketing strategy. They paid the fine and assumed that this 'controversy' would make the shoes more popular.
And boy were they right! Nike sold almost 3 million pairs of Air Jordans in 1985.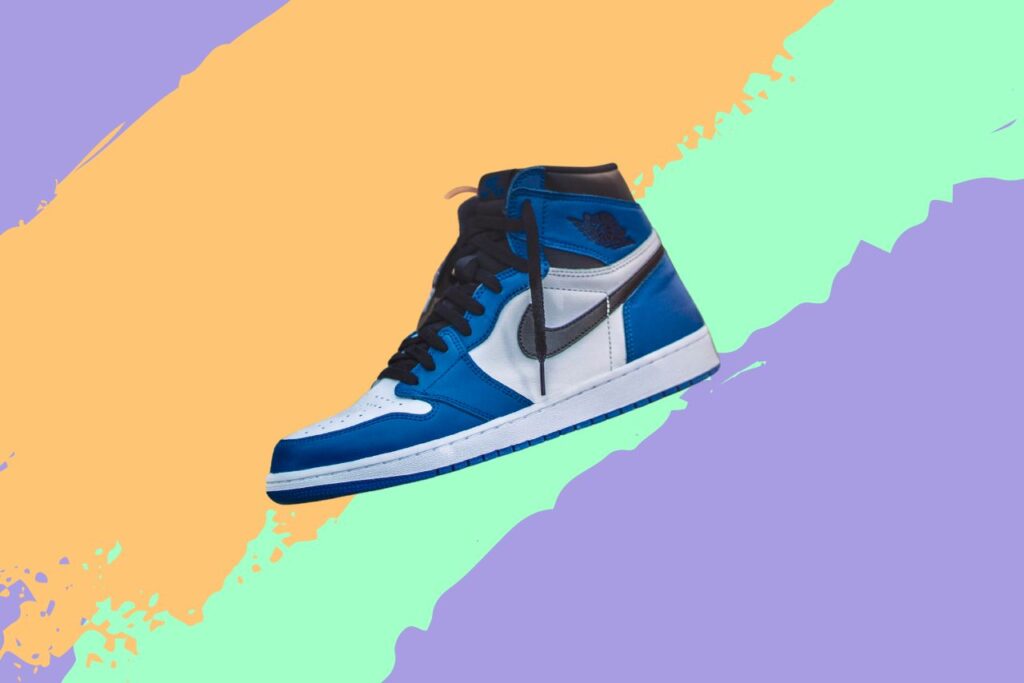 1988: Tinker Hatfield's Legendary Designs
Following the success of the Air Jordan I and II, Nike brought on a new designer. Tinker Hatfield, a former architect, would go on to create over two dozen Air Jordans over the coming years. These designs would continue to inspire basketball shoe designs today.
Hatfield's first design for the Jordan brand was the Air Jordan III. Before this shoe, basketball shoes were just seen as regular sports shoes. In other words, they were nothing fancy.
But Hatfield wanted to add an element of luxury and uniqueness. So, he and Jordan (who was a lover of luxury) went on a search to find the best leather for the shoes. They ended up using an elephant print overlay on the shoe's upper for the Jordan IIIs.
This design element sparked many shoe trends and would periodically make its appearance on future Jordans.
Another unique design element that Hatfield introduced was the iconic Jumpman logo. Hatfield also introduced the visible Air-Sole unit in the heel of the shoe.
The power they gave Jordan in his games added to the popularity of the Jordan IIIs. While wearing the shoes, he averaged 35 points per game all the way to a fourth (straight) all-star game. From there he went on to earn MVP and two Slam Dunk titles twice in a row.
The 1990s: MJ's Retirement and Return
The 1990s started out strong for Nike with the release of the Air Jordan V. These shoes were another Tinker Hatfield design, and they embodied Jordan's aggressive play style.
The shark tooth design on the outside of the shoe drew its inspiration from WW-2-era fighter planes. Returning from previous designs were the visible Air-Sole and the embroidered Jumpman logo. It was also the first time purple and emerald appeared together on a shoe.
Other notable sneakers from the 90s were the Jordan VI, which featured the numbers "2" and "3" (Jordan's uniform numbers), and the Jordan VII, which was one of the lightest basketball shoes at the time.
Despite the Jordan brand's success, Jordan himself shocked the world when he retired from basketball in 1993. While he returned a few years later before retiring for good in 2003, he continued his line of Air Jordan shoes.
Read: 4 men's shoes must haves for S/S 2022
2000s To Present-Day: Building a Legacy
After Jordan rejoined the Bulls in 1995, he wore the Jordan Xs on the court. These Air Jordan sneakers came in the Chicago colorway, which was the sleekest design yet. The Xs featured simple, clean lines and light cushioning built from Phylon lightweight foam.
These Jordans also came in 5 colorways, which featured the colour schemes of 5 NBA teams and their cities. These were:
Chicago
Orlando
Sacramento
Seattle
These colourways (and the Jordan Xs) are some of the most popular Jordans ever created. They're in-demand collector's items that can sell for thousands of dollars.
Throughout the 2000s and 2010s, Tinker Hatfield continued to design more Jordans, each more innovative than the last. These included technologies like full-length Zoom Air cushions, custom performance weaving, and a carbon fibre control plate in the midsole.
Nowadays, Jordan Sneakers have even more innovative designs because of their various collaborations. These include collaborations with famous design houses like Christian Dior. This collaboration resulted in the luxurious Dior X Air Jordan 1 High.
Other collaborations include musicians like Drake, NBA players like Luka Doncic, and even Spider-Man! These collaborations have helped Jordans branch out and reach thousands of new fans worldwide.
The Bottom Line
Air Jordans are some of the most iconic and popular sneakers in history.
While they started out as regular basketball shoes, the history of Air Jordans shows how much they've evolved over the years.
Today, there are countless different colorways and collaborations that make each pair of Air Jordans unique. So whether you want a comfortable pair of kicks or a beautiful collector's item, there's a pair of Jordans out there for you.